By Lindsay Street, Statehouse correspondent
Statehouse Report
South Carolina has slightly fewer children living in concentrated poverty now compared to five years earlier, But 12 percent — about one in eight children — remain in high poverty areas, according to new data from the Annie E. Casey Foundation.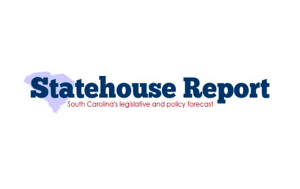 The U.S. Census Bureau's data snapshot of children living in high poverty , was released this week by S.C. Children's Trust, which along with state agencies, coordinates with  South Carolina Child Well-Being Coalition.
"This  [snapshot] gives us another opportunity to examine the critical intersections for children. Where they live is one of the most important," Coalition Chair Dr. Christine Turley said in a statement.
Read the full report here.
According to the report, 18,000 fewer children lived in concentrated poverty when comparing data from years 2008-2012 to 2013-2017. Concentrated poverty refers to a neighborhood that has a 30 percent or more of its population living in poverty — defined as an annual income of $31,380 for a family of four. High-poverty neighborhoods generally don't have access to healthy food and quality schools, contributing factors that can lead to a lack of child well-being and to abuse and neglect.
Find a map of South Carolina's poorest neighborhoods here, via the U.S. Census Bureau.
"We are encouraged that there has been a slight improvement in the number of children living in significantly under-resourced neighborhoods," said Aditi Srivastav Bussells, research and community impact manager at S.C. Children's Trust. "However, there are still too many South Carolina children and families who lack access to opportunities by virtue of where they live."
According to data, 73 percent (95,000) of children living in high-poverty neighborhoods are black or Hispanic, and 40,000 of the children are under the age of 5. Southern states, like South Carolina, have among the nation's highest rates of children living in concentrated poverty.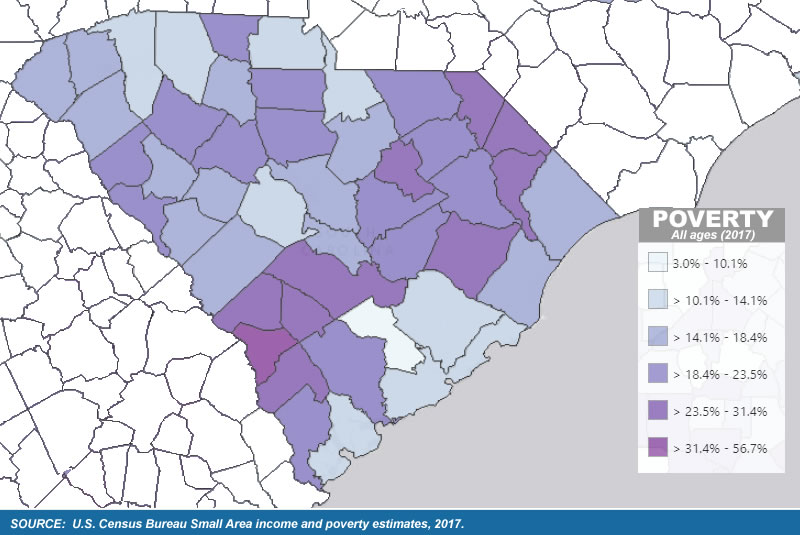 Children's Trust recommended the following policy actions to mitigate poverty in the state:
Higher taxes.  Support low-income residents in paying higher property taxes that often come with new development/redevelopment or with a family's relocation to a more affluent area. In 2020, S.C. lawmakers will look at redefining portions of the tax code — flattening the sales and income tax rates by getting rid of exemptions. In 2017, legislators passed and overrode a gubernatorial veto to offer an earned income tax credit in the state for low-income earners. 
Training. Expand workforce training that is targeted to high-poverty, low-opportunity communities. House Bill 3759 — the massive education overhaul bill — seeks to provide more career-readiness and workforce training. The bill remains in review by the Senate. 
Loans. Encourage small-business loan programs that serve entrepreneurs in low-income neighborhoods and communities of color — or people that traditional lenders tend to reject, such as individuals with poor credit or criminal records.
At the Statehouse, budget writers this year included funding to bring an additional 20,000 children onto a federally-funded health insurance program beginning in 2020. Another poverty-zone piece of legislation to watch will be a proposal by S.C. Rep. Marvin Pendarvis, D-North Charleston, that seeks to use state tax incentives coupled with federal incentives to push investment in high poverty areas of the state.
Source: Statehouse Report