Children's Advocacy Day was held April 4 at the State House, where the South Carolina Network of Children's Advocacy Centers teamed with Children's Trust of South Carolina, Silent Tears, the S.C. Attorney General's office, and the S.C. Department of Social Services for a press conference that brought together partners working in prevention, treatment and prosecution of child abuse and neglect. Neil White, who tells the stories of Children's Trust, covered the event.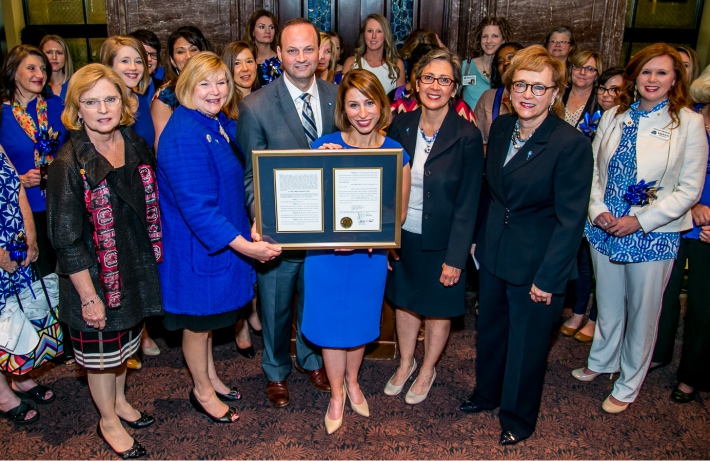 A message of unity and commitment highlighted the start of April as Child Abuse Prevention Month at the sixth annual Children's Advocacy Day at the State House.
The S.C. Network of Children's Advocacy Centers, the Department of Social Services, the Attorney General's office, and child advocates Children's Trust and Silent Tears, teamed up to spread the word to legislators, agencies, organizations, communities and individuals on the need for a concerted effort to combat child abuse and neglect through prevention, treatment and prosecution.
Children's Trust CEO Sue Williams spoke to the importance of finding ways to keep child abuse from ever occurring, which can have a greater impact than responding after trauma has already happened. Children's Trust implements programs with partners across the state that provide home visiting services to young mothers and their infants as well as strengthen families and promote positive parenting.
"As South Carolina's prevention leader, we focus on strengthening families and leading communities to prevent child abuse, neglect and injuries," Williams said. "Using proven prevention programs that focus on the science behind prevention, we know the strategies that start at birth and even earlier can prevent, or counter, adverse childhood experiences and promote safe, stable, nurturing relationships and environments."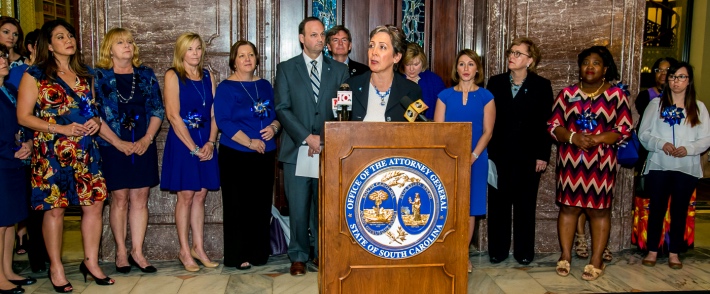 Attorney General Alan Wilson noted that strong laws combating child maltreatment begin on the front lines with advocacy groups. His office, however, works to keep children and families safe by focusing on three critical areas: Internet crimes against children, human trafficking and domestic violence.
In front of a crowded room of supporters wearing blue and holding pinwheels – the national symbol of happy, healthy childhoods – Wilson laid out how his office's programs and investigations are making a difference.
Kim Hamm, executive director of the S.C. Network of Children's Advocacy Centers, which is celebrating their 10th anniversary, stated there's not much that should take priority over protecting the state's children, especially the most vulnerable ones. She emphasized the significance of agencies and organizations working together to help communities fight child abuse.
"We want to highlight a few initiatives that are helping make South Carolina a better place for children to live and thrive," Hamm said.
Rep. Shannon Erickson, R-Beaufort, chair of the Joint Citizens and Legislative Committee on Children, saluted the Children's Advocacy Centers for bringing awareness to the issue of child abuse, coordinating and streamlining investigations, creating money-saving efficiencies, and providing services.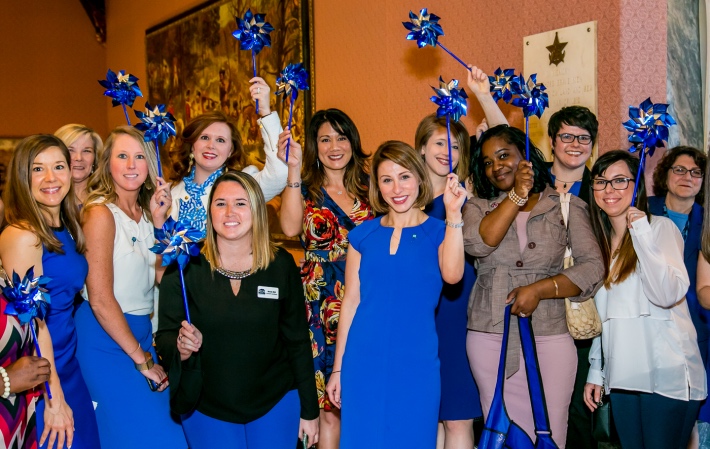 DSS director Susan Alford spoke of the 18,398 children in founded investigations of child maltreatment in the state over the previous year and the sobering and daunting impact they can have on families and communities across the state.
"We must remember these statistics are not just numbers," Alford said. "Child abuse and neglect affects everyone in our communities. It tears at the fabric of what we hold dear, which is that our children need to be safe and healthy and protected. So we need to serve these children well, not only because they deserve our efforts to restore their opportunities for hope and love, but also as an investment in their well-being that will be paid back in full as they become healthy adults."
Williams cited the importance of this collaborative effort to emphasize the key role that each partner must play – not just in the spotlighted month of April but year-round – in working toward stronger laws, greater coordinated action, and an increase in measurements, accountability and investments.
She cited the 53 local prevention partners across the state that are participating with Children's Trust as a part of the Prevent Child Abuse South Carolina network this year for CAP Month.
"These local organizations are working hard every day to help families be stronger and keep children safer," Williams said.
View photos from the event