For several years, Children's Trust of South Carolina has hosted the Building Hope for Children Conference, a statewide biannual two-day event focused on child abuse and neglect prevention. But this year was different.
Nearly 450 attendees, representing 36 counties and more than 100 organizations, came together in person for the first time in three years on August 24-25 at the Hyatt Regency in Greenville, South Carolina. Child-serving professionals, home visitors and prevention advocates connected, shared knowledge, and most importantly, practiced self-care together.
Children's Trust CEO Sue Williams welcomed attendees, commending them for continuing to serve children and families after 2 and a half years of the COVID-19 pandemic and ongoing social division. She encouraged them to use the conference as a time to reconnect to their purpose and with each other.
"I think the energy in this room is what feeds us; I hope you will lean into this energy," Williams said at the opening session. "I hope you gain some new skills and insights. Most importantly, I hope these next two days give you the space to reset and gain tools to take care of yourselves. I hope you'll leave inspired and recharged for your important work ahead as champions for children."
Be a Champion for Children
With the theme, "Be A Champion for Children," the conference showed the different roles people can play in keeping South Carolina's children safe from abuse and neglect. Attendees learned from twenty-four innovative workshop sessions and three national keynote speakers about topics including burnout prevention, self-care for helping professionals, child development and community well-being.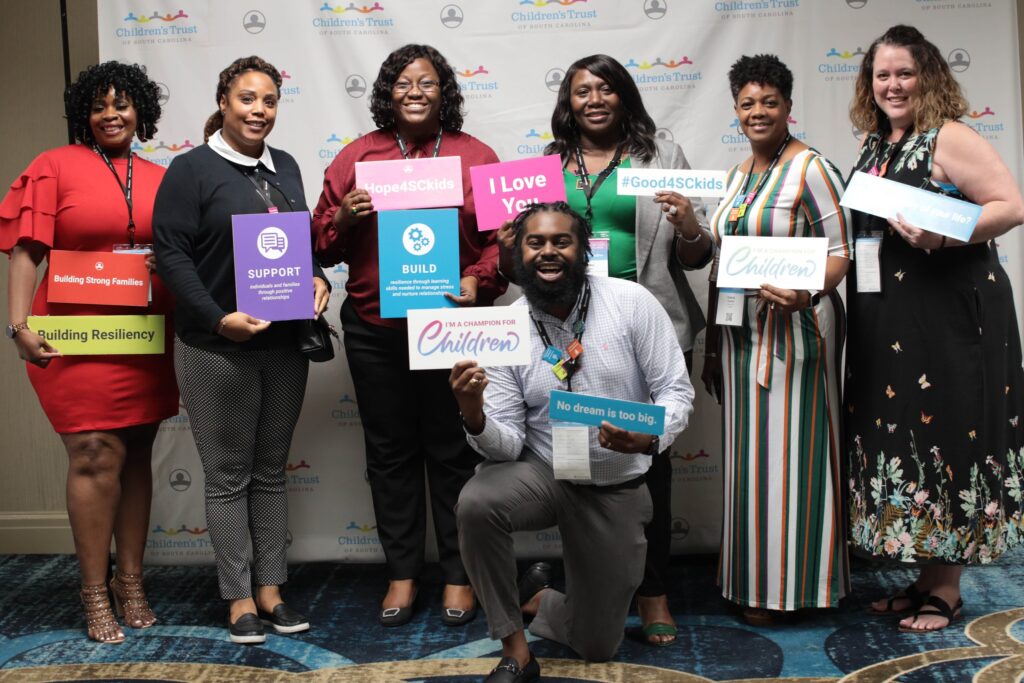 On the first day of the conference, South Carolina Department of Social Services state director Michael Leach, addressed the attendees. He reminded them about the effects of child abuse and neglect—from developmental delays to substance abuse in adulthood. He also noted the larger economic impact of child maltreatment, citing a national cost of 258 million dollars a day and approximately 94 billion a year.
"It is our collective responsibility to take care of one another," Leach said. He emphasized that change is possible when people and organizations work together to promote access to support for families, including community resources, adequate healthcare, safe neighborhoods and schools. Leach said at the core, being a champion for children, is one thing.
"It's about building relationships. You have to care. You have to listen. Believe in families and each other so you can build trust. That's when change happens."
Taylor Urges Attendees to Prioritize Self-Care 
Day one of the conference opened with a powerful keynote address by Dr. Janet Taylor, community psychiatrist and executive coach who specializes in the neuroscience of implicit bias and conscious allyship. In her presentation, she urged the audience to be champions for their own well-being so they can fully show up for children and families.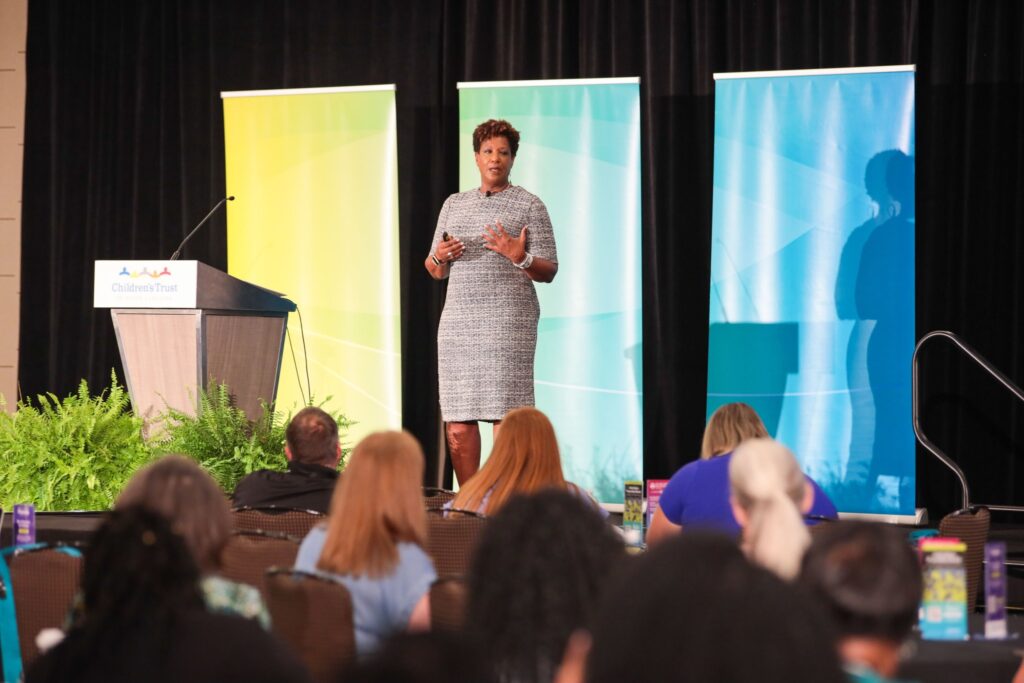 "Being a champion for children means you recognize that children are human beings who need to be nurtured from day one," Taylor said. She encouraged attendees to allow themselves to have that same right. "To the extent that we are advocating and fighting for children, we also need to pay attention to our own trauma and focus on our own healthcare and self-care."
Taylor shared practical ways to prioritize mental and physical health, including how to cope with stress, practice mindfulness, change negative talk and have self-compassion. She also reminded the audience that self-worth often determines how and if people take care of themselves.
"I'm telling each and every one of you: You are worthy of love, of feeling the best that you can, you are worthy of being treated the way you should be treated—and you should demand no less."
Cummings Shows How to Lead with Play and Innovation 
"When people are at play, they are their truest and more authentic selves. Children know this, right? Well, there is also an inner child within all of us adults," said Michelle Cummings, team-building and leadership development expert. "Being a champion for children is being a champion for others and that little one inside of us."
Cummings closed out the first day of the conference with an interactive keynote address on how to lead like a champion.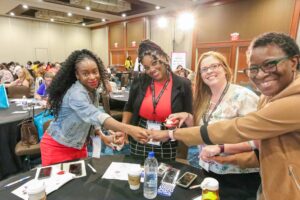 She focused on emotional resiliency, the ability to adapt, as key to the "mind of a leader." Guiding attendees through fun activities, she helped them see how stress triggers can compromise leadership. Participants gained self-awareness around their individual capacity for resiliency.
Cummings spent as much of the presentation facilitating small group discussions around the room, instructing attendees to reflect on the material by using toys and asking each other questions.
She also encouraged conference participants to continue connecting with each other. "We've been isolated for a really long time. So coming together in person and hearing speakers and having side conversations afterward in the hallway or over lunch—that's where a lot of the best learning comes from."
On day two of the conference, attendees heard from one of South Carolina's greatest champions. Keynote speaker Dawn Staley sat down with Children's Trust board chair Tiffany Santagati and shared with the attendees what being a champion for children meant to her as head coach of the University of South Carolina women's basketball team. The basketball icon shared experiences from her career as a player, coach and community member. [NOTE: I did not add any quotes because the planning team told me Staley's contact doesn't allow it.]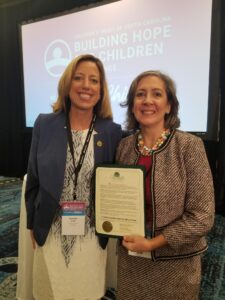 Greenville Declares "Building Hope for Children Week"
A couple of politicians attended the conference to show their support and celebrate the work being done to improve child and family well-being in the state.
Councilwoman Dorothy Dowe spoke to attendees, and on behalf of the City of Greenville, issued a proclamation declaring August 22-26, 2022 as "Building Hope for Children Week." [Insert picture of Dowe and Sue with Proclamation]
South Carolina Lt. Gov. Pamela Evette ended the conference by expressing her appreciation to Children's Trust and the attendees on behalf of the governor.
"Thank you for making our communities safer and for making our children's lives better. Your work is making the difference."
Agredano, Edmondson Recognized for Home Visiting Work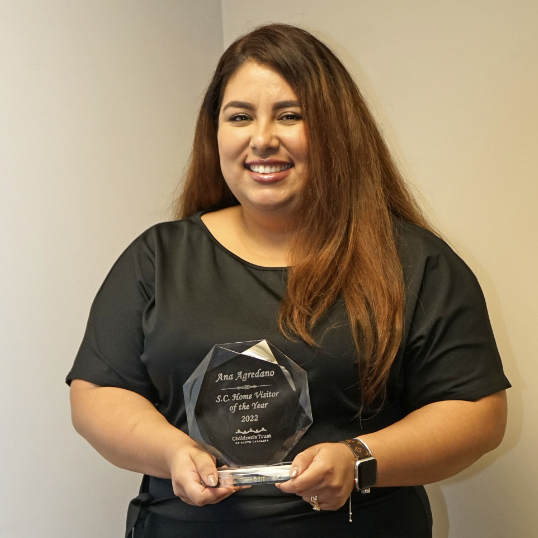 During the home visiting pre-conference on August 23, Children's Trust recognized Ana Agredano as the Home Visiting of the Year Award. A bilingual parent educator at the Eau Claire Cooperative in Columbia, Agredano shows leadership through her compassion and expertise, according to her nomination.
"Family empowerment is a top priority for Ana as she works to teach parents to be advocates for themselves and their children. She demonstrates leadership in multiple avenues, from networking and engaging families to developing program tools. She has been fundamental to the success of the Eau Claire Cooperative home visiting program."
Children's Trust also named Dr. Luke Edmondson, a general pediatrician at the MUSC Health Children's Care Clinic in Moncks Corner, as Community Leader of the Year. Edmondson was cited in his nomination for his ongoing commitment to improving the lives of children in his community.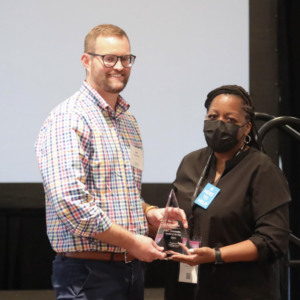 "Dr. Edmondson was instrumental in bringing both Healthy Families America (HFA) and Nurse-Family Partnership (NFP) to MUSC in Charleston. He has been a fierce advocate of home visiting, persistently raising awareness among his medical colleagues and community partners regarding the value of home visiting. He has a vision of universal home visiting where every child has the opportunity to receive home visiting support."
They Said it on Social
Dinah Taylor
Day 1 of @ChildrensTrustS Conference with keynote @drjanet was amazing! Her message on self-care and resilience came at such an important time! Looking forward to Day 2!
Daniel Cooper, Ph.D
Had a great time at the Building Hope for Children conference this week. Feeling inspired by all the people working hard to support child health in SC! #ChampionsForChildren
@ChildrensTrustS #AcademicTwitter
Impact Center at FPG
We had a blast and learned so much at #BHCC22! Thanks for your continued partnership with us to be champions for children @ChildrensTrusts. #scTripleP
Fact Forward
FF's Doug Taylor & @SCFirstSteps' Rachal Hatton-Moore presented about the Two-Generation (2Gen) Approach & the SC 2Gen Community of Practice at the Building Hope for Children Conference 2022! Email sc2gen@gmail.com to learn more & get involved. #BHCC22 #ChampionsForChildren
Davis Social Work Consultants, LLC
Met so many #ChampionsForChildren today while serving as an exhibitor at the #bhcc22!
Relive the Conference
Check out the album of pictures from the conference. Watch the closing slideshow of attendees' pictures.