Children's Trust hosted a car seat check and press conference April 26 on the State House grounds to recognize last year's passage of a stricter child passenger safety law while informing parents and caregivers on the importance of having certified technicians inspect and install car seats. Neil White, who tells the stories of Children's Trust, covered the event.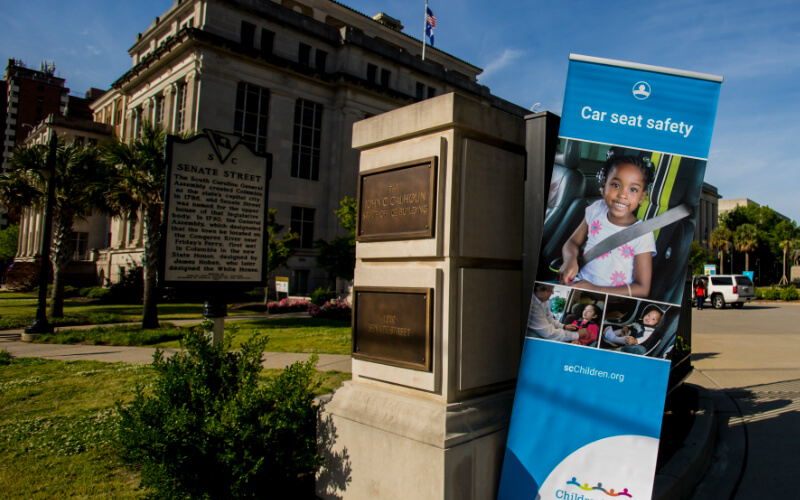 ---
Ansley Turnblad left no doubt about why she pulled into the child passenger safety event on the State House grounds to get the car seats of her two children checked.
"This has been fantastic. I love my kids, and I want them to be safe," said Turnblad, a branding coordinator with the S.C. Department of Agriculture with children ages 4 years and 8 months.
Children's Trust, the South Carolina affiliate of Safe Kids Worldwide, hosted the car seat check outside the Calhoun Building for legislators, staffers and those working in the Capitol Complex offices. The event also included a press conference featuring lawmakers and child passenger safety advocates discussing the higher standards of the law passed last May that follows recommendations by the American Academy of Pediatrics.
On a gorgeous morning in April, which is Child Abuse Prevention Month, people steadily pulled their cars into the parking area to have certified child passenger safety technicians – which included partners from the S.C. Department of Health and Environmental Control, law enforcement, and Safe Kids local affiliates across the state – inspect seats to ensure their proper installation.
"Vehicular fatalities are the leading cause of injury and death among children in South Carolina. These deaths are also, unquestionably, the most preventable. Lawmakers have given parents a practical, evidence-based law to guide them in placing their beloved sons and daughters safely in car seats. This will save lives," said Neil Mellen, Children's Trust director of policy and advocacy.
"Children's Trust is tremendously proud to have brought together lawmakers, experts, advocates, and law enforcement officers to celebrate the passage of the car seat law, educate the public about its importance, and provide employees at the State House a rigorous check of their own safety seats."
Two of the early arrivers at the event to get seats checked were Rep. Derham Cole (R-Spartanburg) and Sen. Kevin Johnson (D-Clarendon). A wide-ranging group showed up to take advantage of the expertise, including Connelly-Anne Ragley, who works in government affairs and brought along her 2-week-old son, Ellis.
"I jumped at the chance when I heard this was being done," said Ragley, who also had the seat of her 2-year-old son checked.
Kate Wink, a senior budget analyst with the Senate Finance Committee, wanted to learn about the proper seat setup for children – her son is 6 – as they get older and bigger. Sarah Tilton, a certified technician and instructor who works as a director of consumer advocacy for York County-based Britax, a leader in child safety technology, said people were pulling in and saying they knew their seats were not installed properly.
"They feel like they haven't done it right, and they need to do that. They know children are the most precious cargo, and we want to reassure them that they can do it correctly each and every time," Tilton said.
The press conference featured four speakers: Mellen, Sen. Katrina Shealy (R-Lexington), Rep. Beth Bernstein (D-Richland), and Lexington police officer Steffonie Cockerill, a child passenger safety technician and instructor.
Standing with this group to show their support of child passenger safety were Sen. Brad Hutto (D-Orangeburg), Rep. Jason Elliott (R-Greenville), and Rep. Josh Putnam (R-Anderson). Also on hand were Katrin Bost, Children's Trust safety initiatives coordinator; Curtis Loftis, the state treasurer; and Marlene Williams, the state government relations manager for General Motors, a corporation with a consistent track record of investments in public education for the use of car safety seats in accordance with vehicle and safety seat design standards.
Shealy was clear about her interest in touting the benefits of the law for South Carolina children and families.
"We wanted to make sure all of our children are safe when they get into a car. This is very important," Shealy said.
The speakers wanted to emphasize the new life-saving car seat safety law states that a child's height, weight and developmental stage – not merely the age – are the key to choosing the best seat. The need for education on proper child passenger safety is significant. Motor vehicle crashes are the leading cause of death and injuries for children older than 1 year of age. Properly-installed child safety seats can reduce the risk of death by 71 percent for infants and 54 percent for toddlers.
Bernstein's motivation to pass stronger legislation began with a question from her family's pediatrician about their own child passenger safety.
"It's our obligation to make sure we have laws in place to protect our children," Bernstein said.
It's also important to receive assistance installing and using a car seat. Experts estimate that 75 percent of car seats are used incorrectly, which poses a great risk to the safety of children. There are more than 80 permanent car seat inspection stations in South Carolina where families and caregivers can receive help and tips from a certified child passenger safety technician at no cost.
Cockerill, who won the Law Enforcement Technician of the Year at the 2017 Child Passenger Safety Summit, called education on child restraint the most important part of car seat safety.
"We have to make good decisions for our most vulnerable population," she said.