The Child Passenger Safety Summit offers training and certification for first responders and community volunteers while honoring the best in the field. Neil White, who tells the stories of Children's Trust, covered the event.
Jeff Allen understands the importance of child passenger safety better than anyone.
The retired fire marshal at the Irmo Fire District and a former board member for Children's Trust, Allen got a call on Labor Day about an automobile accident on I-20 near Camden that involved family members, including two of his young grandchildren. Their vehicle was totaled.
"But I can tell you that I installed those two (car) seats. I've been doing this since 1998, and those two kids came out without a bruise or a scratch," Allen said. "That's why this is important."
The longtime advocate spoke at the Jones Bowen Awards, named in honor of the late Sake Kids Aiken coordinator, as part of the Child Passenger Safety Summit Oct. 3 at the Columbia Metropolitan Convention Center. The summit featured speakers and trainers addressing the most current information regarding safety regulations, equipment training, and updates from car seat manufacturers.
Approximately 180 of these volunteer technicians around the state attended the summit to receive continuing education units to maintain their certification in order to continue serving thousands of families through car seat safety in their communities. There are 1,100 technicians in South Carolina, but there remains a need for more, especially in the 15 counties in the state that do not have a permanent car seat inspection station.
Steffonie Cockerill, who was named Law Enforcement Technician of the Year during the awards ceremony, believes it's crucial to recruit and retain more techs. Motor vehicle injuries are a leading cause of death among children in the United States. Many of these deaths are preventable. Around 85 percent of car seats in South Carolina are used incorrectly, which poses a great risk to the safety of children. 
"When I think of child passenger safety, I think about the lack of education that is occurring all over the state of South Carolina. We give as many free classes as we can. We have PSA billboards," Cockerill said. "Our goal is to reach out to every community, no matter what language you're speaking, no matter where you are in the state, to make sure that we give you just a little bit more education so you can keep your children a little safer in the vehicle."
Besides Cockerill, these technicians received Jones Bowen Awards for their dedication to child passenger safety and injury prevention in the following categories.
Child Passenger Safety Technician/Instructor of the Year: Sarah Tilton, Britax Child Safety
Documented Save of the Year: Miguel Rullan, Housing and Neighborhood Services, Rock Hill
Hall of Fame Award: Steve Clare, Batesburg-Leesville Police Department
Firefighter Technician of the Year: Beverly Densmore, North Spartanburg Fire District 
Health Care Professional Technician of the Year: Katie McCollum, Palmetto Health
Volunteer Technician of the Year: Scott Searcy, Easley Fire Department (Ret.)
Fitting Station of the Year: Myrtle Beach Fire Department Station No. 6
The South Carolina Legislature passed an updated child passenger safety law in May designed to follow national recommendations to keep kids safer in car seats. As one of the lawmakers responsible for advancing the bill, Rep. Beth Bernstein, D-Richland, attended the Jones Bowen Awards at the CPS Summit to honor the technicians and receive recognition for her commitment to the issue.
"Children's issues are very important to members of the General Assembly," Bernstein said. "And it took an awareness and a lot of different groups getting involved to advocate for this bill, and I think we will see the benefits. We are now conforming to national safety standards, which we want to aspire to do as a state."
In addition to Bernstein, the other lawmakers who sponsored the bill were Rep. Neal Collins, R-Pickens; Rep. Shannon Erickson, R-Beaufort; Rep. John King, D-York; Rep. Jason Elliott, R-Greenville, on the House side, as well as Sen. Brad Hutto, D-Orangeburg; Sen. Katrina Shealy, R-Lexington; Sen. Darrell Jackson, D-Richland; Sen. Thomas McElveen, D-Sumter; and Sen. Thomas Alexander, R-Oconee., on the Senate side.
Bernstein noted this issue resonates with so many people because parents and caregivers understand children need proper restraints when traveling in motor vehicles.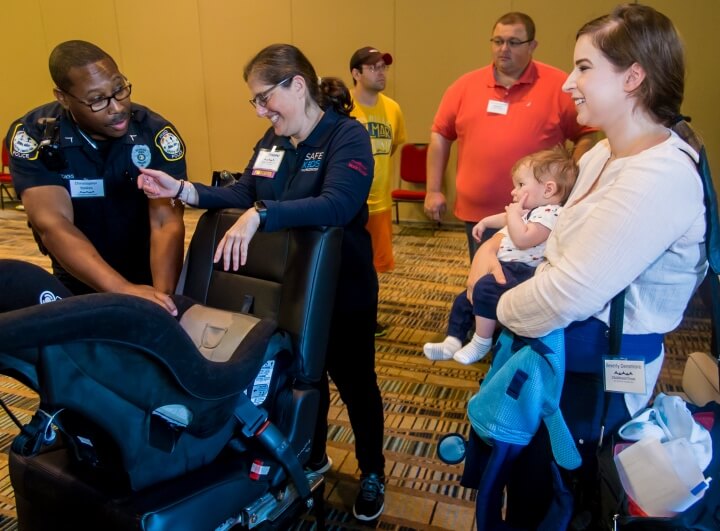 Katrin Bost, Safe Kids associate at Children's Trust and organizer of the summit, believes raised awareness is important to let parents know the importance of getting car seats installed or checked by trained technicians. She called the event a unique opportunity for new and seasoned technicians to come together and learn skills that they will take back to serve families in their communities by protecting the youngest and most vulnerable from injuries and fatalities.
Cockerill noted the mix of technicians, from first responders to medical professionals to educators to state employees to other volunteers interested in helping children, makes child passenger safety such a community effort.
"I believe that the summit brings all kinds of different people together from all different walks of life and all kinds of different occupations and helps us reach out into those other agencies to make them ambassadors for the safety that we're trying to give back to the community," Cockerill said.
"Spirits are high, and the hope is that we'll be able to recruit and retain technicians, especially with the state law being changed this year. That's a fantastic initiative for us to be able to reach out to all these other agencies and organizations to try to make sure that they're all coming together and we're moving forward."
Photos from Child Passenger Safety Summit 2017