By Lindsay Street, Statehouse correspondent. Fewer than 70 miles away from each other, York and Marlboro counties represent the spectrum of outcomes for children in the Palmetto State.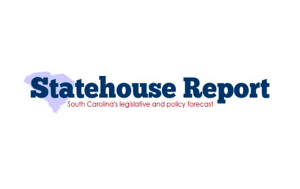 Advocates say the disparities between a suburban county like York and a rural one like Marlboro come down to resources available and those resources are largely tied to economic progress and help from the state.
South Carolina ranks 39th from the top among U.S. states in child "well-being," or wellness in data related to educational, social, economic and physical attributes.  Outcomes are even worse among the state's racial minorities Meanwhile, there are often large gaps between South Carolina's counties, especially when it comes to education, health and access to jobs, according to the 2017 Kids Count South Carolina report.
Earlier this year, the Annie E. Casey Foundation released the national report which provides data at the county level on teen birth rates, low birth weights, children living with unemployed parents, high school dropout percentages and other factors contributing to child well-being.
The spectrum
York County was first in well-being rankings and Marlboro County was last at 46.
"As a child, you would notice a difference," said Melissa Strompolis, director of research and evaluation at Children's Trust of South Carolina. "If you are a child who lives in a poor neighborhood with a poor school where your folks can't get a well-paying job, (and) that can make a difference."
In Marlboro County, 12.1 percent of children live with jobless parents and 71.9 percent of children live in concentrated areas of poverty. But in York County, only 5.3 percent of children live with jobless parents and 2.2 percent of children live in concentrated areas of poverty.
Economic well-being
"There's a lot of room for improvement for Marlboro County but things aren't all bad there," Strompolis said. The county is ranked 22nd in the state for economic well-being overall. York County ranked first in this category. "If you look back over the past three years for the economic domain, (Marlboro County) spent the last three years in the 30s."
Strompolis said she's hopeful that economic well-being increase will trickle into other areas to help improve overall child well-being.
Still, it's hard to feel that on the ground just yet, according to Randall Johnson, executive director of Marlboro County First Steps, a state-funded program in all counties that helps get children ready for school.
"We just need industry — anything that can help," Johnson said.
Health well-being
York County ranked 10th in the state for health, while Marlboro County ranked second from the bottom. In York County, there are at least three hospitals and access to health systems in Charlotte. In Marlboro, there is no hospital. That makes a big difference, Johnson said.
"Parents have to go to North Carolina or Florence County for pediatricians," he said.
Not having access to health care often means lower birth weights from babies — not just due to a lack of prenatal care, but also due to women being unhealthy prior to pregnancy, according to Shelli Quenga, the Palmetto Project's director of programs.
"You have to be fully healthy, not just gynecologically healthy," she said.
In Marlboro County, 14.3 percent of babies are born at a low weight, or less than 5.5 pounds. In York County, 8.2 percent of babies are born at a low weight.
"Low birth weight is one of the earliest key indicators in well-being of a child," said the Children's Trust's Strompolis. A healthy-weight baby is more likely to have connection to healthy services and preventive care. Parents will likely have less stress getting and keeping the baby healthy, and less of a financial burden. "It really snowballs."
Infant mortality also greatly differs among the counties. With the seventh highest infant mortality rate in South Carolina, Marlboro County has a rate of 11.7 infant deaths per 1,000 children. York County has the 13th lowest rate  in the state with a rate that is less than half of Marlboro County's: 5.1 infant deaths per 1,000 children.
Educational well-being
Education has similar disparities between the counties. Marlboro County was ranked fourth from the bottom in education, while York County was at the top of the list..
In Marlboro County, 10.8 percent of children are failing 1st, 2nd or 3rd grade, according to Kids Count data The statewide average is 4.7 percent. In York County, only 1.2 percent of these students are failing. More than 86 percent of third graders tested below state standards in reading in Marlboro County, compared with fewer than 60 percent in York County.
Marlboro County's best education score was in its  dropout rate, coming in at No. 23 with a dropout percentage of 2.4 percent. York County's percentage is 1.7 percent.
'Continue to try'
First Steps' Johnson is on the front lines of trying to improve access to education in Marlboro County. His office collaborates with caregivers, educators and the business community to work toward preparing future students.
"We're really trying to collaborate with as many people as we can," Johnson said. "We're getting into those houses early before the kids get to school."
S.C. Rep. Raye Felder, R-York, said programs like First Steps have been vital to improving education in York County and other counties. She said some school districts are taking it a step further by enacting their own preschool programs for 3-year-old children.
First Steps is just one of the state agencies working toward helping all counties in the state. There are other ways the state can help, according to advocates.
Children's Trust of South Carolina is pushing for policies, such as tax credits for families, and continues to assess the impact and look for improvement on early childhood legislation Strompolis said Marlboro County's low ranking in health spotlights a need for the availability of support and services to keep children and families healthy.
Quenga added counties like Marlboro County are still lagging behind in many factors because the state didn't expand Medicaid, which would have made Obamacare available at no cost to poorer families.
She also said it was important to educate communities on all of the state services that may be available, such as how pregnant women can receive free medical care now through Medicaid.
Felder said that even York County needed help when it came to health care. She said working on the state's reimbursement of Medicaid for special needs was especially vital. According to Felder, the 27 percent increase to the rate that took effect this fiscal year was "still not enough."
"We have a ways to go," Felder said.
Johnson said he was hopeful that Marlboro County is improving. He cited the Marlboro High School Class of 2016 , saying students received the biggest amount of monetary scholarships in school history.
"We know change is happening slowly," he said. "We know that we are building and we are going to continue to try."
View all South Carolina county profiles.
---