By Dionne Gleaton, The Times and Democrat
ORANGEBURG – While some conditions are improving for children in The T&D Region, many are still born with low birth weights and live in poor areas, a new Kids Count study shows.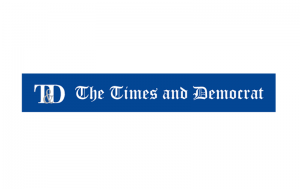 Considering a broad range of issues affecting children, including health care and education, Kids Count ranked South Carolina 38th in the nation in child well-being. That's the state's highest ranking to date.
Kids Count ranked South Carolina's counties on 16 indicators of child well-being across four domains: economic well-being, education, health and family and community.
"With this data, we can work with communities to build well-being and resilience and prevent child abuse and neglect from occurring in the first place," said Dr. Melissa Strompolis,
Children's Trust's director of research and evaluation.
"Community members are the key to using this data as well. They are the experts who can identify what's working and where additional support is needed," she said.
Calhoun County was among the counties making the biggest leaps from 2017, improving by eight spots to rank 24th among the state's 46 counties in child well-being for 2018. Bamberg ranked 30th and Orangeburg ranked 40th. 
Carissa Gainey, interim director of the S.C. Department of Social Services' Calhoun County office, said "I think the most important thing that we've realized is that child welfare is not just the job of DSS, but it's a community effort. We partner with agencies like First Steps and other community programs, and we really get the best outcomes for children."
Based on comparisons between 2017 and 2018 county profiles, the Kids Count study revealed Bamberg, Calhoun and Orangeburg counties improved in the number of births to 15- to 19-year-olds.
In Orangeburg County, births to teens decreased from 34 per 1,000 teens ages 15 to 19 in 2017 to 27 births in 2018. Bamberg County was recorded as having improved with 16 births per 1,000 teens ages 15 to 19 in 2017 compared to 10 among the same population in 2018.
Calhoun County also saw a decline in its teen birth rate with 25 reported births per 1,000 15- to 19-year-olds in 2017 compared to 20 reported births among the same population in 2018.
"Bamberg School District 2's Adolescent Pregnancy Prevention's Initiative is now 36 years old. We do attribute the positive gains we've been able to make and sustain over 36 years to our intensive long-term, age-appropriate sexuality educational programming for our students in grades pre-k through 12th grade," said Michelle Nimmons, coordinator of Bamberg County School District 2's Pregnancy Prevention Initiative.
"We are very fortunate that our community, the board of trustees and district administration continue to be supportive of our program. They understand the connection between young people delaying the initiation of sexual behaviors, avoiding risky sexual behaviors, contracepting effectively and school success," Nimmons said.
All three counties also improved in the following areas: percentage of children up to age 17 living in households with incomes below the poverty level, the percentage of teens ages 16 to 19 not enrolled in school and not working and the percentage of children living in single-parent households.
There were more mixed results in other areas, including the percentage of children living in areas of concentrated poverty. An area of concentrated poverty is defined as an area in which the census tract has a poverty rate of 30 percent or more.
While Calhoun County's percentage remained unchanged at 0 percent between 2017 and 2018, the percentage slightly worsened for Orangeburg and Bamberg counties.
The percentage of children living in areas of concentrated poverty increased from 32.2 to 32.3 percent in Orangeburg County and from 29.3 to 30.8 percent in Bamberg County.
The data also revealed fewer babies were born weighing less than 5 pounds, 8 ounces in Calhoun County, which saw its percentage decline from 13.3 percent to 11.5 percent.
Orangeburg County's percentage of low-birth-weight babies increased from 11.6 to 14.2 percent, while Bamberg's percentage increased from 10.7 to 13.3 percent.
The area of education also yielded mixed results. While the cumulative percentage of children failing grades 1, 2 or 3 slightly worsened for Orangeburg County from 5 percent to 5.3 percent, it improved for Bamberg and Calhoun counties.
Bamberg County's percentage decreased from 12.1 to 8.6 percent, while Calhoun County's percentage of children failing grades 1, 2 or 3 dipped from 6.8 to 5.1 percent.
Calhoun County First Steps Executive Director Virginia Newman said early childhood education provides the foundation for success in grades 1-3.
A Parents as Teachers program, which is provided through First Steps, strengthens families with home visits and group meetings, while a Dolly Parton Imagination Library provides an age-appropriate book each month to children through age 5 in the county, Newman said.
Countdown to Kindergarten, a school transition program, is another service provided to assist 4-year-olds with skills needed for success in kindergarten.
"We're also fortunate in Calhoun County that they've been offering the 4-K program for the past 18-plus years. So once the child leaves our program, if the parent wants the child to go to Head Start, which is next door to us, they may refer them there, or we work with the school district in getting them into the 4-K program," Newman said. "We also work with the Montessori teacher at the St. Matthews K-8 School. That classroom accepts 3- and 4-year-olds."
She said her agency has good working relationships with the other county agencies, including the Department of Social Services and the Department of Health and Environmental Control.
"We're required by legislation to have a representative from the school district, DSS, DHEC and the county library on our board," Newman said.
Calhoun County First Steps stresses that the parents are a child's first and best teacher.
"Parents are the key, and they don't always know that," she said.
Kids Count is a project of the Annie E. Casey Foundation. It provides data on children and families. To view the report, visit scchildren.org.
---
Source: The Times and Democrat