Children's Trust held an event during Child Abuse Prevention Month in April at A Child's Haven that saluted all of its Upstate grantees and announced the annual funding investment behind the proven prevention programs these partners deliver in their local communities. Neil White, who tells the stories of Children's Trust, covered the ceremony.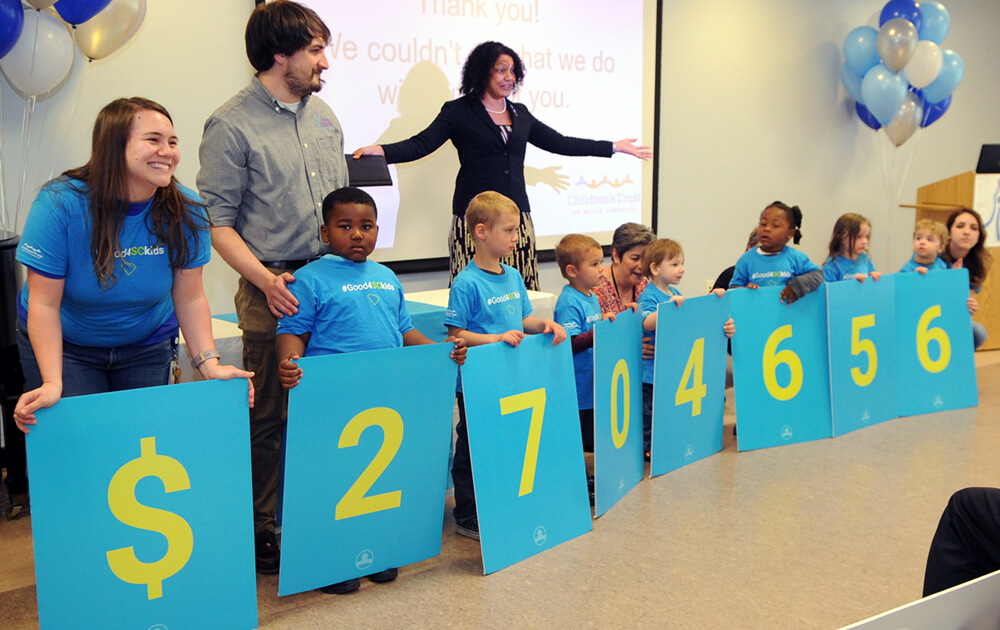 ---
GREENVILLE – Laurie Rovin beamed as she looked around a room filled with advocates for children and families at A Child's Haven.
Rovin, the executive director for A Child's Haven, opened the event with a welcome for Children's Trust, which put together the investment announcement as a part of Child Abuse Prevention Month.
A Child's Haven – an organization that treats children with developmental delays as a result of limited resources, abuse, or neglect while providing support and education for their families – was one of 13 partners and grantees covering eight counties in the Upstate of South Carolina saluted by Children's Trust for their work in the April 13 ceremony.
Rovin appreciated the opportunity to open the doors of her sparkling facility to bring everyone together.
"A Child's Haven was just so happy and honored to be able to host our Upstate community partners in child abuse prevention," Rovin said. "Working with Children's Trust is an asset for all of us here, not only in the Upstate but throughout the state. None of us can do it alone. Sadly, the need is great. We have incredible talent in this state and an incredible number of devoted and dedicated individual professionals."
A Child's Haven offers home visiting services as part of the federal Maternal, Infant and Early Childhood Home Visiting grant administered statewide in South Carolina by Children's Trust. The other 12 grantees in this area provide programs that best fit the needs of their communities: home visiting, Strengthening Families Program, Triple P (Positive Parenting Program), and Community Support for Young Parents.
Tiffany Santagati, a Children's Trust board member and Southern First Bank senior vice president, presided over the ceremony with Lee Porter, chief program officer of Children's Trust. Santagati unveiled the $2.7 million investment – with the help of seven children holding up the key numbers – the statewide organization is making with these Upstate partners in the current fiscal year.
Santagati referenced the 17,662 children in founded cases of child maltreatment last year, and the importance of Children's Trust, the state affiliate for Prevent Child Abuse America, working with its partners to implement proven prevention programs that strengthen families while promoting positive parenting and child well-being.
Children's Trust provides financial support, evaluation, training and coaching as well as program support, while local partners provide the community knowledge, access to families and program delivery. 
"You do the work every single day," Santagati said. "Without you, none of this would be possible."
Porter spoke of how the local grantees oftentimes serve as the oasis in the desert for children and families in dire need of support and services.
"You provide life and health and opportunity," Porter said. "We're honored and humbled to call you friends and partners."
The partners appreciated the chance to connect with fellow child-serving professionals and discuss the work binding organizations together. They understand even when they aren't directly working with each other, they're providing significant resources that protect children and support families in their various communities.
"We know that we can't do this work alone. It's important and valuable to us to know that we have partners all across the state," said Shauna Galloway-Williams, executive director of the Julie Valentine Center, which offers Triple P among its services. "It's just incredibly powerful to see that many people in one room with the same vision, passion and dedication for preventing child abuse across South Carolina."
Amber Byrd, who coordinates the Strengthening Families Program for Foothills Alliance, was excited to see other Upstate organizations with similar missions and visions.
"It's overwhelming to know that we have so many people all trying to do the same thing to benefit families, parents and children," Byrd said. "Children's Trust has given us an opportunity to go out and help families."
Chamlee Loscuito, chief executive officer of the Hope Center for Children, which provides Triple P among its services, came away with a better understanding of how all the prevention allies in the Upstate can coordinate in a broader fashion.
"Prevention is really a mindset of working with families to go find that need and meet that need. It's not the way we're always accustomed to thinking," Loscuito said. "When we find other people making that link, we make sure we're not duplicating and that we're partnering and supporting each other's work. That's really valuable."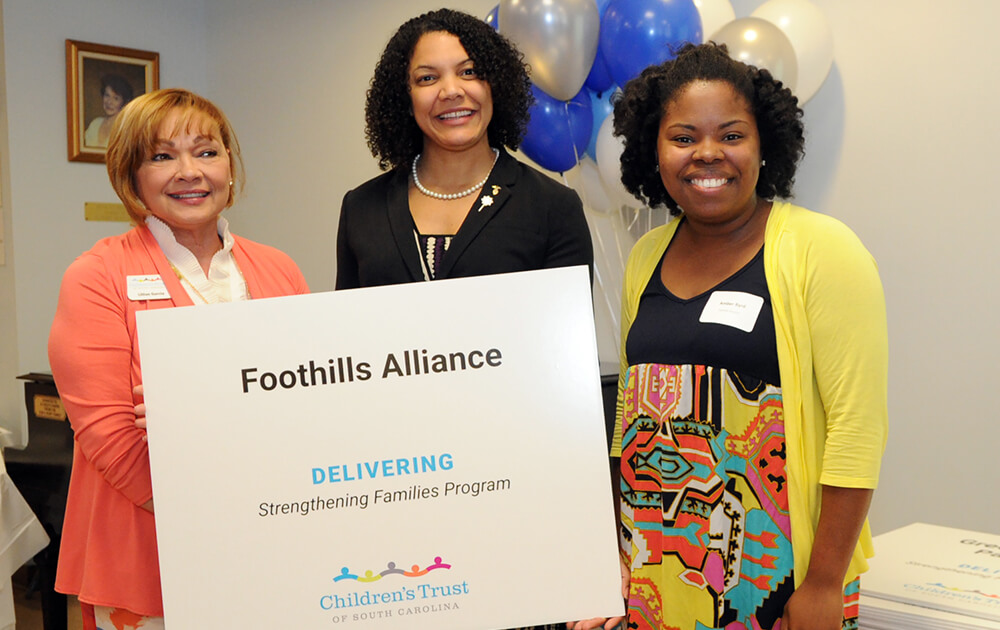 Upstate Partners
A Child's Haven, Greenville –Home Visiting
Communities in Schools, Greenville – Strengthening Families Program
Foothills Alliance, Anderson – Strengthening Families Program
Greenville Family Partnership, Greenville – Strengthening Families Program
Greenville Health System Nurse-Family Partnership, Greenville – Home Visiting
Heath's Haven/United Way of Oconee County, Seneca – Strengthening Families Program
Hope Center for Children, Spartanburg – Triple P
Julie Valentine Center, Greenville – Triple P
Mary Black Foundation, Spartanburg – Community Support for Young Parents
The Parenting Place, Easley – Home Visiting
SAFY, Greenville – Strengthening Families Program
Spartanburg County First Steps/Spartanburg Regional Healthcare System Nurse-Family Partnership, Spartanburg – Home Visiting
Thornwell, Clinton – Strengthening Families Program