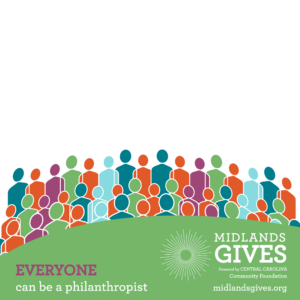 May 5 proved to be a record-breaking day for Midlands Gives, as the community came together to donate over $3.3 million for local nonprofits. Children's Trust accounted for almost $9,000 of that total from 49 individuals, which included a generous match from an anonymous donor known as the Cheerful Giver.
The Central Carolina Community Foundation, which stages the annual online giving challenge each May, welcomed the generosity that's going to have a large impact on countless lives and help over 400 nonprofits across the Midlands overcome the devastating effects of the coronavirus outbreak. The organization thanked the thousands of donors, partners, sponsors, and nonprofits who teamed up to work tirelessly to make the community stronger.
Children's Trust appreciates the donors who chose to support South Carolina's children and families, as our organization and our many local partners across the state continue to implement programs that prevent child abuse and neglect, especially during these stressful times.
"Our work is not possible without our donors and their commitment to building better lives for children and families in our state," said Caitlyn McAnulty, Children's Trust donor relations coordinator. "A thriving community needs people who are dedicated to ensuring that children are happy and healthy and families are strong."