Children's Trust hosted an event during Child Abuse Prevention Month in April that saluted its Midlands grantees and announced the annual funding investment behind the proven prevention programs these partners deliver in their local communities. Neil White, who tells the stories of Children's Trust, covered the ceremony.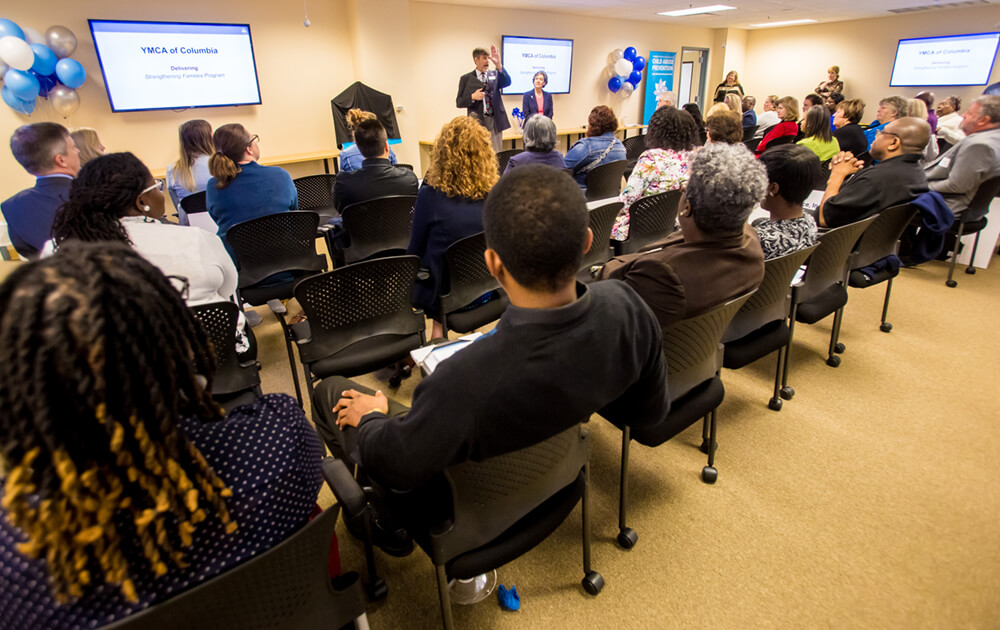 Georgia Deal knows just how much funding and support provided by Children's Trust of South Carolina means to her organization.
As the director of early education services at Greenwood-based Carolina Health Centers, Deal sees the impact every day as her organization works to grow strong families, prevent child maltreatment, and build a community of children who are healthy and reaching developmental and educational milestones through home visiting programs for new mothers, infants and young children.
"Children's Trust is very supportive in the work that we do, and of course, all of us are trying to prevent child abuse," said Deal, whose organization strives to improve outcomes and build an integrated community system of health care and family support in Greenwood, Abbeville, McCormick, Edgefield and Saluda counties, rural areas that are often underserved.
"We have home visitation models that are evidence-based, and so we are always excited about the opportunity and the resources provided by Children's Trust in order to help us to be more effective in doing what we need and providing the staff what they need. It's a great connection here, and to have state support is awesome."
Carolina Health Centers was one of 15 partners and grantees covering 19 counties through the Midlands of South Carolina saluted by Children's Trust for their work in an April 11 ceremony. Children's Trust CEO Sue Williams unveiled the $3.6 million investment the statewide organization is making with these partners in the current fiscal year.
"Thank you not only for being here but for what you do every day," said Williams, who cited the connections to families these local partners have in their communities, their knowledge of what works and what doesn't work, and the input they provide on where child abuse prevention efforts should be focused next.
The ceremony was the first of four that will be held in the state, with ones to follow for grantees in the Upstate, Lowcountry and Pee Dee. With 17,662 children in founded cases of child maltreatment last year, Children's Trust, the state affiliate for Prevent Child Abuse America, and its partners across the state are implementing proven prevention programs that strengthen families while promoting positive parenting and child well-being.
The investment announcements are a part of Child Abuse Prevention Month in April. Lee Porter, the chief program officer at Children's Trust, introduced each partner at the ceremony by citing their work, dedication and devotion in their respective communities. Stating that Children's Trust builds the infrastructure for the programs, Porter credited the partners for bringing them to life.
"You're the water that flows in the pipes," he said.
Local partners provide the community knowledge, access to families and program delivery. Children's Trust provides financial support, evaluation, training and coaching as well as program support.
Peggy Ford, executive director of Aiken-based Children's Place, which delivers the Strengthening Families Program in Aiken and Barnwell counties, states the collaborative relationship works well. She spoke of how Children's Trust increases her organization's capacity to do the work while helping all the partners focus on the bigger picture of child abuse prevention across the state.
"I really believe that at the core of it is what all relationships are, and that's mutual respect for each other and for the work," Ford said. "I mean, we certainly enjoy the partnership, but it's beyond just a grantee-grantor relationship. … I couldn't be prouder of where we have grown, not just Children's Place but where we have gone in the last 20 years as a state with the advent of Children's Trust."
Brennon Graham, the president and CEO of Growing Home Southeast, called his organization's mission one of ensuring permanency for kids and families, with the implementation of the Strengthening Families Program in Richland, Lexington, Horry and York counties playing a big part in helping families stay together.
"This partnership has allowed us to expand that, to grow our work throughout the community and to really improve our impact," Graham said. "We're reaching out across the state, and we're touching so many different lives. Every region has its own unique perspective on the needs for kids and families so we're able to capture that and address it in a way that keeps them all safe, keeps them permanent, and gives every kid a safe place to sleep."
Julie Smithwick, the executive director of PASOs, said Children's Trust brought her organization, which works to support Latino communities in Lexington and Richland counties on family health, early education and positive parenting, to the table seven years ago. She noted that South Carolina has the second fastest-growing Latino population in the country due to births.
That connection – PASOs delivers Triple P in coordination with Children's Trust – has worked very well.
"A lot of the families who are living in situations of poverty or low income, their needs are going to be similar to other families that are served by Children's Trust. But we also find that there are particular needs that are specific to this population," Smithwick said. "So PASOs, because of the way that we work and the trust we've built with communities, is able to reach them in a way that's specific to their particular reality and the challenges that they face in terms of language and cultural differences. And in many spaces still, because the population is small relative to other populations, Latino families can sometimes be an afterthought."
Additionally, Children's Trust has partnered with PASOs to provide technical assistance for local home visiting sites, which has proven to be integral in building infrastructure around strategies working with Latino families, outreach and referrals, and increased workforce development.
"We've had a relationship that's just grown every single year," Smithwick added, "and we've made sure together that Latino voices are heard, that their realities are respected, that families are treated in a dignified manner, and that we're able to serve them in a way that makes sense for them."
Midlands Partners
Carolina Health Centers, Greenwood – Home Visiting
CASA Family Systems, Orangeburg – Strengthening Families Program
Children's Place, Aiken – Strengthening Families Program
Eau Claire Cooperative Health Centers, Columbia – Home Visiting
EdVenture, Columbia – Strengthening Families Program
Family Connection of South Carolina, Columbia – Home Visiting, Triple P
Growing Home Southeast, Cayce – Strengthening Families Program
Lancaster County Partners for Youth, Lancaster – Strengthening Families Program
Palmetto Health Children's Hospital Outpatient Center, Columbia – Home Visiting
PASOs, Columbia – Triple P and Home Visiting
Red Bank Elementary School, Lexington – Strengthening Families Program
Family Solutions of the Low Country, Orangeburg – Home Visiting
United Way of the Midlands, Columbia – Community Support for Young Parents
Westview Behavioral Health Services, Newberry – Strengthening Families Program
YMCA of Columbia – Strengthening Families Program