Two prominent Richland County community leaders spoke to the parents and children at a recent Strengthening Families Program graduation. They commended the participants for their commitment to be stronger through this nationally-recognized program. Neil White, who tells the stories of Children's Trust, covered the event.
Justin Williams delivered a strong message to the parents and children gathered for a Strengthening Families Program graduation ceremony.
An assistant solicitor for the Fifth Circuit Solicitors Office, Williams understands the importance of a program that develops positive family strengths, teaches families how to stay resilient, improves parenting skills, reduces conflict, and helps children with social skills, relationships, and school performance.
"As a prosecutor, I see a lot of cases that stem from a small problem that was not appropriately addressed as a family issue," Williams said. "Someone may have had a bad day at work, didn't know how to properly communicate, didn't know how to effectively resolve that issue, and it blew up to something more. The sooner we can learn skills to live without escalating conflicts, the better for everyone involved, whether that's a 6-year-old, an 11-year-old, or a parent."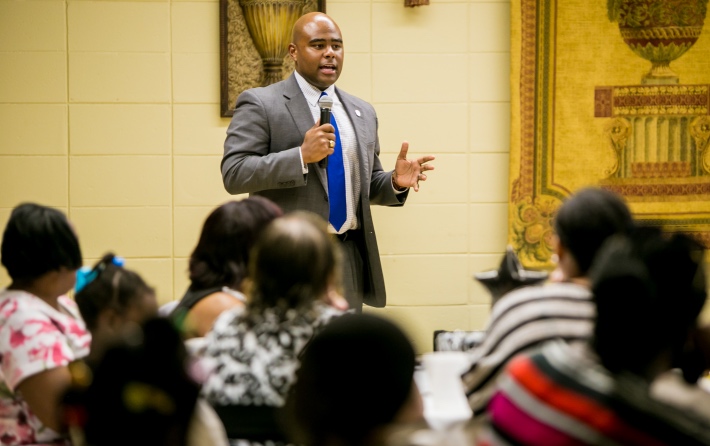 Justin Williams salutes the parents and children at a Strengthening Families Program graduation.
On this August evening, nine families graduated from the program site guided by City Year Columbia in partnership with the Midlands Community Development Corporation during summer sessions held at the C.R. Neal Dream Center, part of the Bible Way Church of Atlas Road.
Coming this fall, the 14-session program, funded and administered by Children's Trust, will take place with 13 local partners in 17 counties across the state. The program focuses on serving families with children ages 6 to 11, with the sessions held in youth service agency settings, community centers, schools and churches.
During the uplifting ceremony, Williams watched dance performances from the children and heard moving testimonials from the parents about the impact of the program's lessons on their daily lives. He said the solicitor's office wants to actively engage the community and lend support to those parents looking to build stronger families.
"Our goal, as we look at a program like this one, is to try to encourage the community to learn how to talk and work through their issues effectively as opposed to resorting to violence or something that will lead them to the wrong side of the law," Williams said.
During his speech to the group, he noted that children don't come with instruction manuals, and he encouraged parents to always talk with their children and listen to them. As a lawyer, he likes the proven nature of evidence-based programs such as SFP. He then exhorted the assembled families to go out and challenge each other to be better.
"You have the power to make your family what you want it to be," he said.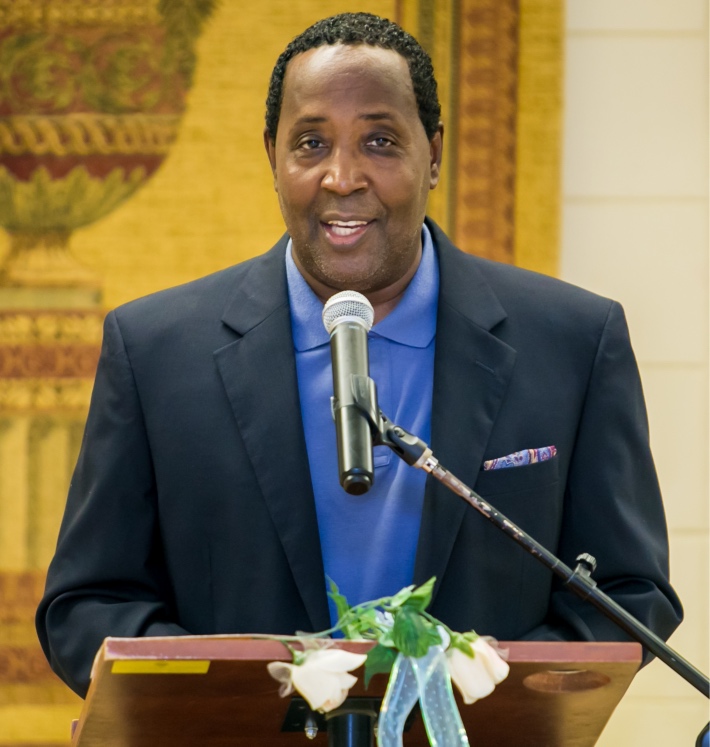 Sen. Darrell Jackson, senior pastor at Bible Way Church, welcomes the graduating families.
Darrell Jackson, the senior pastor at Bible Way Church and state senator from Richland County, offered greetings to start the ceremony and affirmed the positive benefits of SFP. He called the partnership with Children's Trust, City Year, the MCDC and C.R. Neal Dream Center a true point of pride for his ministry.
"What you do for the community and what you do for those who are less fortunate are the things God requires of us more than anything else," Jackson said. "If one family is turned around and does much better, it's worth it. And I know more than one will be because it has happened before. We are proud of it and hope we can continue to help programs like this one."
Jackson also views the merits of this program through a legislator's policy perspective. He's convinced this investment in prevention, which reaches out to lift families, can bolster a community's strength.
"One of the things I often tell my colleagues at the State House is that we need not to make so many faceless decisions," Jackson added. "They make decisions about people's future that they never interact with. There's a difference when you have to look into somebody's face and say, 'You don't need this social program,' when this social program is so vital in turning their lives around."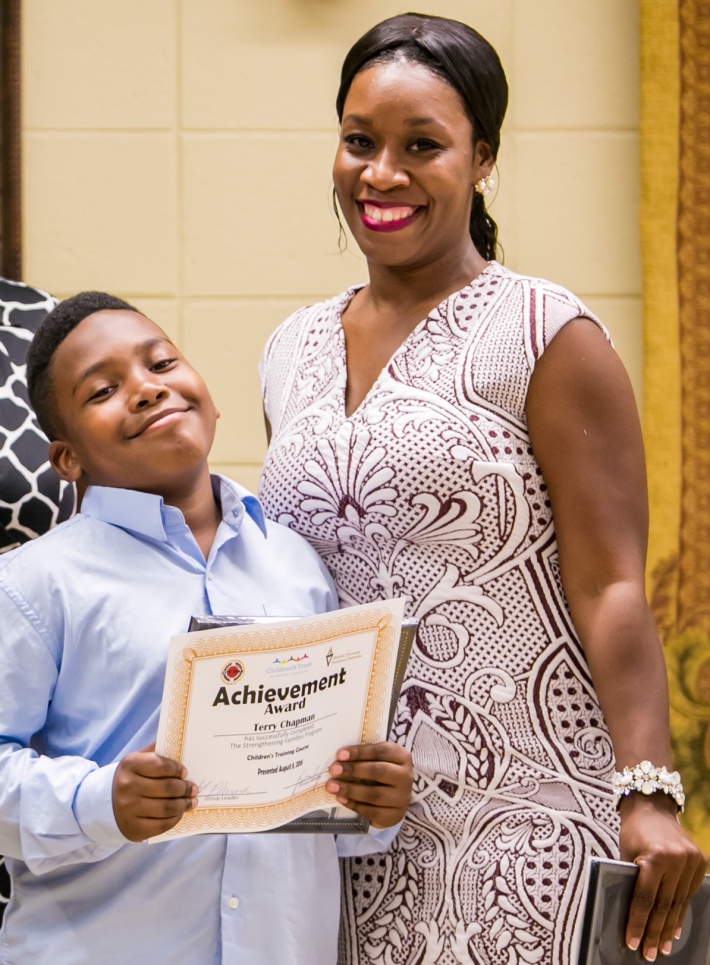 Renee Chapman and her son Terry are excited to have graduated at the SFP ceremony.
The graduates that night at the C.R. Neal Dream Center can attest to the affirmative reinforcement that all parents need to hear. Renee Chapman, mother to Terry, 10, and Bryson, 5, spoke of the juggling act that comes with being a working, single parent attempting to keep up with her sons' activities. But she learned along the way that other parents face similar obstacles every day.
"It felt good to hear other parents says, 'You know, we don't always get it right either," she said.
Additionally, Chapman gained insight into more effective communications with her children.
"I learned a lot about structure and how to implement that into our lives. I knew that we had some challenges around the way I disciplined," Chapman said. "I'd yell a lot. Apparently, that wasn't getting my point across so I've learned to pull back, take a breath, maybe not yell as much, and be more clear in my directions."
Karen Dukes-Smith, an SFP coordinator at Children's Trust who works closely with Gwen Singletary, the site coordinator for City Year, hopes the graduating families will share the strategies learned in the classes with other families.
"We are so proud of the hard work that families across the state are putting into this program," Dukes-Smith said. "Strengthening Families allows individuals to come together to form a new community, a new bond and a new experience that all of you can share. That's what we ask that you do."
Hope King and her 7-year-old daughter Jamia enjoyed the 2½ hour-sessions, which always began with a family meal and included separate class time for parents and children before everyone came together at the end. King liked the concept of having family meetings, while Jamia, who was one of the dance stars during the graduation ceremony, embraced the lessons.
"She was grasping the things being taught in her class, and as she learned them, we pretty much applied them and enhanced the things we were already doing," King said. "It was an awesome experience."
Jamia seconded her mom while imparting some wisdom that would make Justin Williams proud.
"I enjoyed seeing the other kids had the same problems, such as listening, problems that are small but can be big," Jamia said. "I took from it that one small thing can become a huge thing. Everything I've learned here I appreciate."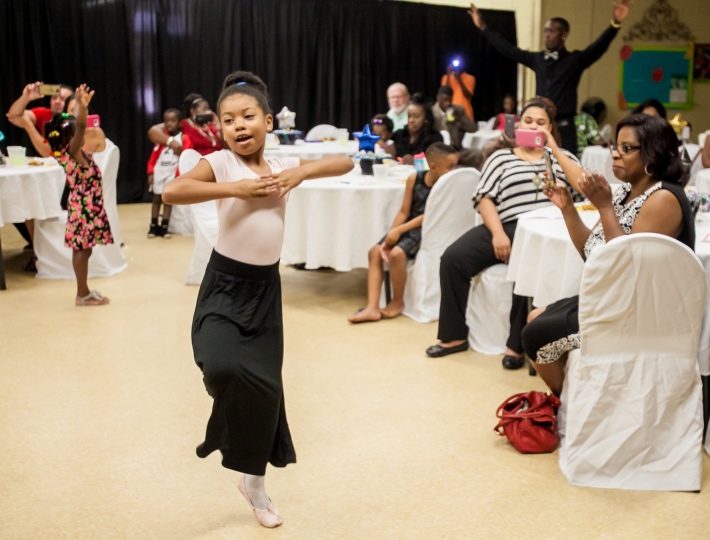 Jamia showcases her dancing skills as entertainment at the SFP graduation.