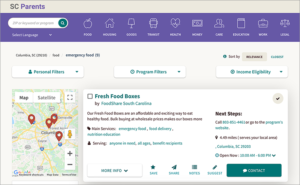 Event information
Children's Trust of South Carolina and the S.C. Department of Health and Human Services invite family-serving organizations to join us for an in-person, hands-on workshop.
We will explore findhelp (formerly Aunt Bertha) as a means to develop a comprehensive database of statewide resource networks. By connecting families to services that meet their needs, we can help prevent child abuse and neglect.
The findhelp platform is committed to strengthening the social care system among nonprofits and community-based organizations that deliver direct services. Findhelp provides a free suite of tools that help organizations build capacity and amplify their community impact.
The findhelp resource can be found on SC Parents and SC Community Connections.
Join us and learn how your organization can amplify its impact in your local area. All attendees will receive free prevention materials. Breakfast will be served. Registration is required.
Registration
The deadline to register is June 24.