Children's Trust, Fact Forward and the SC Center for Fathers and Families work with local partners to develop programs and services that support pregnant women and young parents ages 15 to 24 across South Carolina through a federal grant. A Father's Place is the local organization implementing this program in Horry, Georgetown, Marion, and Williamsburg counties. Neil White, who tells the stories of Children's Trust, spoke with staff members and participating fathers about the impact of the Community Support for Young Parents program on their lives.
---
CONWAY – Ronald Brooks, Reise Dozier, Ngai Kearns and Devion Wright gather in the Dad Cave at the office of A Father's Place.
They're relaxed, they're smiling, and they're chatting as they stand next to the pool table. They feel at home here. But they have gained much more than a sense of camaraderie in this space.
Through A Father's Place program services, they have learned the essentials of responsible fatherhood. They have received employment coaching to find better jobs. They have gotten guidance on the child support system and other legal issues. They have utilized mediation with the child's mother and other family members. And they have gained access to men's health care education, screenings and referrals.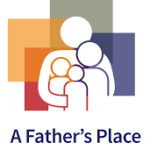 Just as significantly, they have received ongoing support from A Father's Place experienced staff members, who work diligently to build strong bonds with fathers willing to make the commitment to the 24-week program. Brooks stopped coming at one point but started back up and completed the program thanks to intervention specialist Jonathan Bennett continuing to reach out to him.
"It taught me how to be a man and have a better thinking process. It has matured me," Brooks said. "They don't tell you what you want to hear. They tell you what you need to know."
Brooks, who is now 24, ultimately understood that he needed to find the will inside of him to make it to the finish line.
"All they can do is give us the information. Life's about decisions and choices," he said.
Brooks, who admits there's still improvement that can be made with his family situation, wants to return to school with an eye on a business management career because he understands what he needs to do for his daughter.
"Every day isn't going to be peaches and cream. You've got to put the bad out," he said. "But she's the reason why I get up and go to work. I want to be a protector and a provider, someone she can come to and tell everything. I want to be the best I can be and show her that."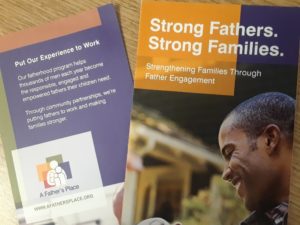 Bennett loves hearing those words. For him, there's nothing more satisfying than watching someone who entered the program as a teen dad develop the knowledge, confidence and skills to become a responsible father.
"The biggest impact is the information we are providing. We enlighten them on finances and life planning," Bennett said. "We provide them a safe place where they could come in, let their guard down, relax and connect with other young men. They have a space to grow, and I've seen that. And I hear how they're talking, 'It's not just about me anymore. It's about my kids.'"
In addition to supporting fathers and families, A Father's Place is a resource for businesses seeking ready-to-work employees and community organizations that want to learn more about father absence and father engagement. Fathers can gain information through one-man plans and peer group sessions.
Taking the Lead on Fatherhood Engagement
Children's Trust started the Community Support for Young Parents initiative – funded through the U.S. Office of Population Affairs' Pregnancy Assistance Fund (PAF) – in partnership with Fact Forward, which advances teen reproductive health in South Carolina, and the SC Center for Fathers and Families, which addresses the fatherhood piece of the equation. A Father's Place, under the leadership of executive director Wallace Evans Jr., is the local organization implementing this program in Horry, Georgetown, Marion, and Williamsburg counties.
Together these organizations work to develop programs and services that support pregnant women and young parents ages 15 to 24. 
JV Mott, director of programming for A Father's Place, is a former military man who's a tough but encouraging taskmaster. He wants to see commitment from the program's participants, and nothing fills him with pride like seeing them dedicate themselves to a better life for their families by completing the program.
"We want them to know that they're not out there by themselves. We're there to provide support," Mott said. "You want to see progression. If it's going up, that's what we want."
Ngai Kearns, 21, also entered the program as a teen father in search of guidance. He found a place where he was accepted, which helped take some of his edge off. He could truly relax in the atmosphere of the Dad Cave, a lesson he wants to pass along to his young son.
"The streets can take a toll. I want to keep him from taking a path to the streets," Kearns said.
He also pointed to improved communications with his son's mother and an awareness of the importance of playing an important role in his son's life. His favorite thing? It's when his son grabs him and kisses his cheek.
Reise Dozier came into the program as a father at the very young age of 15. Four years later, he's pursuing a modeling and acting career. He credits lessons learned at A Father's Place, especially those related to finances and life planning.
"I was more confident about my money. When you have confidence in one area, it helps you have more confidence in everything," he said.
These days he has introduced his young son to mixed martial arts as one way of being involved in his life. And he has come to understand that "even when you're not there physically, you still want to be there emotionally."
Making the Right Choices Every Day
Devion Wright, 23, has faced challenges in his life, but he's convinced it's headed in a better direction now. He recently returned to the program because he told himself that he needed to go back. He points to the intervention specialists as people who can have the positive influence of a father figure, saying "I know they're going to listen to me."
Wright didn't see his son until the child was eight months old, but that's no longer the case. That makes it even more meaningful when his son calls him "Daddy" and wants to be around him.
By placing a focus on all aspects of a father's life, fatherhood programs can have a real effect on building healthy relationships and setting life goals involving education and employment.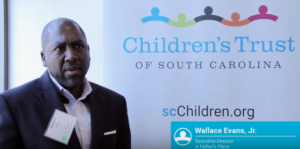 Evans, the executive director, notes how involved his staff members are in the community and how dedicated they are in their outreach efforts to those fathers who need a helping hand.
"We have a committed, compassionate group of staff that bring significant, 'been there, done that' life experience and deep understanding to our work," Evans said.  "They meet the men where they are. This is a part of our culture. I always say that these men are me, and I am them. I might be a few steps ahead on the journey, but I am not far away from their experience. We are in this together and together we can transform lives as we strive to show genuine concern for every person we encounter."
Joseph Stiltner, an intervention specialist with the organization, believes in the benefits from an individual and societal standpoint. He is convinced the message can work if fathers are willing to listen.
"It's a choice every day. It's possible to change the trajectory of your family tree by the decisions you make today. You have the power to change your life," Stiltner said. "That's what makes everyday worth it. This program can transform more than just the fathers. It's going to reach outside this door into the community."