The National Alliance of Children's Trust and Prevention Funds held a three-day training at the Children's Trust office in July to certify trainers from eight states around employing the protective factors into their everyday work serving families and preventing child abuse. Neil White and Michael Shirley, who tell the stories of Children's Trust, captured the fast-paced and emotionally-moving discussions, activities and videos that highlighted the sessions.
Sixteen people sat in chairs in a circle. Behind each chair stood one person. Instructed to whisper a simple uplifting sentence of their choosing – one they believed every child should hear in their lives – into the ear of each seated person, those standing moved around the circle until they had delivered a message to everyone.
It didn't take long for several of those sitting to wipe away tears, completely moved by the 16 messages of love and hope they had just heard. The participants were then told to switch places, and the process was repeated. The same result occurred, with those sitting this time around being visibly touched by the words of those walking behind them.
The affirmative messages delivered a poignant lesson to the attendees at the intensive training over three days on the Protective Factors Framework provided by the National Alliance of Children's Trust and Prevention Funds and hosted by Children's Trust: Positive words can have a powerful impact on a child's life.
Protective factors are conditions in individuals, families and communities that, when present, can help families thrive and reduce the incidence and consequences of child abuse and neglect. The 32 child-serving professionals who were training to be nationally certified in the framework noted in a conversation following the exercise how overwhelmed they were by the messages they heard and spoke.
"I couldn't wait to hear the next words," one said.
"It felt so good to hear that," said another.
"It made me more emotional as I said the words," added one more.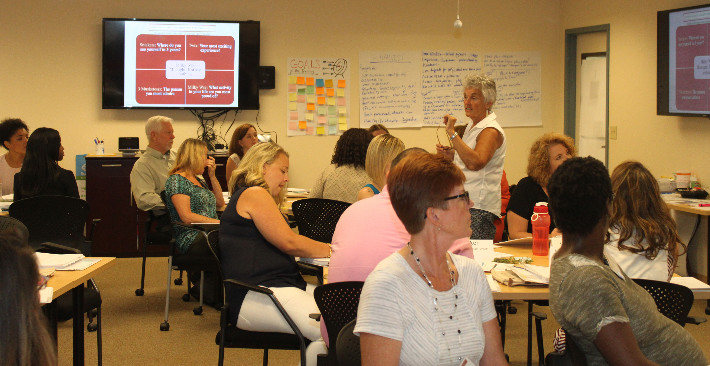 Pat Stanislaski of the National Alliance speaks to 32 trainees on the protective factors.
That's exactly what Pat Stanislaski, a New Jersey-based senior consultant with the National Alliance and one of the three trainers directing the sessions, wanted to hear. The three days were filled with learning materials, engaging videos and hands-on activities that all revolved around interactive teaching of the five protective factors. These various methods have produced animated discussions, critical thinking, a mix of strong emotions, and strong feedback from trainees across the country over the years.
"It is inspirational. It's amazing," Stanislaski said. "I don't want to read the (training) book to them. We try to give them the experiential exercises that we feel are really important."
Protective factors strengthen families by helping them find resources, supports, and coping strategies that allow them to parent more effectively, especially under stress. Each of the protective factors ­– parental resilience, knowledge of parenting and child development, concrete support in times of need, social and emotional competence of children, and social connections – was covered thoroughly, with much discussion relating to how they are interconnected in people's lives.
The attendees, 19 from South Carolina with the 13 others coming from North Carolina, Tennessee, New York, Connecticut, Indiana, Michigan and Utah, represented a diverse professional group, which included organizational leaders, social workers, health administrators and educators.
Dorothy Atzl, who works with Rockland 21st Century Collaborative for Children and Youth in West Nyack, N.Y., called the experience a life-changing one for her both as a parent and as a person who works with families.
"I didn't realize how incredibly emotional and meaningful a lot of the exercises would be," Atzl said. "Being able to talk to other people in the professions that they're in, because we're not all doing the same thing, was really, really meaningful and helpful in how these factors can be used in different areas and the flexibility and elasticity with which they can be applied."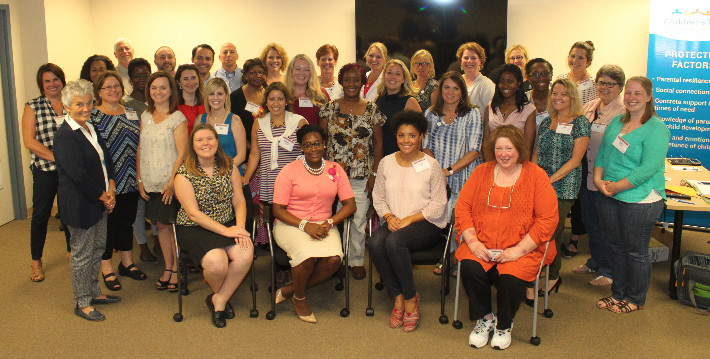 Children's Trust hosted the Protective Factors Framework national training for the first time in South Carolina.
Stanislaski worked with a pair of other trainers to deliver the material, Maureen Hollocker, the director of a Michigan-based Great Start Collaborative, and Heather Hicks, a Tennessee-based Strengthening Families coordinator. The trio had a specific goal for the participants as they walked them through understanding and applying the protective factors in their work helping children.
"We want people to look at families, parents and children, through a different lens, through a strengths-based lens, and to change the way they work with families," Hollocker said. "I hope they can see the changes that need to be made are very small. We're not sending them out there to make these gigantic changes that are going to cost a lot of money. These are small increments that create system change."
All families need the strength and healing provided by the protective factors, which cut across the divisions of race, economic bracketing, and social status. All parents should understand the importance of resilience, how to build a network of friends and community alliances, and how to interact and communicate with their children.
Tecoria Jones, who serves as a peer support provider with the Federation of Families of South Carolina, dealt with many adverse childhood experiences while growing up. As she works with children and families who have mental and behavioral issues, she has embraced the protective factors.
"Strength is what our families need, and these factors give them that," Jones said. "They give them something to hold onto and something to reference when they're struggling. Preventing child abuse is the focus and very much a need."
Birley Wright, Children's Trust prevention training manager, helped bring this national training to South Carolina for the first time. For the last five years, she was the state's only certified trainer in the protective factors, and she's pleased to have 19 others join her to help spread this information here.
"Protective factors are an important part of our work here in South Carolina," Wright said. "It is exciting to have the opportunity to educate and spread the work and share knowledge about the protective factors. What I love most about the framework is that is applies to all families and communities.  Inevitably, we all face challenges at some point. When we can build upon strengths, families are much more likely to thrive."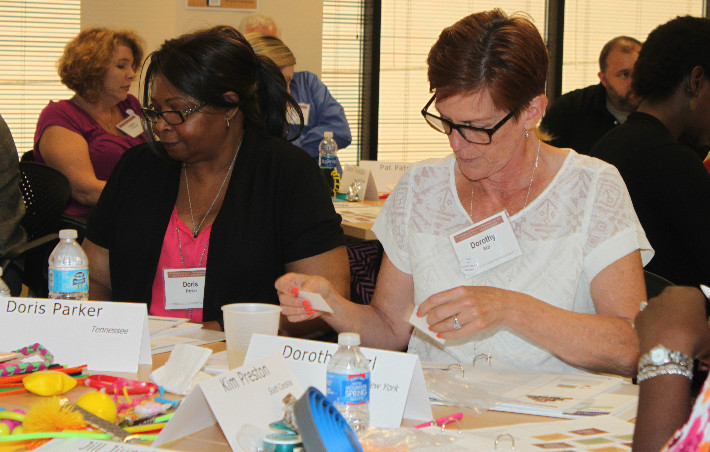 Doris Parker and Dorothy Atzl work through a training exercise.
The participants all discussed their excitement about taking this knowledge back to the organizations and families being served in their communities and their states. Doris Parker, who works with Signal Centers in Memphis, Tenn., hopes to spread awareness about the protective factors through everyday actions and conversations. Allison Farrell, who works on USC's School Mental Health Team in this state, believes her newfound skills and knowledge will help make small but significant changes on multiple levels in her work.
Katherine Ramirez, who works with the Connecticut Children's Medical Center in Hartford, Conn., also appreciates becoming one of nearly 550 nationally-certified trainers.
"After taking this training course, I've been able to reflect and think about the great connections that I've just made and the wonderful network I'm now a part of," Ramirez said. "It's very important to continue this work to help others be successful."
---
Protective Factors Framework
Parental Resilience
No one can eliminate stress from parenting, but a parent's capacity for resilience can affect how a parent deals with stress. Resilience is the ability to manage and bounce back from all types of challenges that emerge in every family's life. It means finding ways to solve problems, building and sustaining trusting relationships including relationships with your own child, and knowing how to seek help when necessary.
Social Connections
Friends, family members, neighbors and community members provide emotional support, help solve problems, offer parenting advice and give concrete assistance to parents. Networks of support are essential to parents and also offer opportunities for people to give back, an important part of self- esteem as well as a benefit for the community. Isolated families may need extra help in reaching out to build positive relationships.
Concrete Support in Times of Need
Meeting basic economic needs like food, shelter, clothing and health care is essential for families to thrive. Likewise, when families encounter a crisis such as domestic violence, mental illness or substance abuse, adequate services and supports need to be in place to provide stability, treatment and help for family members to get through the crisis.
Knowledge of Parenting and Child Development
Accurate information about child development and appropriate expectations for children's behavior at every age help parents see their children and youth in a positive light and promote their healthy development. Information can come from many sources, including family members as well as parent education classes and surfing the internet. Studies show information is most effective when it comes at the precise time parents need it to understand their own children.
Social and Emotional Competence of Children
A child or youth's ability to interact positively with others, self-regulate their behavior, and effectively communicate their feelings has a positive impact on their relationships with their family, other adults, and peers. Challenging behaviors or delayed development create extra stress for families, so early identification and assistance for both parents and children can head off negative results and keep development on track.
Source: Center for the Study of Social Policy