The expansion of the Strengthening Families Program this fall led to an interesting new partnership in a place where learning is a constant. Neil White, who tells the stories of Children's Trust, writes about this unique development.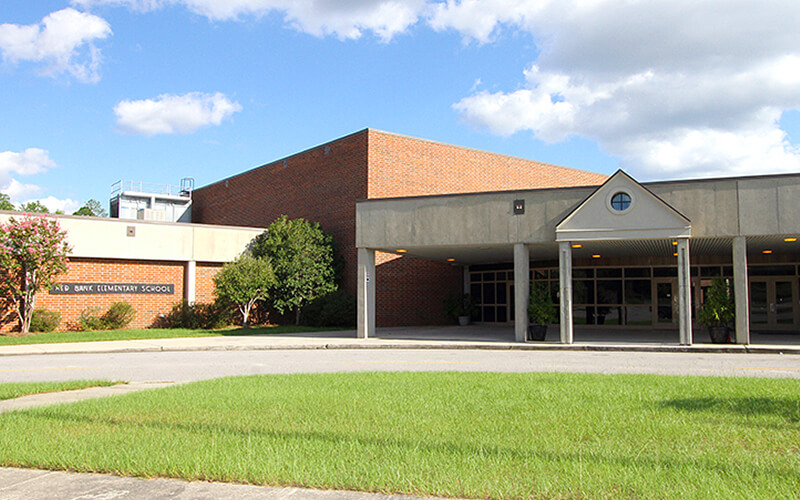 Children's Trust funds 20 partners across South Carolina to deliver the Strengthening Families Program. This fall Lexington School District One became the first school district to receive a grant to implement the program.
Typically, Children's Trust works with local partners like community child-serving organizations at sites that administer the evidence-based program for families with children ages 6 to 11 over the course of 14 sessions. But this partnership with Red Bank Elementary School is different in that the district is being directly funded.
Sallie Bozard, a retired parent education specialist in Lexington 1, was hired to be the site coordinator at Red Bank for the fall sessions that run from September to December. She called the pairing a natural one for the program since the schools already have relationships with families and have the ability to identify the ones that need the support.
"We have school staff members who already know the families and the children and their issues so it's easy to feed them into a program like this," Bozard said. "There's a trust that has already been built with positive relationships."
SFP is designed to help families develop positive discipline practices, stay resilient in tough times, reduce conflict, improve parenting skills, and assist children with social skills, relationships, and school performance. All of these factors play an important role in keeping families strong while protecting against potential neglect or abuse.
Bozard adds Lexington One is a cutting-edge district that has piloted numerous programs with an emphasis on individualized education. And she notes that word of mouth on the program around the school is favorable, as children and their parents hear stories of the shared meal to start each session, the informative and fun activities in the parent and the child classes, and the bonding between the participating families.
Christina Davis, a first-grade teacher at Red Bank and a group leader in the children's SFP classes, believes the program has definitely created a positive buzz in the school's hallways.
"Families are starting to ask, 'So how do I get involved with this program?' They're asking not just because of the food, but because of the skills being learned," Davis said. "So many of these (participating) parents are saying, 'Well, I didn't know how to communicate with my child before, or I've never given my child a voice in our household before.' These parents talk to other parents. So they're starting to communicate all the great things that are happening."
Since Children's Trust started offering SFP in South Carolina three years ago, the program has steadily grown from the original four sites to the 23 that are being run by 20 local partners this fall. The successful implementation has played a key role in the rapid growth, aided by a $9.5 million grant awarded to Children's Trust last year by The Duke Endowment and S.C. Department of Social Services for expansion efforts from 2016-18.
Children's Trust has continued to meet or exceed national standards for the manner in which it has delivered the program in measures such as level of staff training and degree to which the curriculum was followed with precision.
The parenting sessions teach parents to interact positively with children, which includes showing enthusiasm, paying attention to good behavior, and providing consistent and effective discipline that leads to reasonable consequences.
The children's training includes communication skills to improve relationships with parents, peers, and teachers; resilience skills; peer resistance; and dealing with criticism and anger through coping skills.
"Students are learning skills within SFP that translate into their home life and school day," said Sherri Caldwell, the SFP manager for Children's Trust. "Students are learning how to manage their emotions, effectively communicate, and problem solve. These skills help students make better decisions when confronted with a negative situation. The students and parents are able to interact with school staff in a different setting, and that has proven to be a very positive experience."
Bozard and Davis are seeing the transformations up close through the first 10 weeks of the program. The new skills are transferring to the home lives of the students, according to their parents, and then circling back to the classroom, as their teachers are telling SFP leaders.
As they discover better ways to positively interact, children are building stronger bonds with their parents, who are learning the importance of listening to their kids and having two-sided conversations.
"The children are really benefitting from the opportunity to practice communications skills, listening, following directions, and learning how to speak in a group in a way that's fair to everybody," Bozard said. "That, of course, feeds over to a classroom because that's what we want children to do. But it really affects families because many families don't know how to have a conversation or a family meeting. They learn that from this program."
Davis is seeing more confident children who are less hesitant to reach out to their parents or their teachers as they use eye contact and proper body language. By instilling these lessons while the children are attending elementary school, the gains will really begin to manifest in a larger way once they graduate from high school.
"Those things will transfer over when they're into adulthood, because one day they're going to go on a job interview, or they're going to go to college, and they're going to have to use those skills," Davis said. "This program builds those skills into them very early on in life."