The parent advisory council launched by Children's Trust in Richland and Lexington counties participated in a recent community outreach effort as parents get their children ready to return to school. Neil White, who tells the organization's stories, covered the event.
---
Parents and children steadily filed past the Parent Matters booth hosted by Children's Trust at the annual First Day Festival as they looked for information in preparation for the start of a new school year.
On a steamy August day at Segra Park, home of the Columbia Fireflies baseball team, the annual back-to-school event brought out families in search of school supplies for children at all grade levels. In addition, the gathering featured resources and information from community vendors, arts and crafts, face painting, free haircuts, free hair care for girls, free health screenings and vision tests, free kids fingerprinting, and a kids zone with bounce houses.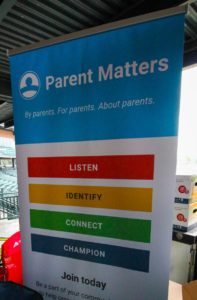 Rhea Lisby of Lexington attended the festival with her three elementary-school children and made a point to stop by the Parent Matters booth to get a tote bag filled with a Parent Matters flyer, Helping Kids Grow booklet, protective factors brochure, positive parenting sticky notes, bottle of water and a snack.
"We need more events like this, back-to-school bashes, where we can get kids together and do something positive with them," Lisby said. "Parent Matters was the first booth I went to that actually had good information to give. We are working our way around, but so far, so good."
Children's Trust began its initiative earlier this year to launch parent advisory councils in three areas around the state: Richland and Lexington counties in the Midlands, Oconee in the Upstate, and Marlboro in the Pee Dee. The parent advisory councils, funded by the Community-Based Child Abuse Prevention program, can include biological parents, foster parents, adoptive parents, and kinship caregivers – anyone who has the role of parent in a child's life.
Dana Powell, Children's Trust parent and community engagement coordinator, is leading the parent advisory councils, which bring together group of parents on a regular basis to identify actions that can better engage all parents in each of those local communities.
Using the name Parent Matters, the councils have a goal to strengthen protective factors that support children through identifying community resources and connecting parents to them. The councils also provide valuable input to area agencies and organizations on how to help parents utilize services successfully.
Powell viewed the back-to-school festival as a great way to increase awareness of the work being done in the Midlands.
"Parent Matters is here as part of Children's Trust helping connect parents to resources available in the community. We're reaching out to parents to get to know them and let them know there's now a group in the Midlands that's representing them and serving as their voice," Powell said.
Ultimately, Parent Matters seeks to serve as a champion for resilient families and thriving communities as a part of the broader work Children's Trust is doing with its partner organizations and agencies at the local and state levels.
"Parents also can be involved in the work we're doing to help support and improve the lives of parents across the Midlands and, ultimately, to build stronger families and happy, healthy children."
Many connections were made over the course of the three-hour event, which was hosted by YNotU2 – a nonprofit organization that provides vocational rehabilitation, job and life skills development for disadvantaged job seekers – and the office of Columbia Mayor Steve Benjamin.
Amanda Kurin, who recently moved from out-of-state to Camden with her two children, was appreciative for the event, especially since she is quickly trying to make new connections locally.
"Being a single mom, any little bit helps me. Knowing people, getting to meet new people, everything helps," Kurin said. "Parents need support. Knowing people and knowing where to go is always the best. Getting to meet y'all (Parent Matters) and getting a bag and seeing new things in there will help me."
Melissa Sadek of Blythewood visited the booth for Parent Matters booth with her child as part of her first trip to the event. She came away impressed by this outreach effort to local families.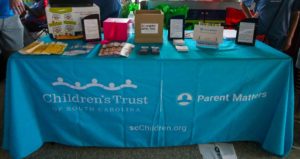 "We wanted to see what the community had to offer to parents and meet some friends out here," Sadek said. "It's very important for parents to have people they can talk to and get ideas from. It takes a village to raise a child, I've always been told. It's always good to hear what works for other parents because it may work for you, too."
Powell viewed the event as a success after being able to personally interact with so many parents and relay the importance of making social connections and finding support systems.
"Today was a reminder that parents need resources, support, and sometimes just encouragement," Powell said. "We are glad we had the chance to share all of that with more than 250 parents as they wrangled their kids in the heat to help set them up for success this school year."
Parent Tips for Children Starting the School Year
Say "great job" or "I knew you could do it."
Keep a regular bedtime routine.
Get involved in their schools.
Support their extracurricular activities.
Let children know what they are experiencing is normal.
Be consistent in your responses and follow through.
Make sure kids understand what is safe and unsafe.
Support them even when they mess up.
Stay calm when the chaos arrives.
Allow children some freedom to make their own choices.
Show love in the good times and the tough times.
Maintain a sense of humor.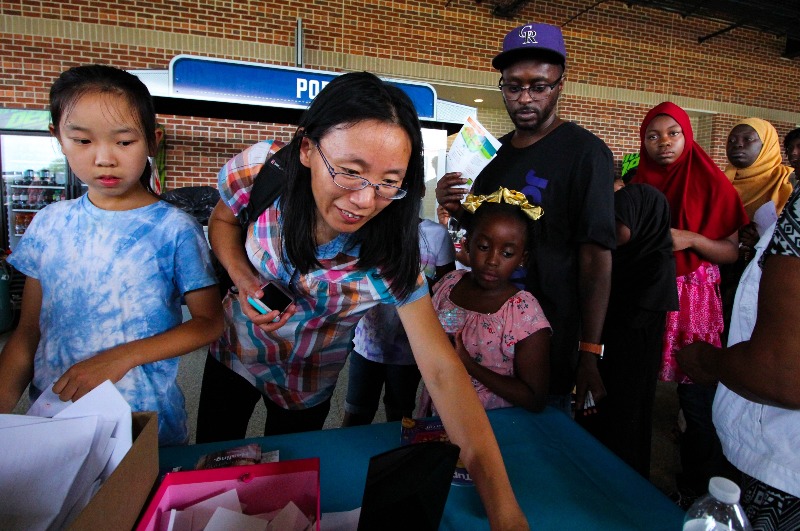 ---
For more information about joining one of our parent advisory councils, contact Dana Powell.