Local home visiting programs assist families by pairing them with health, social service, and child development professionals. Through regular home visits, parents learn how to improve their family's health and provide better opportunities for their children. Neil White, who tells the stories of Children's Trust, talked to home visitors about the important work they do in South Carolina.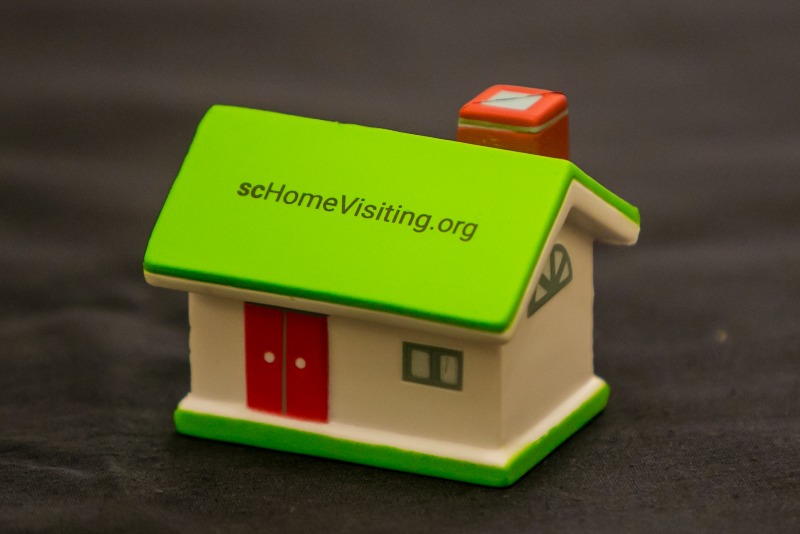 ---
Home visitors – who can be nurses, social workers, or child development specialists – support preventive health and prenatal practices, help parents understand developmental milestones, promote the use of positive parenting techniques, and work with mothers to set goals for the future, continue their education, and find employment and child care solutions.
As South Carolina's lead agency for the Maternal, Infant and Early Childhood Home Visiting (MIECHV) federal grant since 2010, Children's Trust supports three evidence-based home visiting models – Healthy Families America, Nurse-Family Partnership, and Parents as Teachers – in partnership with 17 implementing agencies in 41 counties. These voluntary program models serve mothers and young children by providing them with important resources and skills. Last year, Children's Trust helped these sites serve 1,242 families through 13,816 home visits with funding from the U.S. Health Resources and Services Administration's Maternal and Child Health Bureau.
Recently, Children's Trust hosted a statewide meeting in Myrtle Beach for its MIECHV sites.
"The All Sites Assembly is an opportunity for our home visitors to come together for shared learning," said Katrin Bost, Children's Trust home visiting systems coordinator. "At this conference, we strive to create a fun and collaborative atmosphere so our grantees feel happy to be there and ready to learn how to better serve their families. I could feel the energy coming from all of the home visitors gathering together."
Faith Estrada:  Creating connections with the families she serves
As a bilingual parent educator with Eau Claire Cooperative Health Center delivering the Parents as Teachers home visiting model in the Midlands, Faith Estrada understands the significance of establishing a true bond with young moms and infants in their homes.
"It is very gratifying to have a breakthrough with individuals or a family and knowing that there is a trusting mutual relationship," Estrada said.
"That trust for them to be able to say, 'Hey, I need this,' or 'Can you help me with this,' because sometimes asking for help can be very difficult, especially if you don't trust someone to help you, right?"
Most importantly, over the course of a home visiting program, the support provided by home visitors can help families achieve their goals by helping buffer life's stressors through providing resources and developing a rapport.
"You can't measure a smile or you can't measure a family feeling worthy or feeling empowered to do something on their own," Estrada said.
"The best way to do that is providing them with information so they feel most comfortable making the best decisions for their families. It is a very gratifying feeling watching them reach small milestones."
Shanquinita Martin:  Taking positive energy into homes
Sanquinita Martin, lead home visitor with The Parenting Place in Pickens County, which uses the Healthy Families America model, works hard to promote positive parent-child relationships and healthy attachment that's strengths-based and family-centered.
Martin focuses on a variety of areas that can make real differences in the lives of her families, such as the parenting skills that help prevent child abuse and neglect, a safe home environment where kids are protected from potential injury, and navigating the medical system to ensure children are receiving regular health care and pediatric well visits. The satisfaction she receives from helping her families find success can be incredibly rewarding.
"I remember one day doing three visits in a row, and my last visit, my third visit, I was crying because I was so glad and so happy that my parents had moved forward and they were actually growing," Martin said. "They were taking steps to do the next best thing in their lives and what's good for their family and their children. You can see them from prenatal all the way up to the age of 3, and the mom is growing, she's showing empathy, she's showing concerns, she's doing things that I have shared with her. It's awesome."
Kristen Miller:  Serving families in their homes is a critical link
Kristen Miller, the nursing director for McLeod Nurse-Family Partnership in the Pee Dee, said the bond between the nurse home visitor and the client typically forms after the fourth or fifth visit, although sometimes it takes a little bit longer. NFP pairs first-time mothers from pregnancy until the child is 2 years old with nurses who assist with a healthy pregnancy and then provide advice and coaching on child development.
The nurse home visitor plays a valuable role by serving as an intermediary resource to help the mom or expectant mom keep her doctor's appointments, encourage her to ask specific questions while she's there, and to notify the doctor on call if she's sick instead of going to the emergency room. Once the baby is born, the focus is to keep all the baby's appointments, make sure they get their immunizations, and work on reaching child development milestones so they'll be ready for school.
"What nurse home visitors do in our communities is such an integral part of serving and supporting the lower-income families and moms by having somebody come to the house. It's a critical component," Miller said. "Most of our moms do not have reliable transportation and do not have family members that can help support them."
Miller believes it's important to spread the word far and wide about the life-transforming work being done by home visitors on the local levels.
"Community awareness is something that all programs try to raise by just continually getting the word out," Miller said. "Some people will know us, some people won't, but if we can put Nurse-Family Partnership everywhere and make it a household name, that's what we want to do. We want people to understand that we're out there, we're working, and we're trying to make a change in the community, one family at a time."
Kendrell Harley:  Helping parents grow their children's potential 
When Kendrell Harley enters a home, he's well-aware of the responsibility he holds.
A parent educator with the Parents as Teachers model run by All Children's Pediatrics in Beaufort, Harley works to fulfill the model's vision that children will realize their full potential as they learn, grow and develop in their crucial early years.
"It's important because you let the families know it's bigger than us. It's bigger than you as a parent because it's about the ones that are coming up," he said.
And when the parents reach a point in the program where it's clear their home life and their child's life are being impacted in an affirming way, Harley lights up.
"It's hands-on. You're there. You see it. You can see the change," Harley said. "It ain't paperwork. It ain't numbers. Of course, you've got to submit that stuff. But when they're engaged, it's like, you get in your car, and say, 'Yes, thank you, Jesus. They're really getting it right now.'"
Amber Schrenkel:  Personal connections make the models work
Amber Schrenkel, Children's Trust home visiting coordinator, believes that relationship between the home visitor and the mother serves as the heartbeat of what makes each of the program models work so well. The personal connection allows the information to take root.
"We like to remind our home visitors that the most important thing they bring to the job is themselves – their personality, their experience, their knowledge, their sense of humor, everything that makes them who they are," Schrenkel said. "Home visiting is effective because it's not just about bringing in the latest science and information on child-rearing, but because home visiting is about a relationship that provides a space for the information to be shared and hopefully integrated into that parent's and child's life."
Schrenkel is convinced more families could benefit from home visiting if state and community leaders knew more about it. By raising the profile of this effective two-generation approach, more funding streams could be found to support health and well-being at the community level.
"Communities should know about these amazing programs and do what they can to support and invest in them because they can play a crucial part of building up our communities and our state," she said.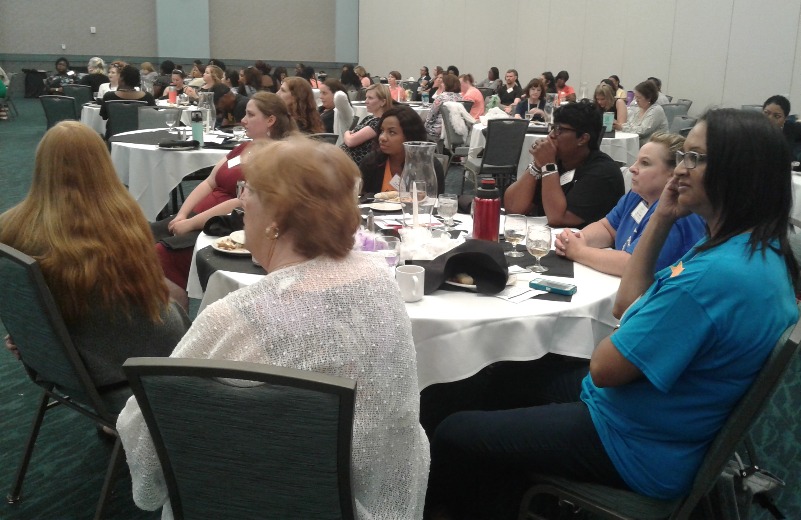 Home visitors attend the All Sites Assembly in June at the Myrtle Beach Convention Center.