Children's Trust hosted a two-day, biennial summit focused on providing a quality learning, networking, and systems building opportunity for home visiting and early childhood interventionists in South Carolina. Neil White, who tells the organization's stories, covered the event.
---
Naomi Haines Griffith stood before a full room of 250 child-serving professionals attending the 2019 Home Visiting Summit at the USC Alumni Center and coaxed a range of emotions from audience members.
They laughed, sometimes uproariously, at the anecdotes she told of her own experiences as a social worker and home visitor. They teared up as she recounted her family's life of poverty while living in Alabama and Mississippi as a young child. They stood and loudly applauded at the conclusion of her keynote address on the summit's second day.
"Nobody knows anything about families unless you do home visits, sit on the couch and really talk with them," Griffith said. "You bring your heart and offer it to make things better, healthier and safer for families."
Griffith spoke directly to the passion and the purpose of the home visitors. She advised them to be themselves, to be willing to share, to be vulnerable, to believe in the work, and to have a positive expectation of what they can do in the broader picture of strengthening families. 
Her message resonated with home visitors who are working every day with families across South Carolina. Home visiting is a proven early-intervention strategy that pairs volunteer families with social workers, nurses and early childhood specialists, who provide services throughout a child's first two to five years to improve health, development, and early learning. Program models allow pregnant women and parents with newborns – many of them at-risk and low-income – the opportunity to receive health and parenting information through home visits.
The summit's theme – "Expanding the Road to Stronger Families" – highlighted over two days in early March the importance of a cohesive early childhood system. As this state's federal grantee and lead agency for the Maternal, Infant and Early Childhood Home Visiting (MIECHV) program since 2010, Children's Trust funds three evidence-based home visiting models – Healthy Families America, Nurse-Family Partnership, and Parents as Teachers – in partnership with 17 implementing agencies in 43 counties. Last year funded sites served 1,242 families through 13,816 home visits. The summit's attendees included not only MIECHV professionals but other home visiting programs and stakeholders across the state.
Griffith, a national speaker, consultant and author on child welfare issues, believes summits like this one are so beneficial for those working in the home visiting field. They learn new strategies from experts, they share knowledge and ideas, and they network with fellow professionals.
"I consider (home visitors) to be the most critical piece of our work," she said. "When they come to this summit, they are validated for what they are giving the community. And they come away from this feeling good about the work and feeling like they have not only just been appreciated, but they have been empowered."
Alicia Turner, the Parents as Teachers program director for Dorchester County First Steps, seconded that observation from an attendee's perspective.
"I love coming to the summit. Beyond just the wonderful information and some of the refresher information that we need, it's so wonderful to connect with other home visitors because we often are in our offices and in other people's homes and we don't get to talk to each other," Turner said. "Being able to share our common experiences and being able to share our stories really gives us a sense of renewal to go out and keep up this good work that is so important."
Lee Porter, chief program officer at Children's Trust, saluted the assembled home visitors in his welcome remarks for what they do every day for families.
"Your work is transformative," Porter said. "It's life-changing. It's trajectory-changing."
The summit featured two keynote addresses, 19 workshops and a closing plenary from state and national experts. Paul Schmitz, the CEO of Leading Inside Out and a national author, speaker, trainer and consultant, delivered the opening day keynote on building the culture for collaborative impact on social issues. He discussed what it takes to move the needle locally or nationally ­– through civic leadership, dialogue, data and information – in order to get citizenry to embrace the need for change and then enact programs or policy that can produce desired outcomes.
Mike Young, the co-interim director of PASOs, which advocates for Latino families and connects them to resources, has seen the impact of how home visitors build a rapport with families in a way that allows parents to embrace what they're learning about child development. He pointed to home visiting's long-term benefits of stronger young people, stronger communities and a stronger society. And he also noted the powerful bonding among the summit attendees.
"Celebrating those achievements and knowing that people are in this effort together is really exciting, and I think it brings people together and it creates a sense of community within the workforce," Young said. "You know, we're bringing together communities to strengthen them, but we ourselves are a community. And building that up is what this summit's all about. Having the workforce get professional development and having tools that they can implement will only serve the families even better in the long run."
Young is part of the South Carolina Home Visiting Consortium, which coordinates content development for the summit as part of its focus on providing workforce development to professionals in the state. Eric Bellamy, the director of program integration for Children's Trust, said "the main purpose of the consortium is to bring together the different entities to streamline efforts around data collection, common outcomes, and advocacy efforts to have a collective impact around home visiting in South Carolina."
Brittany Grooms, home visitation manager with Family Connection of South Carolina, sees the daily difference that home visitors are making to improve maternal and child health, prevent child abuse and neglect, encourage positive parenting, and promote child development and school readiness.
"It's wonderful to have a program where we can go in and we can restore that confidence and show parents how they can help aid and help their children grow and develop," Grooms said. "It's amazing to watch parents make those connections. It's amazing to watch parents see their children do things for the first time and know that, 'Hey, I helped make that happen.'"
Griffith, who currently lives in Nashville, loved hearing the success stories as she speaks to child-serving professionals across the country. More than anyone, she understands the special relationship between a caregiver and a home visitor as well as just what home visiting can mean to a family.
"You know, in all these years, I have seldom worked with a parent that did not want to do a good job," Griffith said. "The community's place is to help that person do what they already want to do – and to give them support, encouragement, and services they need. It's the best investment I know of."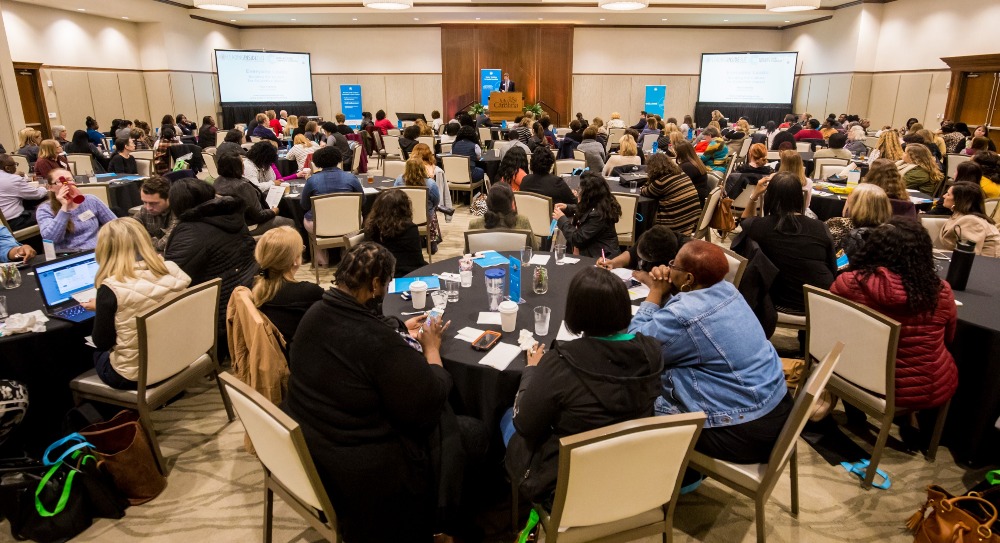 ---
Building Hope for Children Conference
Children's Trust hosts excellent opportunities for child-serving professionals interested in the prevention of child abuse and neglect as well as the promotion of resilience and child and family well-being. Take a look at our Building Hope for Children Conference to be held Sept. 5-6 at the Hyatt Regency in downtown Greenville.