The 2016 Home Visiting Summit hosted by Children's Trust provided attendees with peer-to-peer learning as well as knowledge and skills building through keynote speakers, breakout sessions, and facilitated discussions. Neil White, who tells the stories of Children's Trust, captured the event's highlights.
Participants at the 2016 Home Visiting Summit hosted by Children's Trust of South Carolina showed up focused, engaged and ready to learn. That proved to be fitting given that the summit's theme – "The Time is Now: Working Together, Achieving More" – helped draw 280 attendees to the Columbia Marriott Sept. 14-15 to discuss the importance of a cohesive early childhood system that improves the health and well-being of children and families in South Carolina.
The two-day learning opportunity for professionals associated with the home visiting world, which included nurses, pediatricians, social workers, program administrators, child care workers, and educators, focused on peer-to-peer learning, knowledge and skills building, and systems coordination.

Keynote speaker Renée Boynton-Jarrett, a pediatrician at Boston Medical Center, social epidemiologist, and associate professor at Boston University School of Medicine, talked about the importance of understanding the critical components of home visitation as a key part of making a long-term difference for families while protecting children and enriching their environments.
"Human beings are social beings. A home visit provides information, it provides education, it provides different types of support," Boynton-Jarrett said. "It's a social connection opportunity in the context of your daily life. It's not a special visit, it's not a special place. I think something magical happens when that is the level of interaction and support that can really help families."
Home visiting is a proven early-intervention strategy that pairs volunteer families with specialists who provide services throughout a child's first five years to improve health, development, and early learning. Program models allow parents with newborns the opportunity to receive health care and parenting information through pediatric visits and home visits.
Boynton-Jarrett, a champion for advancing developmental promotion, early detection of developmental delays, and linkage to services, inspired the roomful of home visitors with a thoughtful message on the vitality of the work.
"The other piece that's really important is continuity, (those) multiple visits over time," Boynton-Jarrett added. "Families can be doing better at one point in time and worse a little later. If we only had these isolated time points and were not following up long-term, we'd miss an opportunity to really support families through challenging transitions but also to problem-solve and plan ahead as circumstances are coming at them."
As this state's federal grantee and lead agency for the Maternal, Infant and Early Childhood Home Visiting (MIECHV) program, Children's Trust supports five evidence-based home visiting models – Healthy Steps, Healthy Families America, Nurse-Family Partnership, Parents as Teachers, and Family Check-Up – in partnership with 16 implementing agencies in 39 counties.
Many of the program models serve at-risk, low-income mothers and, at times, medically-fragile children. Children's Trust was designated as the lead agency for MIECHV in 2010 to focus on building the network of support for home visiting programs and families.
Eric Bellamy, Children's Trust home visiting manager, stated the program looks to help young children, especially during the 1,000 days of a child's life, and keep their families enrolled in order to experience its full benefit.
"The most important thing is seeing these families strive and become self-sufficient," Bellamy said. "We want children to grow and to be healthy. We know these are predictors of later on in life. We've seen very good outcomes in the first five years of the program through data collection and meeting benchmarks."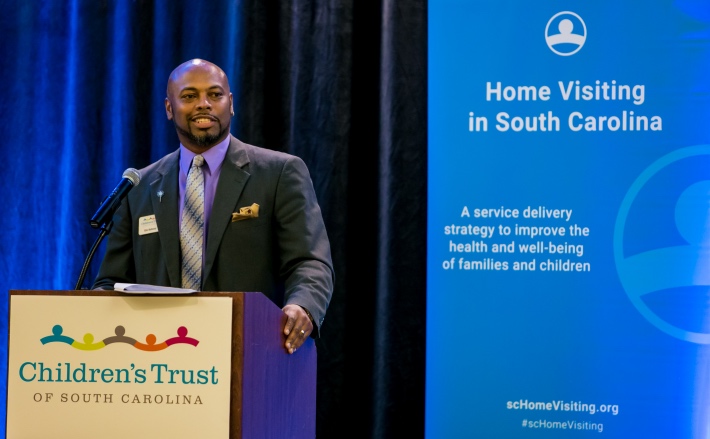 Bellamy viewed the biennial summit, the fourth one in South Carolina, as an opportunity to connect home visitors who are working in the early childhood arena and to show them the support they have from Children's Trust.
"We really want peer-to-peer interaction and to build the networks," Bellamy said. "People in the home visiting workforce and those on the front lines cherish these moments to come together and learn from their peers. They experience that they're part of something bigger than just their local programs. We're very thankful for their hard work and the service they provide to the children and the families."
Other speakers at the summit, which featured 15 breakout sessions and five facilitated discussions, included Christian Soura, director of the S.C. Department of Health and Human Services; Forrest Alton, president of 1000 Feathers, Inc.; Eric Rowles, CEO of the Leading to Change group; and other home visiting experts from across South Carolina.
Soura stressed the importance of Health and Human Services aligning with organizations using evidence-based programs in home visiting, noting that being able to implement the right models that produce actual outcomes provides the agency with quantifiable measures of success.
"Instead of trusting and hoping, we'll have a strong evaluation from an independent actor about whether we reduce preterm births and whether we reduce child injuries," Soura said. "If those are the stated priorities, we have to make sure that we can connect the work we do and the places we put our money to what we say are the things important to us."
Alton, president of 1000 Feathers, pointed to the synergy that child-serving organizations with different missions must grow in order to address larger issues that negatively impact families. He views home visiting as a great example of professionals holding up their end of the bargain.
"With the collection of services that are happening across the state, we start to see the needle moving on big issues like education, achievement, low birth weight babies, teen pregnancy prevention and infant mortality," Alton said. "That comes from the collection and power of all of these individual programs across the state working together and moving South Carolina forward. That's the power of this home visiting movement. It's not about any one program or any one model. It's about the collective desire and will to take care of children and families in our state."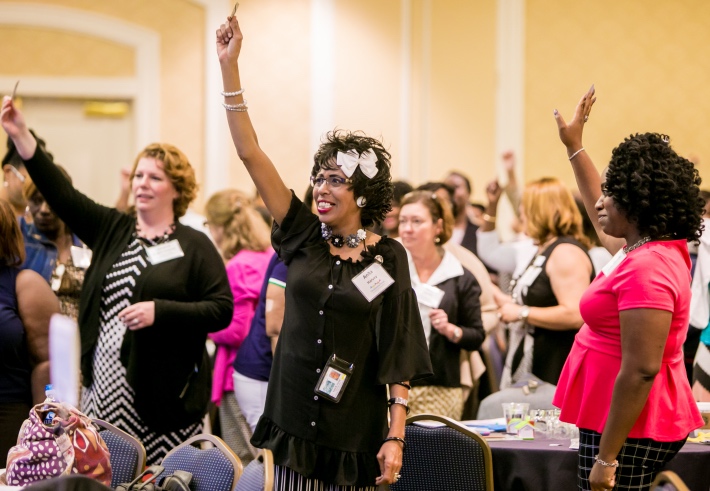 That will also must come from legislators and policy makers in the state. Rep. Rita Allison, R-Spartanburg, attended a pre-event luncheon of home visiting leaders that resonated with her. She noted her commitment to serving as a voice for children in this state.
"The visiting program is tremendously important for our young children," Allison said.
She addressed the need to have children healthy and ready to learn as they enter the K-12 school system, especially in rural areas where a high degree of poverty can exist. She sees the advantages that home visiting can build in families that may lack resources. Ultimately, more kids with healthy development and solid preparation for school improves quality of life for the entire state.
"If we have healthy, educated families, we're going to have a skilled workforce for the jobs being brought into this state," Allison added.
Children's Trust CEO Sue Williams reflected on the growth of the home visiting program and the work being accomplished by the summit's many participants throughout the state. Williams looks forward to expanding the program's reach into all 46 counties, continuing to partner with the strong local organizations to implement it, and finding additional sources of funding through innovative public-private partnerships like Pay for Success that can demonstrate cost savings and return on investment.
By integrating home visiting with the other programs of Children's Trust such as Prevent Child Abuse South Carolina, Safe Kids South Carolina, the Strengthening Families Program, and Triple P (Positive Parenting Program), Williams hopes the organization can further the kind of healthy child development that can lead to an overall reduction of abuse and neglect. She happily points to the significance of summits like this one for home visitors.
"They understand the idea of sharing best practices and the rejuvenation they get from each other no matter what model they're working on," Williams said. "They're doing the same thing in different ways for different families, and by coming together, they see that we're working together for a common purpose of meeting families where they are and giving them the services they need at that time."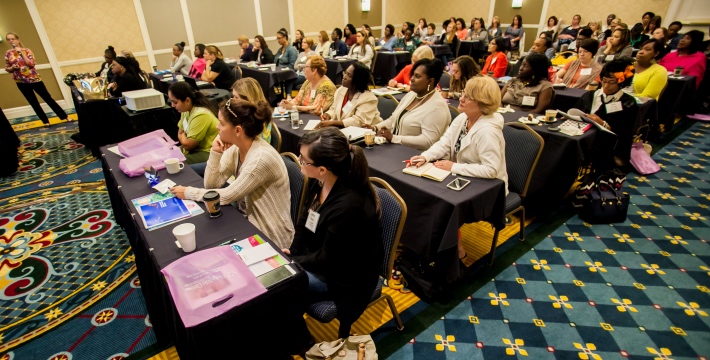 View more photos from the summit