Children's Trust held an event in June that saluted all of its Pee Dee grantees and announced the annual funding investment behind the prevention programs these partners deliver in their local communities. Neil White, who tells the stories of Children's Trust, covered the event.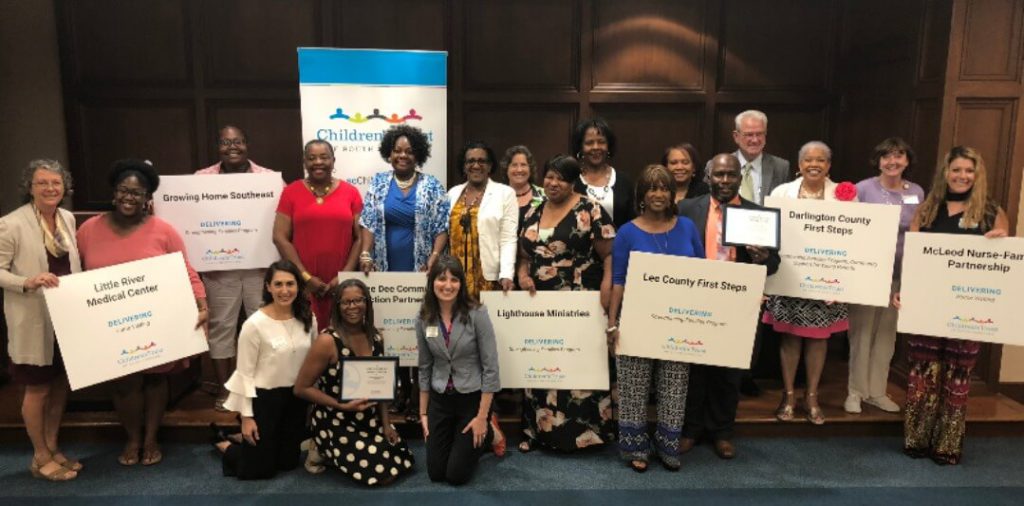 ---
FLORENCE – McLeod Nurse-Family Partnership provides home visiting services for mothers, infants and young children in Darlington, Dillon, Chesterfield, Florence and Marlboro counties through a federal grant administered by Children's Trust.
Kristen Miller, the nurse manager for Florence-based McLeod NFP, knows exactly how vital her organization's work is for families, and she had a real appreciation for being recognized by Children's Trust in a ceremony at the Florence County Library that saluted 10 partners covering 10 counties in the Pee Dee.
Children's Trust brought together those organizations to highlight their work delivering the Maternal, Infant and Early Childhood Home Visiting (MIECHV) program, Strengthening Families Program (SFP), and Community Support for Young Parents program in the various communities.
"It's just inspiring to see a lot of our local partners from the Pee Dee area that are focused on child abuse prevention programs because we all have that ultimate goal to make families stronger in South Carolina, and healthier moms and babies, like for us with Nurse-Family Partnership," Miller said. "It's really rewarding to sit in a room full of our peers and get recognized by Children's Trust, but also be thankful for what Children's Trust provides to us that we can do these services in our communities."
Children's Trust announced its investment of $1.6 million in the Pee Dee ­– out of $9.1 million across the state – during the current fiscal year. The Pee Dee event was the last of four held beginning in April, with previous events taking place in the Midlands, Upstate, and Lowcountry.
As a way of addressing the issue of 17,662 South Carolina children in founded cases of child maltreatment last year, Children's Trust, the state affiliate for Prevent Child Abuse America, and its partners around the state are  implementing evidence-based prevention programs that strengthen families through the promotion of positive parenting and improvement of child well-being.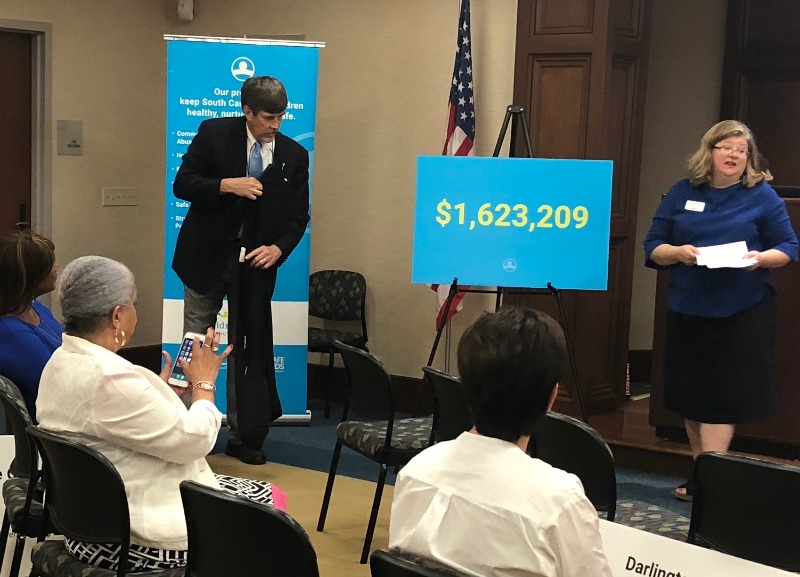 Lee Porter, chief program officer at Children's Trust, and Bett Williams, chief communications officer, led the program saluting the partners.
"You do the work every day," Porter said in remarks before introducing each of the partners. "What you do in a beautiful way is make sure those children and families are brought in from the margins with dignity and honor."
Children's Trust provides financial support, evaluation, training and coaching as well as program support, while local partners provide the community knowledge, access to families and program delivery. 
As they came together for the ceremony. the partners received the opportunity to connect with fellow child-serving professionals and discuss the work that binds them together. They understand even when they aren't directly working with each other, they're providing significant resources that protect children and support families in their various communities.
Alexis Pipkins Sr., the executive director of Lee County First Steps, called the gathering an inspirational one, as each organization not only was cited for its good work but also learned how others are standing in the gap to serve as champions for children.
"I think it demonstrates the cohesion, and it also demonstrates the level of commitment, not only from the funder, but in terms of those that are receiving funds to impact the families that we're serving," Pipkins said. "And so to me, I thought it was good that we all were in one setting, to be able to look at each other and to be able to connect."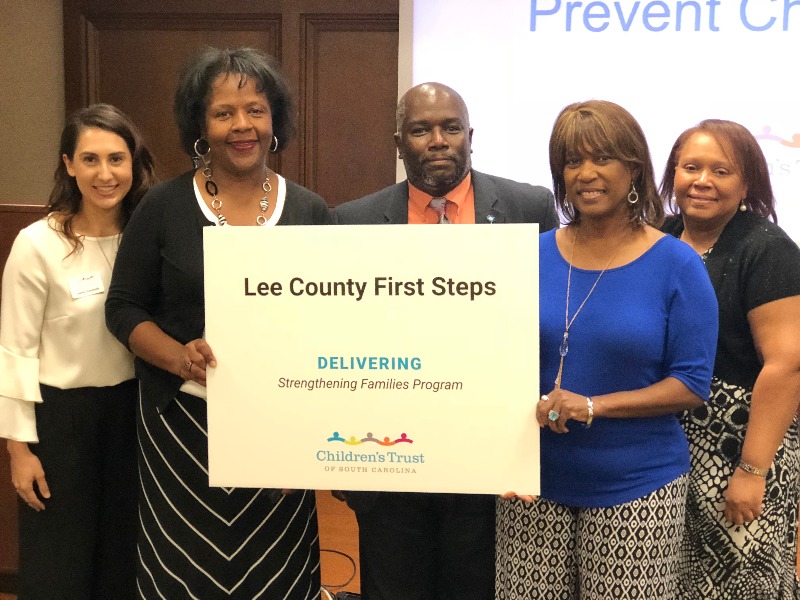 Lee County First Steps is overseeing the Strengthening Families Program in Lee, Florence and Sumter counties. Pipkins noted that many times smaller rural counties are overlooked and underutilized, but Children's Trust is committed to helping children and families in every corner of the state.
"It has provided us with an opportunity to have an impact in a larger way and in a more meaningful way," Pipkins added. "With the providers that we've been able to train in the SFP curriculum, we've been able to touch and reach other areas of the region. For us, that has been powerful."
SFP is designed to help families develop positive discipline practices, stay resilient in tough times, reduce conflict, improve parenting skills, and assist children with social skills, relationships, and school performance. All of these factors play an important role in keeping families strong while protecting against potential neglect or abuse.
Shelley Cooper, the supervisor for the Parents As Teachers home visiting model at Little River Medical Center in Georgetown and Horry counties, sees the same sort of positive effect for the families being served in her area.
"That's the reward in the whole thing. It's just seeing our families grow and seeing them come up to where they need to be," Cooper said. "And it's seeing them help each other, because when we do our group connections, they help each other. It's really nice just to be out there with them and know that we're making a difference."
Home visitors – who can be nurses, social workers, or child development specialists – support preventive health and prenatal practices, help parents understand developmental milestones, promote the use of positive parenting techniques, and work with mothers to set goals for the future, continue their education, and find employment and child care solutions.
Darnell McPherson, the executive director for Darlington County First Steps, which implements SFP and Community Support for Young Parents, understands no single organization on its own can prevent abuse and neglect. It takes every organization – along with individuals, elected officials, schools, faith groups and communities – working together.
"It was great being with all of the partners from around the Pee Dee," McPherson said. "This was our first time being together so that was really awesome to see us as a collective group and hear about the kind of impact that we're having on families and the financial investment that Children's Trust has made in our area."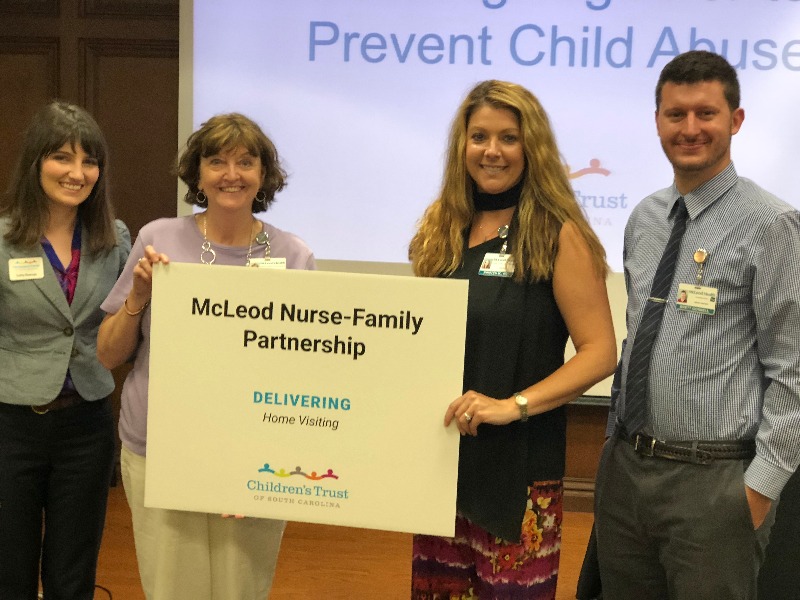 Pee Dee Partners
Darlington County First Steps, Hartsville – Community Support for Young Parents, Strengthening Families Program
Family Outreach of Horry County, Conway – Community Support for Young Parents
A Father's Place, Conway – Community Support for Young Parents
Growing Home Southeast (Horry County), Cayce – Strengthening Families Program
Lee County First Steps, Bishopville – Strengthening Families Program
Lighthouse Ministries, Florence – Strengthening Families Program
Little River Medical Center, Little River – Home Visiting
McLeod Nurse-Family Partnership, Florence – Home Visiting
Pee Dee Community Action Partnership, Florence – Strengthening Families Program
St. James-Santee Family Health Center, Georgetown – Home Visiting