Children's Trust held its biennial Prevention Conference Oct. 2-3 at the Columbia Metropolitan Convention Center. Neil White, who tells the organization's stories, chronicles the event that brought together nearly 800 attendees for two days of learning and sharing.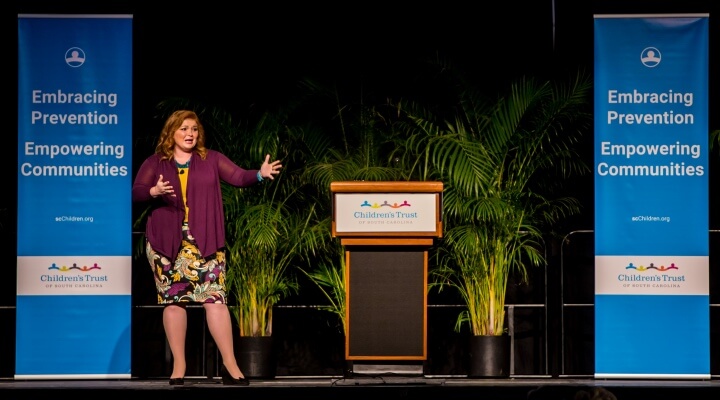 Ashley Rhodes-Courter delivered a powerful message during her keynote address on the second day of the 2017 Prevention Conference hosted by Children's Trust.
After spending a decade of her youth in foster care, Rhodes-Courter told the inspiring story of how she overcame very difficult life circumstances to become a successful child welfare advocate, author, public speaker and mother.
She passionately spoke of the need for others to stand up for children before a crowd of nearly 800 social workers, home visitors, counselors, program administrators, first responders and other child-serving professionals.
"Prevention in the child welfare arena is so important because prevention is the key to potentially preventing a variety of really traumatic situations for kids," she said. "I'm really excited to be at a conference like this (one) that brings together so many different professions, which are all on the front lines of prevention."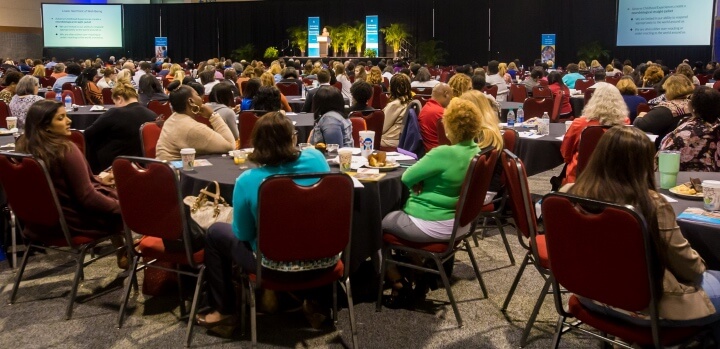 With a theme of "Embracing Prevention, Empowering Communities," the conference emphasized the role everyone plays in keeping children safe through more than 40 sessions that covered a variety of topics, including child well-being, child brain development, adverse childhood experiences, home visiting, race equity and inclusion, protective factors and fatherhood engagement.
Rhodes-Courter, the best-selling author of "Three Little Words" and mother of two biological sons and one son adopted from foster care, drove home the importance of personal connections in the work to meet the needs of families and strengthen the lives of children. She called personal relationships the first step in empowering child-serving professionals to work collectively across communities.
"In my experience as a foster child, a social worker, a foster adoptive parent, it boils down to those individual relationships. Those one-to-one acts of kindness, and the ability to empower the individual to inspire a community that will ultimately, collectively help more children than any legislation. Or any policy. Or any piece of paper," she said. "We have to be making sure that people individually are empowered and inspired to reach out and help another human being. That's where the most progress and change is going to be made."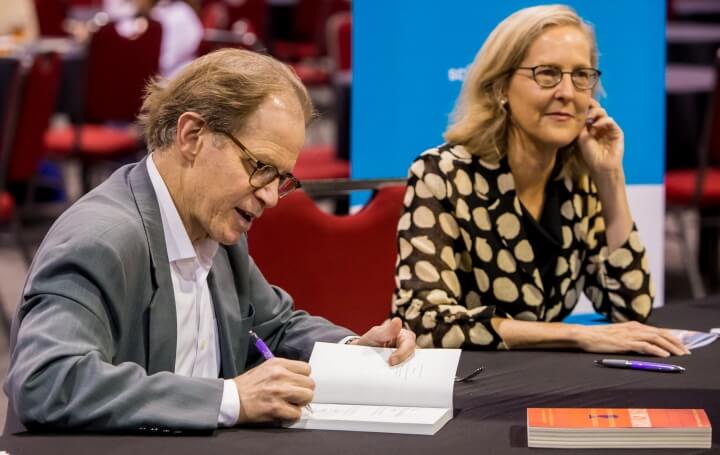 Along with Rhodes-Courter, Dr. Dan Siegel, Dr. Charlyn Harper Browne and Donna Jackson Nakazawa highlighted the group of national speakers who shared their knowledge and experiences with the attendees who partner with Children's Trust to prevent child abuse, neglect and injuries in South Carolina.
Children's Trust CEO Sue Williams surveyed the bustling halls and session rooms of the convention center and pointed to the connections being made that will help everyone learn more about programs, data and science that can play an important role in the prevention of abuse.
"A conference like this is so important to get people to network and share best practices from one community to another, but to support each other," Williams said. "This work is very hard day to day, and to be able to lift each other up and lift up the good work is so affirming and empowering to each of them, so that when they go back to their work, they can continue on."
Siegel, a clinical professor of psychiatry at the UCLA School of Medicine and founding co-director of the university's Mindful Awareness Research Center, gave a keynote on interpersonal neurobiology and practices that cultivate connection and well-being. His goal at conferences such as this one is to provide people who are on the front line of care with scientific knowledge about the importance of relationships in shaping the structure of the brain to try to create well-being in a child's life.
"Prevention is incredibly important when to comes to thinking about the future of children and the future of our society," Siegel said. "We now know that when abuse and neglect happen in a child's life, they have long-lasting impacts on how the child's brain develops, how their mind functions, how they will engage with other people, and how they will function in society. The best thing we can do is prevent abuse and neglect from happening."
Siegel, whose best-selling books include "The Whole-Brain Child" and "The Developing Mind," also presented at a pair of sessions that spoke to the role of parents in the development of a child's brain.
Charlyn Harper Browne, a senior associate at the Center for the Study of Social Policy, also called prevention the best strategy in building a stronger and healthier population.
Harper Browne, whose keynote speech addressed cultural humility and the protective factors, believes parenting can take many forms in the lives of children, from biological parents to grandparents to other relatives or caregivers.
"We tend to agree how important parenting is, but the error we make is thinking that all parenting is the same across cultures, and it's not," she said. "Parenting is a cultural act, and that's one of my messages."
Donna Jackson Nakazawa's message focused on the importance of addressing and preventing adverse childhood experiences, which can lead to a number of poor health and social outcomes into adulthood. A science journalist and researcher, she liked seeing the array of professionals from all walks of life at the conference coming together to learn from each other and share knowledge that can help everyone.
"You brought together this tremendous group of people so that they can see a road toward healing for themselves and so that they can be better healing influences in the small moment-to-moment interactions that they have with the children they're setting out to help," she said. "Prevention starts with the individual and how the individual is in their community and in their society so that we can create a generation that doesn't suffer from these long-term intergenerational effects.
Jackson Nakazawa could feel the many conversations at the conference generating a cross-pollination of ideas and plans to bolster children and their families.
Katrina Spigner, the Re-Source Solutions founder who presented a session on race equity and inclusion, found the cross-section of races, ethnicities, ages and genders a good thing for creating a broader dialogue.
"It's important to have these kinds of conferences because it brings in a level of diversity that we don't always have," Spigner said. "Sometimes when we think about diversity, we go straight to color, right? But we can have diversity of voices, and that's what this conference does. It gives us an opportunity to have diverse voices at the table. It gives an opportunity for inclusion, to be able to invite voices that, otherwise, may not be heard. (It) is a very powerful way to address some of the issues, and challenges, and opportunities related to prevention."
Birley Wright, Children's Trust prevention training manager, organized the conference, the largest one in the event's history, and she received positive feedback throughout the two days from participants that included attendees, speakers, exhibitors and sponsors.
Jacqueline Lowe, who attended the conference in her role with the S.C. Department of Social Services, appreciated what she heard from the keynote speakers and in the sessions, where she was able to interact with like-minded people from across the state.
"It's absolutely wonderful because it lets us know we're not in this alone and that it does take every single person who's working in any area of child welfare services, whether it's on preventive or supportive side to come together," Lowe said. "And being able to hear national speakers who are on the forefront with policy and helping to create laws that help support the work we do is very, very critical. We're just thrilled to have everybody here working for the same goal."
Photos from Prevention Conference 2017