(ColaDaily) – The newest Miss South Carolina calls the state's capital city home. Suzi Roberts, Miss Columbia 2017, won the Miss South Carolina crown at Saturday's night's finals at the Township Auditorium.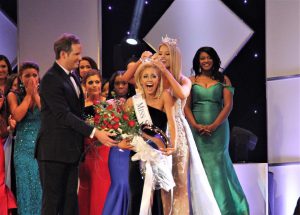 Roberts, who finished as first runner-up in the 2016 Miss South Carolina competition, will represent South Carolina in the 97th Miss America competition, scheduled for Sept. 10 in Atlantic City, New Jersey.
Miss Greater Greer, Sydney Sill, finished as first runner-up Saturday. Miss Spartanburg, Sydney Ford, was second runner-up, with Miss Clemson, Taylor Miller and Miss Florence, Christal Potter, rounding out the top five.
Miss Midlands, Morgan Romano, made the top 10 as the judges trimmed the field from an original group of 45. Roberts danced to Whitney Houston's "Greatest Love of All" in the talent competition, and a University of South Carolina alumna, Roberts plans to return to USC for law school after her year as Miss South Carolina and potentially a year as Miss America. She made child advocacy her platform as Miss Columbia and will continue fighting for children's rights as Miss South Carolina.
Roberts has served Richland County as a Court Appointed Special Advocate for Children and served as a public relations intern for Justice 360, a legal services non-profit organization working to reform policies and practices in court proceedings. She also works closely with Children's Trust of S.C. and is a partner with them in Child Abuse Prevention Month.
"It all kind of started with one particular child" she was close to, Roberts said of her devotion to protecting children. "The system failed to protect her. Because her family looked normal on the outside, nobody got involved. Seeing the effects of child abuse in her life… I just couldn't stand to see another child go through that."
The 45 contestants in this year's Miss South Carolina and Miss South Carolina Teen competitions combined to raise more than $168,000 for Children's Miracle Network hospitals.