By Cecilia Brown
Editor, Moultrie News
Over 1,700 children living in the Town of Mount Pleasant will experience some form of child abuse this year. Whether it be sexual abuse, physical abuse, emotional abuse or witnessing severe violence among their parents, according to Dee Norton Child Advocacy Center.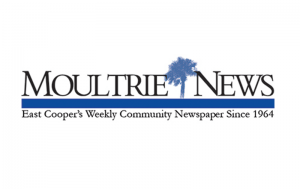 Local government officials are helping raise awareness of Child Abuse Prevention Month. Taking a stance against child abuse and staying educated on awareness is instrumental in preventing and noticing this crime in our communities.
On Thursday, April 4 members from the Dee Norton Child Advocacy Center joined Mount Pleasant Mayor Will Haynie outside of town hall for a press conference to declare Mount Pleasant as a Pinwheel City. Mount Pleasant's Town Hall is surrounded by blue pinwheels during the month of April. The pinwheels serve as a national symbol and reminder of the happy, healthy childhoods desired for all children.
"What we're talking about today has life-long consequences and is an issue that permeates society at every level. It knows no bounds of socio-economic strata. It knows no bounds of race, religion or any of those things," Haynie said. "Mount Pleasant is a Pinwheel City. I'm proud to proclaim because this is National Child Abuse Prevention Month and Mount pleasant wants to show our dedication to that by these beautiful pinwheels we have glistening in the sun today."
Haynie continued that the town is very fortunate to have Dee Norton Advocacy Center located in Mount Pleasant since the fall of 2018. He said that if they didn't exist, the town would have to pick up the tab and hire the experts and get the training to handle the type of advocacy that they offer.
"They work hand in hand with our police if there is a tragic incident of criminal child abuse. We want to thank the Dee Norton Center for their contribution to our community," Haynie added.
Haynie urged members of the community to support Dee Norton in any way they can; whether as a volunteer, a donor or giving emotional support.
Mount Pleasant joined Children's Trust of South Carolina in its support to raise awareness for child abuse prevention throughout the state.
"We stand here today in April, Child Abuse Prevention Month with fellow leaders because we firmly believe that when we stand together; we do what's best for South Carolina's children and South Carolina's future," said Chris Rollison, Strengthening Families Program coordinator for the Children's Trust of S.C.
Dee Norton opened its Mount Pleasant location in August 2018 at 677 Long Point Rd.
Dee Norton's mission is to prevent abuse, protect children and heal families. She said that during this month they focus on the entire spectrum of their mission. They'll direct their attention on preventing abuse from the nearly 20,000 children in Mount Pleasant who will not be abused this year, but also understanding resources for those children that do need them today or throughout the year.
"Mount Pleasant is where I call home. It is a town that is recognized across the country as a wonderful place. It's because of things like today and the commitment of this town to safe childhoods and raising awareness for important issues like child abuse that make it such a great place to live," said Dr. Carole Swiecicki, executive director and CEO of Dee Norton Child Advocacy Center.
Swiecicki said child abuse puts children at a risk for things like depression, post-traumatic stress disorder, cutting , suicidal thoughts and behaviors or running away. She emphasized that people need to understand there are things they can do to prevent child abuse from happening and what to do if you have a concern.
She said one of the most important things an adult can do is to talk to the children in their lives; whether it's your own child, grandchild, niece or nephew. Or, if you're in a role as a teacher or a mentor for a child, Swiecicki encourages you to build a strong relationship with them. She explained that it is important for children to have someone to talk to if they start feeling uncomfortable in a situation before it leads to something abusive.
Swiecicki continued that when adults model strong boundaries, then kids know what a good relationship looks like. She said this helps them have a better understanding of what a relationship without strong boundaries looks like. She urged parents to ask care providers of the children in their life about their child protection policies. If they don't have a clear answer or something the parent is comfortable with, she said the parent should follow their gut and keep asking other providers until they receive a satisfactory answer.
Swiecicki encouraged everyone to take time to learn about the local resources if a child trusts you and tells you that something has happened to them. Learning about resources like Dee Norton Advocacy Center can help during a time of crisis she said. Dee Norton has videos on their website for parents to learn about the process when they have a concern, not just when something happens. 
"We know that child abuse can be prevented, but also if it does happen it's tragic, but children can and do heal. We are really grateful to be a part of that process," Swiecicki said.
Dee Norton raised awareness throughout the month with various events. They will have a booth at the Mount Pleasant Farmers Market on Tuesday, April 23 from 3:30-7 p.m. passing out free informational handouts.
---
Source: Moultrie News