An important project begins in Pee Dee elementary schools to combat the effects of adverse childhood experiences across South Carolina. Neil White, who tells the stories of Children's Trust, details the collaborative effort underway to build stronger families and communities through the efforts of state government, academic and non-profit partners.
Early adversity in the home can send children down a path to lifelong negative health and social outcomes.
That's why Children's Trust of South Carolina is teaming up with the S.C Department of Mental Health, University of South Carolina School Behavioral Health Team, and Pee Dee Mental Health Center in a three-year project funded by the BlueCross BlueShield of South Carolina Foundation.
 The Pee Dee Resiliency Project (PDRP) is a community-based partnership for students and their families at nine elementary schools in Florence, Darlington and Marion counties. The goal is to help them to prevent and address emotional and behavioral challenges resulting from adverse childhood experiences that interfere with a student's success.
With schools serving as the gateway to community support and services, the project will focus on increasing understanding of adversity, updating school policies to better support students and their families, and improving school connections to community resources. By supporting student well-being, the project will encourage positive child behaviors and academic achievement, increase family well-being and achievement, promote quality caregiving, and ensure that children live in safe and supportive neighborhoods.
Allison Farrell, program manager at the S.C. Department of Mental Health's Division of Children, Adolescents and Families, believes the model is a good one.
"The most compelling thing about this project is its goal of bringing schools and families and communities together, helping make them stronger, and producing multiple generations of people that are more resilient as a result of these efforts," Farrell said. "I like the idea of using the schools as a portal to the community."
Two years ago, Children's Trust began its work on adverse childhood experiences (ACEs) with the idea that a shared understanding of the impact of traumatic events in the lives of children could lead to the prevention of poor health and social outcomes as adults. That idea quickly blossomed into a statewide effort – also funded by the BlueCross® BlueShield® of South Carolina Foundation, an independent licensee of the Blue Cross and Blue Shield Association – called the ACE Initiative to focus on the impact of child maltreatment.
 Ongoing research shows that children who are exposed to trauma like physical and emotional abuse, divorce, substance use and misuse, domestic violence and mental illness are much more likely to become adults with problems like depression, alcoholism, obesity, heart and liver disease, and decreased workplace performance. The initiative proved to be a natural merger with the innovative work the Department of Mental Health and USC were doing to improve behavioral health in the Pee Dee.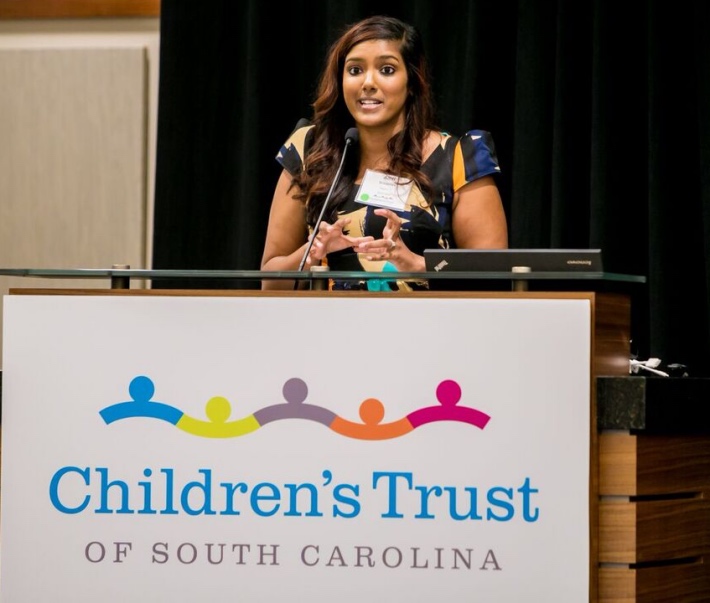 Aditi Srivastav, the ACE coordinator for Children's Trust, notes awareness about ACEs is being raised across the state by more than 70 master trainers, who are disseminating information about the science and data behind ACEs. The project in three Pee Dee-area counties is a real-life way to put this information to use.
"PDRP is an opportunity for Children's Trust to apply what we know about ACEs – that ACEs are prevalent across communities in South Carolina, and they influence many long-term health and social outcomes," Srivastav said. "This project will help us develop best practices for community based-prevention efforts, which can serve as a model for other communities both inside and outside of South Carolina."
This innovative, inclusive, and community-based approach that's focused on the health and well-being of students, families, and communities is viewed as a positive step toward preventing and mitigating ACEs.
 Louise Johnson, the director of children's services at the S.C. Department of Mental Health's Division of Children, Adolescents and Families, called this an exciting opportunity for Florence, Darlington and Marion counties to come together on behalf of children. County leaders are ready to improve lives, Johnson noted, and the participating schools will lead the way in this collaborative effort.
"I've always thought services in elementary schools should be somewhat unique and tailored to meet the specific needs of children and families. The earlier we can get involved, the more impact we can have in the long run when children get to middle and high school," Johnson said. "This is an excellent opportunity for us to develop a model and look at those best practices and evidence-based practices that need to occur that will truly impact the lives of children and families in the communities."
The idea of supportive schools and connected communities helping build healthy children and resilient families appealed to the BlueCross BlueShield of South Carolina Foundation. Erika Kirby, the senior research analyst and grants manager, said the foundation believes in investing in the mental health and behavioral needs of the state's children and families, especially when it can have a multi-generational effect.
Kirby noted the focus is on the economically disadvantaged in this project. In the three counties, 28 percent of children in Florence live below the federal poverty level, while the figures are 36 percent in Darlington and 48 percent in Marion. Strengthening the overall health of a community, she added, is a benefit to everyone who lives there.
"The work and the opportunity to address adverse childhood experiences in a school-based, coupled with a community-wide, approach hasn't really been done before. In this particular project, we start with a small collection of communities with the mindset to design a model that can be replicated in other communities," Kirby said. "We are very pleased to see the project come together with the different agencies and a true sense of commitment."
Johnson stated the partnership's most critical component is the shared vision of the implementing agencies, funding agency and community partners. The plan incorporates a variety of elements, including regional trainers, an alliance with Children's Trust Strengthening Families Program in the Pee Dee, parental engagement, site visits, and town halls.
"We know what the end looks like. We know what success is for these kids and families," Johnson said.
Farrell shares that optimistic vision of the PDRP's results in three years.
"I would like to be able to look back on this effort and say it had an impact on the health and happiness and well-being of children and families and that we were successful in understanding what it takes to do that with our schools and our communities," she said.