The first summit on adverse childhood experiences in South Carolina took place in early November, as child-serving professionals gathered from across the state to learn more about the Children's Trust initiative to address these traumatic events that have serious impacts into adult life. Neil White, who tells the stories of Children's Trust, covered the ACE Summit.
Children's Trust began its work on adverse childhood experiences (ACEs) over a year ago with the idea that a shared understanding of the impact of traumatic events in the lives of children could lead to the prevention of poor health and social outcomes as adults.
That idea quickly blossomed into a statewide ACE Initiative that involves training, collecting and disseminating data, building a prevention planning framework, and promoting sound legislative policy. In the first week of November, Children's Trust hosted South Carolina's ACE Summit that brought together national and state experts with 300 attendees.
The event, held at the University of South Carolina Alumni Center, focused on the ways that nonprofit professionals, social workers, health care and medical providers, teachers, school administrators, parents, faith-based organizations, and policy makers can lead community-based efforts to address and prevent interrelated and intergenerational health and social problems.
Children's Trust is looking to address how child maltreatment impacts a range of populations not limited to a specific geographic region, race or ethnicity, or socioeconomic status. Research shows that children who are exposed to trauma like physical and emotional abuse, divorce, substance abuse, domestic violence and mental illness are much more likely to become adults with problems like depression, alcoholism, obesity, heart and liver disease, and STDs.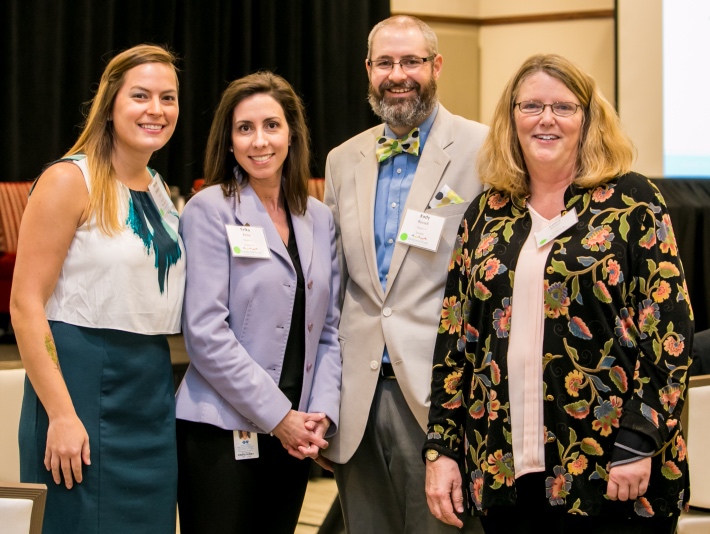 Melissa Strompolis, the organization's director of research and evaluation, is guiding the initiative on ACEs in this state.
"We wanted to have an ACE Summit here so we could not only learn from others and other states that have done this work successfully, but also provide an opportunity to bring people together across the state to meet folks who care about this issue and want to do work in their own community," Strompolis said.
Strompolis, who received her doctorate in community psychology, movingly recounted the ACEs in her own life and how she overcame them. Her speech brought summit attendees to their feet. She believes South Carolina can advance this work by following the lead of Washington state, which has developed a model to build community capacity that improves health, well-being and resiliency.
The first day of the summit featured Washington state leaders, who discussed successful initiatives there at the state and local levels. The second day highlighted the release two years of ACE data in South Carolina and outlined the prevention framework that will serve as a toolkit for communities to address ACEs. To end the event, participants discussed local strategies for their communities in regional planning meetings.
Laura Porter, a co-founder of ACE Interface along with Dr. Robert Anda, an investigator on the original ACE Study, has watched the strategies used in Washington state work to mitigate the effects of ACEs.
"We've trained speakers that can deliver this information with consistency across every community in the state. Those people have trained a whole other group of speakers, so really saturating making sure everyone understands that science is a really important first step," Porter said. "Then, encouraging people to take their own action in their own spheres of influence, so people in schools will take action in schools, people in policy positions will take action there, and you end up with this elegant layering of action that is quite powerful."
Children's Trust has begun to head in that direction by training 50 Interface Master Trainers in South Carolina to work with many others on the potential impact of ACEs in every community.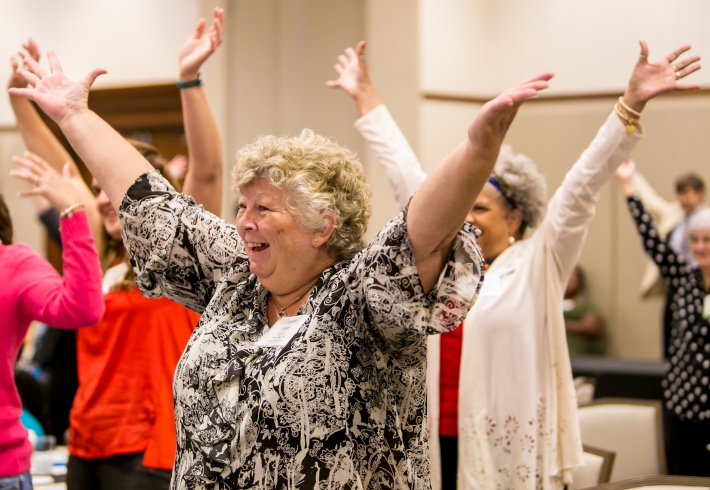 Kody Russell, one of 25 Washington state ACE Interface certified NEAR (neuroscience, epigenetics, ACEs, and resiliency) Master Trainer/Coaches, has trained over 2,000 people in the NEAR sciences. He called knowledge of the ACE data empowering for all child-serving professionals, and he expects South Carolina to discover similar successes to what he has seen in Washington.
"This information is affirming. It confirms what we already knew or resonates with us. The 'now what' journey is different based on the strengths of that individual community because I think that all of this is about leveraging what we have," Russell said.
"The journey in each community in South Carolina is going to be dependent upon the resources that are there and the people that become leaders in this initiative. That's what I've seen in my community, and we have to keep our eyes open for unlikely partners and partnerships and not just go to the places where we're preaching to the choir, but go to where everyone is, to the congregations."
Deborah Daro, a child abuse prevention expert with a doctorate in social welfare, led a presentation that outlined South Carolina's prevention planning framework, which guided the regional planning meetings. Daro, who is based at Chapin Hall at the University of Chicago, understands every good idea needs a plan for implementation.
"I think what I was able to bring to the group is to take this energy they have about ACEs, about better understanding the adversity that individuals have experienced over the years, and put that energy to work in a way that's going to make a measurable difference going forward. To do that, you need to put some frames around the challenge at hand," Daro said.
She called the trainings and the summit a great place to start. She also knows that one organization can't do something this large without finding partners to work collaboratively.
"When we face things that really trouble us, things that really anger us, we want to make it go away. We want to solve the problem all in one fell swoop," Daro said. "I think this is the message I hope the plan brings to folks, is you've got to take it one step at a time. You have to be very deliberate about what you choose to work on and then move from that position."
The work in South Carolina builds upon the original ACE Study (1995-97) by Kaiser Permanente in San Diego and ongoing research by the Centers for Disease Control and Prevention in Atlanta. The research starts with an ACE score calculator, a list of 10 questions that gives one point for each affirmative answer for exposure to childhood trauma. The points are added for a score of zero to 10, with higher scores denoting greater risk of negative health and social outcomes as adults. Sixty-two percent of South Carolina adults have one or more ACEs.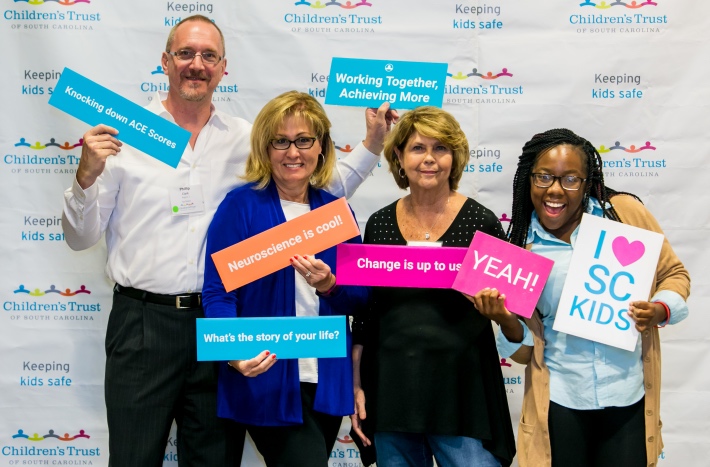 Theresa Barila, CEO of the Children's Resilience Initiative in Walla Walla, Wash., an organization on the forefront of applying ACE research to raise the awareness of the significant behavioral, emotional and physical outcomes of childhood trauma, likes two sayings that have come out of the work.
With this information comes the responsibility to use it. "That is such a powerful message to think through because we all can take some step towards moving this out," Barila said.
What is predictable is preventable. "That's the power that when we have this information, we can begin to make that change now. We know that we can create a new trajectory," she added.
Renaye Long, one of this state's ACE master trainers and the assistant director of child services at the S.C. Department of Mental Health, attended the summit and came away impressed by the power of the presentations. She found the link between childhood trauma and negative adult health consequences simple to understand and easily communicated when leading training sessions.
"When you think about adverse childhood experiences, we all have observed the effects of it, but up until having the research and the data, we never really could put a name to it," Long said. "Whenever I'm presenting to one of the faith-based organizations, groups with teachers, or professionals, there's always this ah-ha moment."
Aditi Srivastav, the public health graduate assistant for Children's Trust, made a data presentation on the ACE Initiative at the summit that highlighted the state-level perspective. Support for this effort also has come at the corporate level. The BlueCross BlueShield of South Carolina Foundation, which recognizes the profound links between child adversity and adult health, awarded a $325,000 grant over three years to Children's Trust to back the initiative.
Erika Kirby, a senior research analyst and grants manager for BlueCross BlueShield Foundation of South Carolina, notes the organization's commitment to keeping South Carolinians healthy aligns perfectly with this work. She appreciates how the summit's participants have taken a deeper dive into the information and can now use the data to drive decisions and develop a plan that's very community-focused for the state.
"We found this partnership with the Children's Trust of South Carolina as a unique and innovative (way) to find some mutually beneficial goals of how to further the work of investing in prevention, both from a child abuse and neglect standpoint, which is really more of the mission of Children's Trust, but from the Foundation, what we saw of value was being able to find ways to decrease long-term chronic health issues," Kirby said.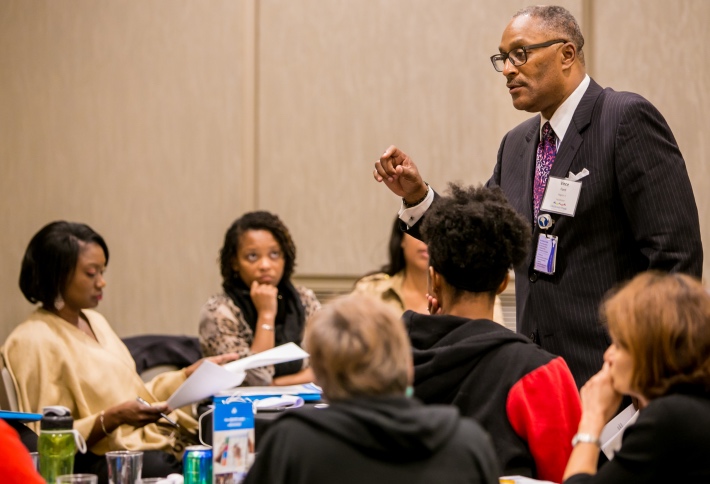 The summit concluded with meaningful dialogue between participants over the next steps that can be taken in the nine regions of the state. Strompolis hopes to facilitate local and state prevention efforts through coordinated efforts as well as regional plans that work best for the various communities.
The goal is figure out how ACEs can be prevented so the next generation of adults live healthier lives.
"We hope that this work will continue from now until we know that all of our kids and families in South Carolina can be successful," Strompolis said.
More Photos from the Summit