The Building Hope for Children Conference brought together child-serving professionals across South Carolina to learn and share information about the value of prevention work. Neil White, who tells the stories of Children's Trust, spoke to a number of people in a variety of professions about what prevention can mean in their communities from their work experiences.
---
Prevention \ pri-ˈven(t)-shən  \
noun
the act of stopping something from happening
The definition of prevention makes it sound pretty easy – we simply stop something before it happens. When it comes to child abuse prevention, we know that it is a little more involved than that. It takes all of us working together – families, neighbors, community organizations, schools, governmental agencies and more – to make sure that children grow into productive adults ready to raise their own happy, healthy children.
Children's Trust, South Carolina's statewide leader in the prevention of child abuse and neglect, hosted its biennial conference this fall for professionals who serve families and children to gather, learn and share the best ways to provide programs and policies that support prevention and focus on building resilient families, thriving communities, and a better future for South Carolina's children.
From attendees to session presenters to keynote speakers, the conference was an opportunity for all to share their work and commitment to prevention.
Edward Anderson, Tanglewood Middle School Principal and Children's Trust Board Member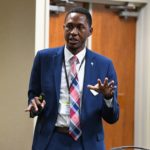 "It's absolutely important as an educator and anyone associated with the education field that we think prevention. We can't think what next. We can't think, well, here's an issue and now how do we handle it? We have to think, 'what do we do,' before it even gets to that point. And so it's critical that we continue to think upstream and ways that we can create systems that really support students. And with multi-tier systems of support, you're really providing that early intervention or prevention, looking at data and looking at trends. There's so much research and data out there, there's no reason why we can't put things in place ahead of time so that we can get the best out of our kids when they are in classrooms."
Julie Austen, Impact Center at Frank Porter Graham Child Development Institute
"Prevention helps us both identify and be able to remediate issues as they're starting to come out for children and families. We have a real opportunity to catch issues before they become bigger problems. We work with communities to try to help them build resiliency within their organizations to promote sustainability of the programs that we are enacting in those communities. Implementation science really works alongside prevention and is a part of prevention in helping communities build their own resiliency."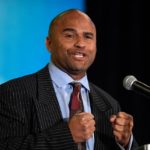 Rev. Darrell Armstrong, Shiloh Baptist Church (N.J.)
"I believe that one of the most misinterpreted religious statements is 'spare the rod, spoil the child,' and that for some leads directly to corporal punishment, leads to physical abuse. But it's the larger conversation about parenting: How do you promote positive parenting and how do you prevent child abuse? … I believe the religious community is a pivotal player when it comes to promoting primary, secondary and tertiary prevention."
Anne Lee Buck, Greenville First Steps
"We know that when children and families are supported from the day that children are born, they're more likely on track. They're more likely to be successful later in life, to have less trauma in their lives. And so when we make sure that children have access to what they need, we're able to prevent so that we don't have to catch up later."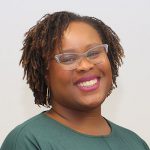 Montana Cain, Children's Trust
"It's extremely important that the programs are evidence-based. For some people, it's really hard to imagine what prevention looks like. How do you measure the absence of something? When we are talking about evidence-based programs, what we find is there are a great body of evidence to prove what it does look like when prevention is not there."
Lorraine Cragan-Sullivan, Help Me Grow South Carolina
"They say an ounce of prevention is worth a pound of cure. So the more that we can invest in resources, financial, human capital, on the front end to prevent these challenges further downstream, the more worthwhile that is. We help promote healthy child development through encouraging parents to learn more about their child's development. The more that a parent knows about their child's development, which is one of the five protective factors, we can help prevent abuse and neglect."
Lt. Gov. Pamela Evette
"Making sure that we protect the most vulnerable in our society has always been a very important thing for me, and children are the most vulnerable. I can see in my new role as lieutenant governor that that happens for a lot of reasons. A lot of it is just because they have a pattern. They were raised in a situation of abuse, and it's a cycle that has to be broken."
Michael Leach, Director, S.C. Department of Social Services
"As a system, we need to continue to think through how we make sure that we have the appropriate services well upstream, well into the primary prevention area, to where we are addressing the needs of the families and building the strengths in them and empowering them to be what they want to be."
Jerry Milner, Associate Commissioner, Children's Bureau
"Prevention is at the core of the message that we have been trying to advocate. It's so critically important because I and others get a chance to see every single week the effects of not doing our prevention work as we should. We see the sometimes multiple generations of families out there whose trauma was unattended and not prevented, and the tremendous struggles and the effort that they go through over the years to try to deal with those influences in their lives. On the other hand, the hopeful part of that is that when we see those examples of actually putting prevention into work, into place, before the harm occurs, the tremendous effect that that can have on the lives of children and on their parents. We have to be inspired by our ability to help families, to help children avoid the very difficult and traumatic things that affect them over the course of their lifetimes."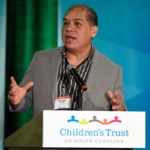 Enrique Feldman, Global Learning Foundation
"The beauty of going after prevention, it's a proactive approach. So when you can get to either a young child and their parents, a single mom, a grandfather or grandmother, obviously you save a lot of costs, but more importantly, you save a lot of hardship and sadness and all sorts of negativity for that young child. The idea of prevention is huge because we get to nip it in the bud. We get to give that young child or older student the opportunity to really thrive and really become their best self. It allows us to spend the money on other things, other relevant areas related to education, learning, community service, all sorts of things."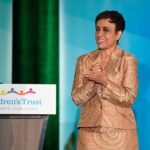 Judge Glenda Hatchett
"It's such hard work to be committed to prevention, but it's even harder work to try to put the pieces back together on the back end. And what I've said over and over and over in my work is either we decide that we are going to put an anchor in the ground here and now to talk about how we prevent so many of our children coming into systems, and we spend the money and the resources, or we are going to pay mightily on the back end in ways that families will be affected for generations."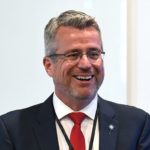 Jim McKay, Prevent Child Abuse West Virginia
"In West Virginia, we've got a network of grantees around the state, through our Children's Trust, and they're doing work to help build protective factors. So we assess family protective factors. Are they showing increases in parental resilience, in their social connections, their knowledge of parenting and child development? But it's also about making these policy changes (like) expanding school nutrition programs. We were able to expand Medicaid access and eligibility for pregnant moms, pregnant women who would become moms. Those types of things also make a difference."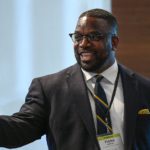 Patrick Patterson, Global Partners for Fathers and Families
"If there's sporting events, make sure you're present. My experience, and in my own life, I'm a dad with two daughters, my greatest gift to them is my time. It's not an expense. My kids never talk about anything I purchase. They always talk about memories of the time we spent together."
Abby Wilson, Children's Trust
"Kids don't come with instruction manuals, and every parent has challenges with parenting. People that are parents, every day when they make a decision, question, 'Man, did I handle that situation the way that I was supposed to?' And so the hope is that people feel comfortable talking about those types of things and that they're able to access support where and when and how they want it."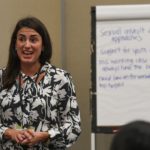 Kassy Alia Ray, Serve and Connect
"We can't wait until it's too late, until children are hurting, communities are hurting. We have to be looking beforehand. What we believe is that it starts with us being willing to show up for those hard conversations, to reach out to organizations and people who may be most different from us. Together we really are better, and it takes all of us working together to achieve those shared goals."
Cara Thompson, Family Intervention Services, Richland District Two
"I would say that one of the primary focuses that we have is to really strengthen that parent/child relationship. Because we believe that when kids have really strong, supportive, secure relationships with their primary caregivers, such as their parents or other family members, then those kids are better able to be resilient in the stressors that they do face in their lives. If something is happening or if something is making them uncomfortable, then they have people that they can trust to tell, who will support them in any process that follows."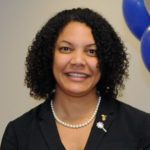 Tiffany Santagati, Retail Banking Executive and Children's Trust Board Member
"If someone is abused and neglected as a child, the likelihood of them being as strong in the workforce diminishes. And so if you think about that, we can all work together to make sure we have the best workforce, we have the best quality of life. But it really does start with children."
Deputy Chief (Ret.) Phil Tingirides, Los Angeles Police Department
"Our job should never be to respond to things. Our primary job should always be to prevent, because when you prevent, you change lives. If that incident never happens, you have the ability to have a more healthy community."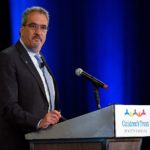 Robert Sege, M.D., Ph.D., Tufts University
"What a lot of people don't understand is that child abuse and neglect usually comes from families that are stressed. They may have their own issues, all kinds of things, that happen in families, whether it's financial or relationship or anything else, and what we now know is that by helping families address those (issues), we can help prevent child abuse. … The way to prevent child abuse is to strengthen families, and let them do what they most want to do by giving them the resources and help that they need – and we all need help sometimes. It's incredibly powerful, it's less expensive for society, it's less expensive for children, and it's really just the right thing to do."