Kappa Delta sorority at the University of South Carolina is a supporter of Children's Trust for the prevention of child abuse, neglect and injury. Sorority members planted a pinwheel garden April 25 during Child Abuse Prevention Month to highlight the importance of keeping kids safe and families strong in South Carolina. Neil White, who tells the stories of Children's Trust, captured the day's event.
---
Julianne Domnauer enjoyed watching the reactions of University of South Carolina students strolling by the freshly-planted pinwheel garden Wednesday in the green space between Thomas Cooper Library and Longstreet Theatre.
As the vice president of community service for Kappa Delta sorority, Domnauer organized the efforts of sorority members getting the pinwheels in the ground to highlight Child Abuse Prevention Month. The pinwheel serves as the national symbol for happy, healthy childhoods in April, when pinwheel gardens are planted by individuals, organizations, and businesses across the state and nation as a way to raise awareness about the importance of preventing child abuse and neglect.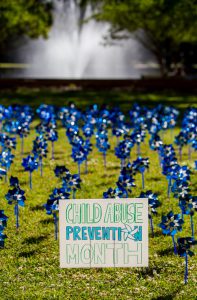 "A lot of people are walking by and pulling out their phones to take photos for Snapchat and Instagram. That's awesome because it's even more free publicity for us," Domnauer said. "It spreads awareness and gets the word out to everybody. That's the goal to get a conversation going and make people think twice about what's going on."
Kappa Delta collegiate and alumnae chapters across the country have held events in the fall and the spring since 1984 to support the prevention of child abuse. USC's Beta Zeta chapter of KD began its partnership with Children's Trust in 2008, and over that time period, it has raised approximately $400,000 – which includes $70,000 in the current school year – for child abuse prevention in South Carolina.
"Obviously, it just means a lot to us that we've gotten to do this for so many years now and that we can make a difference right here in our community," said Domnauer, a sophomore from Atlanta. "We get to fundraise and raise awareness on campus, which is what we're doing today with the pinwheels, and actually make a great impact."
Domnauer points out many KD members come from stable home environments, and they want to do their part to see that children living in more difficult circumstances receive the opportunity to experience a childhood that's safe and nurturing.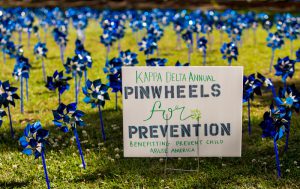 Through federal, state and private funding, Children's Trust implements proven prevention programs across South Carolina that support positive parenting and strong families while providing caregivers with the information and resources to raise children who are physically, socially, and emotionally healthy and ready to learn.
Cassie Altamirano, a sophomore from Virginia Beach, joined Kappa Delta in large part because of its charitable commitments.
"When I was going through rush and wanting to join a sorority, community service has always been an important part of my life throughout high school and middle school," Altamirano said. "One of the things that stood out about Kappa Delta was its philanthropy both in the local Columbia community and nationally. That really stuck out to me."
Altamirano noted that Kappa Delta raised the most money among Greek organizations on campus for its philanthropic partners. She especially likes participating in the Shamrock Weeks dedicated to raising funds and awareness in both the fall and spring semesters.
"We like giving back to an organization like Children's Trust that has so much meaning to us," she said.