Looking back at the success of the organization's biennial Prevention Conference, Neil White chronicles the event that took place Sept. 17-18 at the Columbia Metropolitan Convention Center.
Elizabeth Smart's abduction from her Utah home at the age of 14 in 2002 followed by nine harrowing months in captivity created national headlines. Her fortuitous rescue from her captor, a drifter who believed that he was a prophet, gave the nation a reason to rejoice.
As the keynote speaker at the Sept. 18 luncheon, Smart shared her story of perseverance in the face of unimaginable adversity while also discussing the importance of the recovery process and how to prevent your past from dictating your future. At her press conference before the speech, she spoke out as an activist on behalf of kidnapping survivors and child victims of violence and sexual abuse.
"It's so important that we bring these issues up and we talk about them and we educate people so that we can put an end to kidnapping, abuse, trafficking," Smart said. "One speech, one conference isn't going to solve kidnapping, isn't going to solve abuse, isn't going to solve trafficking. It's an ongoing issue so we need to have ongoing conversations and an ongoing, alive effort that's going to make the difference."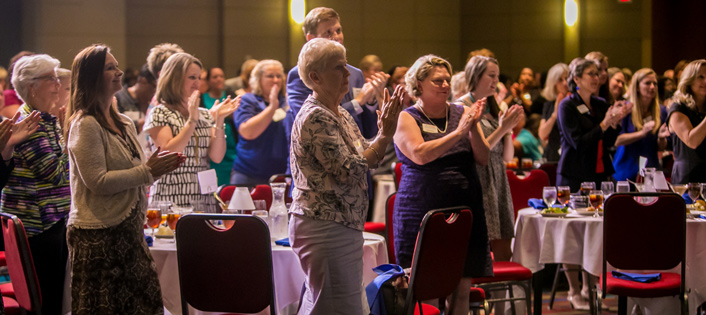 Prevention Conference attendees give a standing ovation at the end of Elizabeth Smart's speech.
Smart's appearance highlighted a conference that sought to leave attendees inspired, empowered and better equipped for their important work of keeping South Carolina's children protected from abuse, neglect and unintentional injuries.
With nearly 700 participants – which also included the one-day Child Passenger Safety Summit, where CPS technicians learned the most current information regarding safety regulations, equipment training and updates from car seat manufacturers – the event proved very beneficial to social workers, counselors, program administrators, organization leaders and first responders.
Children's Trust CEO Sue Williams heard many positive remarks both during and after the conference. "What made it great was it met the needs of conference attendees, who were a diverse group, and that's saying a lot," Williams said. "They had different interests, different skill levels and different disciplines, and yet everybody across the board was thrilled. It was relevant and meaningful for everyone there."
Williams noted it was largest Prevention Conference in the organization's history, which allowed for much knowledge-sharing among the attendees as they had the opportunity to hear from the more than 40 speakers who ran the 30-plus training sessions.
"There were so many people who understood that message of prevention and can now go back to their communities and share the role everyone has to play," Williams added.
S.C. Department of Social Services Director Susan Alford opened the conference by discussing the necessity of her agency partnering with child-serving organizations like Children's Trust. She stressed the importance of prevention — "going upstream," she called it — to see what issues are bringing people to the child-welfare system. Her goal is to figure out how to reach children before they get in harm's way.
Children's Trust Prevention Specialist and conference organizer Birley Wright put together the impressive gathering of national and statewide speakers, which included Dr. Larry Brendtro, known worldwide for his work in connecting brain research and resilience science.
Brendtro's plenary address, entitled "Deep Brain Learning: Transforming Lives," made the latest developments on brain science pertinent and applicable to anyone working with children and families. He translated the research in an understandable way while interweaving what professionals have learned from indigenous cultures into examples from his own practices.
The Sept. 17 luncheon featured Presbyterian College men's basketball coach Gregg Nibert and his wife Peggy, who have embraced the challenge of fostering children. They first answered the call in 2006 to serve as foster parents for abused and neglected children. Through their compassion, they have brought 38 babies into their home — some for weeks, some for years — to provide stability and love and healing to help these children find a way to better lives.
Peggy and Gregg Nibert speak of their emotional journey while fostering 38 children in nine years.
Peggy Nibert called it a labor of love and a reflection of their deep spiritual faith.
"We get blessed so much more than the child does. It's a positive all the way around," she said. "You need to be ready to advocate for the child from start to finish."
Gregg Nibert, who also has battled prostate cancer over the same period, knows that his family's work may be difficult at times but calls it well worth the reward.
"You're giving something, but you're really getting something in return and you don't really know it," he said.
The event ended with a pair of powerful moments. A panel discussion closed the Prevention Conference with the participation of Smart, S.C. Attorney General Alan Wilson, Rush Russell, executive director of Prevent Child Abuse New jersey, and Dr. Janet Rosenzweig, vice president of Prevent Child Abuse America.
The discussion, moderated by Rosenzweig, focused on prevention strategies and policies focusing on child sexual abuse and exploitation at the individual, community, state and national levels.
Wilson, who complimented Smart's courage in stepping up as an advocate after going through her ordeal, first started pushing for a human trafficking law in 2012 after hearing from a victim. He called the topic a tough one for people to discuss but a necessary one, and he was impressed by the conference's large turnout.

"The more you can educate people, they're going to go back to their churches, their synagogues, their schools, their workplaces, their civic organizations and wherever they socialize, and they're going to talk about what they heard and saw," Wilson said.
Wilson added the conference can serve a catalyst for change in the state if the workers at the grass roots level can make their voices heard among policy makers.
"It's about getting people educated and informed and changing how they think about these types of issues. We need to talk about this stuff," he said. "If these folks will take this and be a force multiplier for the message, we can really move the dial in South Carolina."