Children's Trust board chair Tiffany Santagati spoke to the Joint Citizens Committee on Children on September 29 in Greenville during the committee's annual tour. Santagati, who serves as vice president of operations at the Greenville Housing Fund, shared with the committee recent data from KIDS COUNT that ranks South Carolina 37th for child economic well-being, and she laid out policies and programs that could improve the lack of affordable housing in the state.
The committee consists of a bipartisan group of six lawmakers from the House and the Senate; it also includes three citizens appointed by the governor and the heads of statewide agencies including the Department of Social Services, the Department of Mental Health, the Department of Juvenile Justice, and the Department of Education. The full hearing in Greenville is available.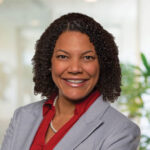 Transcript of Tiffany Santagati's testimony 
Good evening chairman and members of the committee,  
Thank you for this opportunity. I am Tiffany Santagati, chair of the Board of Directors for Children's Trust of South Carolina, and represent the 4th Congressional District. While I now live in the Upstate, my roots are in the Lowcountry as a native of Warsaw Island, near Beaufort and Bluffton. South Carolina is my home, and I am passionate about its future, which means I am passionate about kids, their families, and their communities.  
This is at the heart of why I volunteer my time and expertise to Children's Trust. Children's Trust is the only statewide organization focused on preventing child abuse and neglect. We lead and support a network that shares our belief that all children should thrive, live in secure families and be surrounded by supportive communities. We provide funding, resources and training to help our local program partners build strong families and positive childhoods and lead the state's coordinated efforts for family resource centers, the Strengthening Families Program, Triple P (Positive Parenting Program); South Carolina Adverse Childhood Experiences Initiative, Home visiting, Child Abuse Prevention Month and KIDS COUNT.  
Children's Trust is the South Carolina partner for KIDS COUNT, a program of the Annie E. Casey Foundation that uses high-quality data and trend analysis of child- and family well-being. You are probably familiar with the annual KIDS COUNT Data Book, which ranks all 50 states on how children and families are faring. The annual ranking uses indicators from four key domains – economic well-being, education, health, and family and community to produce an overall child well-being ranking for each state. South Carolina persistently sits near the lower fourth of state, with this year's rank at 39.  
Why is this important?  We know kids do well when families are strong, and families are strong when communities can wrap support around those families that may need help.  Every child, despite the circumstances of their birth, should have families that can bounce back from challenges, put food on the table and have a safe, stable and loving place to lay their heads each night. We know the past few years have been tough for families, but we also know that things were tough even before the pandemic. I also believe that we, the members of our communities, have an obligation to stand in the gaps and help families who may need help.  
While we have made some small, and incremental improvements in the decades-old ranking, especially in the economic well-being category, where we rank at 37, we still have a long road ahead of us. 
As the Vice President of Operations at the Greenville Housing Fund, I can speak firsthand about the housing crisis we are experiencing in Greenville and what we are seeing across the state. This year's KIDS COUNT report confirms this, showing that 27% of children in South Carolina live in a household with a high housing cost of burden, meaning a household spends at least 30% of their income on housing, leaving fewer dollars to cover other necessities such as food, energy costs, transportation and clothing. Affordable housing helps create financial stability and healthy environments, benefitting the entire community and state, individuals and families.    
Some policy solutions to improve the lack of affordable housing are an increase in the Community Development State Tax Credit, property tax incentives for the production and preservation of affordable housing, using South Carolina's fiscal recovery funds for multi-family rental and housing stabilization as requested by The South Carolina Association for Community Economic Development, Habitat for Humanity SC, Local Housing Funds, and Public Housing Authorities and finally provide matching dollars to local housing trust funds and land banks through the State Housing Authorities as other states have done.  
This year's Kids Count report also showed a drop in the number of children in poverty and children whose parents lack secure employment. 21% and 29% respectively. The pandemic could erase these gains so it is important to continue to promote the Workforce Scholarships for the Future and programs like it.  
Finally, I'd like to thank the committee for their support of Paid Family Leave for state employees. Research has shown that the first few months of a child's life are critical to their development. Giving state employees paid time to spend with their newborns will pay dividends for not only the children but employee retention. It is my hope that the committee will continue to support parents and their new children by increasing the paid time to 12 weeks. 
I appreciate the work of the Joint Citizens and Legislative Committee on Children and your obligation to seek shared solutions. Your partnership with Children's Trust is critical to all of us delivering on our shared responsibility of creating a state where all children have the opportunity to grow up happy, healthy and safe. Thank you for your commitment to the children and families of South Carolina and for your time today.