2020 KIDS COUNT Data Book ranks South Carolina 41st in the nation, highlighting the state's disparities in wellness, education and economy.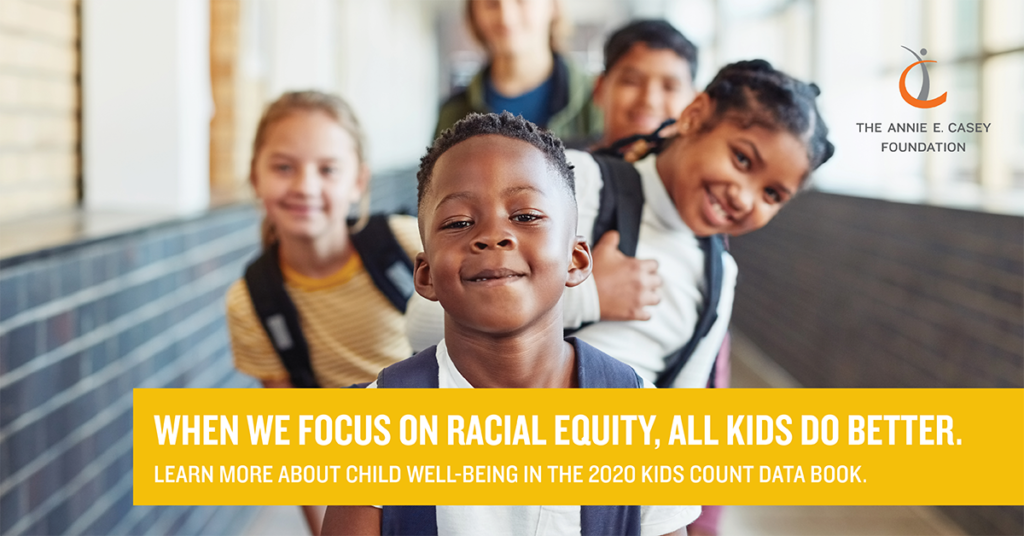 ---
COLUMBIA – In the annual nationwide survey of child well-being, South Carolina slipped two spots to No. 41. The 2019 ranking was 39.
The 31st edition of the KIDS COUNT® Data Book, released Monday by the Annie E. Casey Foundation, shows the state continues to struggle in health and education rankings, two areas tied to the generational poverty and systemic racism that have kept South Carolina from making progress in improving child well-being.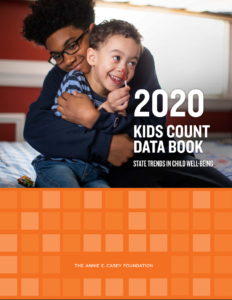 "These 2020 data show what we are experiencing in real time through the COVID-19 pandemic – in order to improve child well-being, we must dismantle inequities in health care, education, and economic opportunity," said Aditi Srivastav Bussells, Ph.D., Children's Trust director of research. "We must reinvest in marginalized communities to support families so that all children, regardless of their skin color, have the opportunity to succeed and thrive."
The 2020 Data Book measures child well-being in four domains: economic, education, health, and family and community. South Carolina ranks No. 38 in economic well-being, No. 42 in education, No. 44 in health, and No. 38 in family and community for an overall ranking of No. 41. South Carolina's fact sheet (PDF) highlights the latest available data for 16 key indicators.
For the 2020 report, those data are 2018, which means they don't reflect current conditions amidst the COVID-19 crisis, which public health experts worry may exacerbate the challenges reflected in these data.
Of the 1.1 million children in South Carolina, 82,000 are living without health insurance. This creates a lack of access to preventative care such as crucial well child visits.
The number of children ages 3 and 4 not attending school has remained the same at 53 percent since the 2017 report. Lack of preparedness as they enter kindergarten continues to be a concern. About 68 percent of fourth-graders are not reading proficiently, and about 71 percent of eighth-grade students are still not meeting math proficiency standards.
"Addressing our education gap is going to require changes to state-level policy to make education more equitable," Srivastav Bussells said.
Equity also means addressing a root cause of disparities in well-being. Twenty-three percent of children in South Carolina live in poverty with an income below $25,465 for a family of two adults and two children.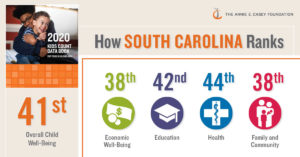 "It is imperative that we improve our systems to provide the resources necessary to help lift families economically," said Srivastav Bussells. "Making meaningful investments in programs and services are critical to providing stability for families and creating equal opportunities that can help break generational cycles of poverty."
Children's Trust works with local partners across the state by funding and helping implement evidence-based programs that provide resources and information to mothers and young children, strengthen families and promote positive parenting.
Srivastav Bussells noted the importance of using reliable data that can help guide the decisions of state agencies, child-serving organizations and policymakers in ensuring the well-being of children, families and communities, especially during these challenging times of the coronavirus outbreak and the nationwide protests in support of racial justice.
Over the last decade, South Carolina has fluctuated between No. 38 and No. 45 in these rankings. States in the South and the Southwest routinely populate the lowest rungs in the report. In the 2020 Data Book, New Mexico (50), Mississippi (49), Louisiana (48), and Alabama (47) are the lowest-ranked states. The bordering states to South Carolina rank higher: North Carolina (33) and Georgia (38).
The data book is based on U.S. Census and other publicly available data, representing all 50 states, the District of Columbia and Puerto Rico.
Release Information
The 2020 KIDS COUNT Data Book is available June 22 at www.aecf.org. Journalists interested in creating maps, graphs and rankings in stories about the data book can use the KIDS COUNT Data Center at datacenter.kidscount.org.
About Children's Trust of South Carolina
Children's Trust of South Carolina is the statewide organization focused on the prevention of child abuse and neglect. We provide funding, resources and training to help local program partners build strong families and positive childhoods. Children's Trust leads the state's coordinated efforts for the Strengthening Families Program; Triple P (Positive Parenting Program); S.C. Adverse Childhood Experiences Initiative; Maternal, Infant and Early Childhood Home Visiting; Child Abuse Prevention Month; and KIDS COUNT. For more information, visit scChildren.org.
About the Annie E. Casey Foundation
The Annie E. Casey Foundation creates a brighter future for the nation's children by developing solutions to strengthen families, build paths to economic opportunity, and transform struggling communities into safer and healthier places to live, work and grow.