Aditi Srivastav Bussells, Ph.D., Children's Trust director of research, was named by Columbia Business Monthly to its 2020 Best and Brightest 35 And Under for her commitment to child abuse prevention and her advocacy for public health.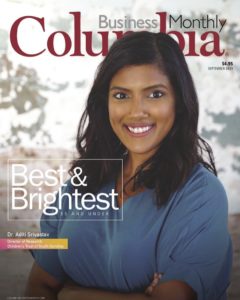 In her research role, she leads mixed methods research efforts on adverse childhood experiences (ACEs), race equity, community mobilization, as well as examining policies, programs and practices that improve family and community resilience. Most recently, she served as the primary author of the organization's signature prevention framework, the Empower Action Model, an evidence-based tool for building resilience. Additionally, she oversees the S.C. Adverse Childhood Experiences (ACE) Initiative and KIDS COUNT South Carolina, in which she directs all data dissemination and translates research for action within the organization and for partners. 
In a community role, she currently is serving as a mayor-appointed member of the city of Columbia's Complete Count Committee for the 2020 U.S. Census.
As part of her profile in Columbia Business Monthly, she said, "Throughout graduate school, I was fortunate to work at Children's Trust of South Carolina, a statewide agency focused on preventing child abuse and neglect. Upon graduation, I was promoted into the newly-created role of director of research, where I conduct research on child health equity and well-being and help communities tell stories using data. A favorite memory in my role is launching Resilient Richland with community partners, a successful initiative that is focused on preventing childhood trauma."
Srivastav Bussells received her doctorate from the University of South Carolina's Arnold School of Public Health as a Doris Duke Foundation Fellow. She holds a master's degree in public health from George Washington University and a bachelor's degree in American government from the University of Virginia. Her research interests include health communications, health disparities and racial inequities, child health policy, and risk behavior prevention. Read full bio.
Magazine version of Columbia Business Monthly Best and Bright 35 And Under
Online version of Columbia Business Monthly Best and Bright 35 And Under