After three years, child abuse prevention conference reconvenes in person on August 24-25.
As South Carolina's statewide leader in the prevention of child abuse and neglect, Children's Trust will host the Building Hope for Children Conference on August 24-25 at the Hyatt Regency in Greenville, South Carolina.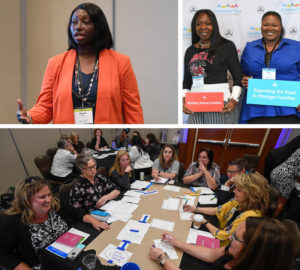 Nearly 500 attendees are expected for the biennial event that brings together social workers, home visitors, counselors, program administrators, and educators for a day and a half of learning, sharing and networking. 
Conference attendees will learn from three inspiring keynote addresses and 24 innovative and interactive workshops focused on self-care for child and family-serving professionals, as well as building educational, health care and community resources that support child and family well-being.
With the theme, "Be A Champion for Children," the conference will emphasize the role everyone plays in keeping South Carolina's children safe from abuse and neglect.
"Attendees will leave the event with a renewed sense that what they are doing has a profound impact on the prevention of abuse and neglect," said Abby Wilson, Children's Trust's director of community initiatives. "We need to connect now more than ever; all of us working together is what will make the most impact in South Carolina."
Our keynote speakers are:
 
Wednesday
Dr. Janet Taylor, a community psychiatrist and executive coach, will give a keynote address on Wednesday at 9:30 a.m. She is an expert in the neuroscience of implicit bias, conscious allyship and leadership, and is frequently featured on ABC's "Good Morning America," NBC's "The Today Show" and CNN.  
 
Michelle Cummings, M.S., a known leader in the team-building and leadership development fields, will give a keynote address Wednesday at 3:15 p.m. 
 
Thursday
Dawn Staley, head coach of the University of South Carolina women's basketball team, will be the closing keynote speaker on Thursday from 10:15 to 11:15 a.m. News stations may shoot b-roll, but Staley will not be available for interviews. No audio recording or live-streaming is allowed.
 
South Carolina Lieutenant Governor Pamela Evette will make closing remarks Thursday at noon and will be available for interviews after 12:15 p.m.
Children's Trust CEO Sue Williams will be available for interviews Wednesday and Thursday.
The conference is presented by MolinaCares.
About Children's Trust of South Carolina
Children's Trust is the only statewide organization focused on preventing child abuse and neglect in South Carolina. It leads and supports a network that shares our belief that all children should thrive, live in secure families and be surrounded by supportive communities. Children's Trust coordinates the state's efforts for the Strengthening Families Program; Triple P (Positive Parenting Program); S.C. Adverse Childhood Experiences Initiative; Maternal, Infant and Early Childhood Home Visiting; Child Abuse Prevention Month; and KIDS COUNT. For more information, visit scChildren.org.