Adrienne Bellinger
Chief Development Officer
I believe every child deserves the chance to grow up free from abuse and neglect. I believe all parents need help. I believe no family is perfect. I believe we all have the responsibility as members of communities large and small to give help to the helpless, provide hope to the hopeless, and wrap our arms around those standing alone in this world.
Adrienne oversees donor relations and fund development strategies and initiatives. She leads the development staff and supports organization volunteers to build and maintain superior donor relationships and meet measurable annual revenue goals.
She also works to create sustainable resource streams by planning, coordinating and executing successful resource development programs and initiatives. Her notable career in fundraising spans more than a decade, when she served as regional development officer for the American Red Cross Palmetto South Carolina Region, and prior to that, spent more than six years as executive director of the S.C. State Museum Foundation, where she led a successful $23.5 million capital campaign.
Adrienne also has extensive experience in legislative and government affairs. Active in community leadership, she currently serves as vice chair of the Lexington Richland Alcohol and Drug Abuse Council (LRADAC) board of directors. She earned her bachelor's degree in journalism and mass communications from the University of South Carolina.  
Adrienne Bellinger
Chief Development Officer
Caitlyn McAnulty
Donor Relations Coordinator
Caitlyn oversees all logistics for the development team related to the organization's donor stewardship, communications, and special events.
Prior to joining Children's Trust, Caitlyn worked as an events specialist with a local catering company. She previously worked at the University of South Carolina in various capacities with both the Honors College and the Gamecock Club in fundraising, donor communications, sales and membership services.
She earned a bachelor's degree in public relations and a master's degree in sport and entertainment management from USC.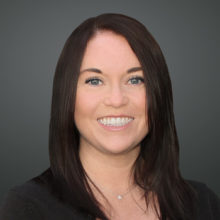 Caitlyn McAnulty
Donor Relations Coordinator