By Simone Jameson
WATCH FOX 57
Watch video story
 
RICHLAND COUNTY, S.C. (WACH) — It's a crisis in the classroom: the mental health dilemma in teachers and students across the Midlands. Now, the SC Department of Education has partnered with Children's Trust of South Carolina, an organization specializing in preventing child abuse, to address childhood trauma to change outcomes amid the pandemic.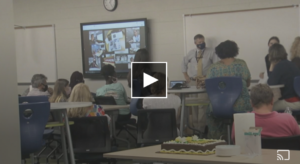 Through this partnership with Children's Trust of SC, school leaders across the Midlands are equipped with a two-day training course to recognize the signs of a student in distress and how to get them help.
"It's just been such a difficult time over the past couple of years, and one of the things we've found is that we're all really tired of this," said Dr. Shirley Vickery, who serves as the executive director of learning support services for Richland School District Two.
As a school psychologist, and parent herself, Dr. Vickery says she's seen virtual learning, wearing masks, and even conflicting opinions about the coronavirus vaccine take its toll on students in the Richland Two School District.
"We've had difficulties with children getting along with each other in the same fashion they might typically, and just need some extra practice in social skills," Dr. Vickery tells WACH FOX News.
Richland School District Two, and Lexington School District One are among local school districts that have completed the new training.
"Our focus is on recognizing that those hard things may have had happened and looking at how we can help children move past those things," said Dana Powell, who serves as the community engagement and training coordinator for Children's Trust of SC.
2019 statistics from Children's Trust of SC reveal that almost 1,700 children in Richland County alone have experienced abuse and neglect, and that due to the pandemic, rates are now at their highest.
"We encourage teachers and school district personnel to do small things like call your child by name, greet your child when he gets on the bus, let him know it's great to see him today," Powell also said.
Dr. Vickery tells WACH FOX News she's optimistic that with the training, and the work of parents and the community, there will be better outcomes for students.
"The magic is really in those relationships that we form and that we nurture as adults with kids," Vickery added. "If we're angry with folks, let's just try to take a minute and restructure, and if you need help in getting through that then seek help."
The pandemic mental health training is funded through a grant of more than $265k from the state's pandemic emergency relief funds. Children's Trust of SC is hoping to have more than 900 trained professionals to work with students and teachers across the state before the grant funding runs out.
If you'd like to learn more about the training, you can visit Children's Trust of SC's event page.