Stephen Leicht, vice chair of the Children's Trust board of directors, wanted to learn more about the organization's programs. He sat in on a pediatric visit through the home visiting program and  later attended a Strengthening Families Program graduation ceremony. Here's his take on the work of Children's Trust.
"We would not be sitting here together over dinner, if it were not for the Strengthening Families Program." This was the phrase that struck me over dinner with a young family at the C.R. Neal Dream Center just outside of downtown Columbia.
I sat with a mother, father and 9-year old son enjoying a warm meal as a group. They were graduating this night as part of a ceremony that capped 14 classes on parenting, thanks to funding from the Children's Trust of South Carolina. This evidence-based program develops positive family strengths, teaches families how to stay resilient, improves parenting skills, reduces conflict, and helps children with social skills, relationships, and school performance.
SFP is currently being administered by Children's Trust staff in coordination with 13 local partners in 17 counties across the state. Focusing on serving families with children ages 6 to 11, the program takes place in youth service agency settings, community centers, schools and churches. As I chatted with this particular family, the benefits of the program quickly became obvious.
Mom explained to me that she learned how kids will mimic their parents, and how her behavior – good and bad – was impacting the behavior of her son.  She talked about the importance of communicating, about putting away the electronic devices, about sharing time over meals, and about managing the frustrations of parenthood. She also talked about the improvements she had seen in herself and her boyfriend. Her primary concern? The program was ending for her family.  She appreciated the life lessons, the family time, and the sense of community with other families facing similar challenges.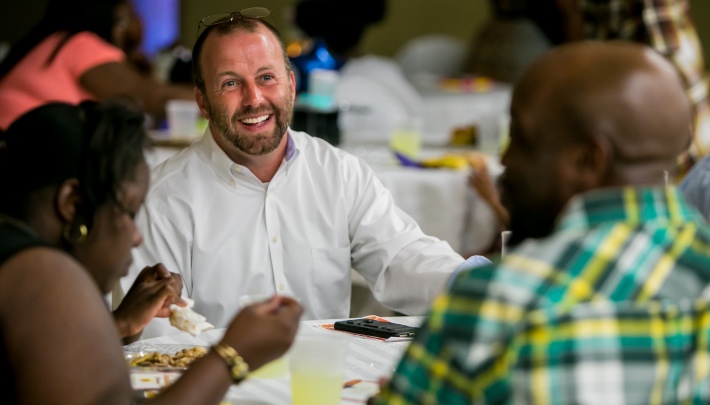 When I talked with more participants, I had a few major takeaways.  First, nothing about what the families learned would surprise you on its own. Most of it was teaching the points that you might consider as standards for good parenting. What made this unique was that these parents had not grown up in households with behaviors that they could mimic as examples of good parenting.
With this as a backdrop, small repetitive changes in Mom and Dad's behavior had larger results than you might expect in their children. There was also a noticeable difference in the parents – their health, wellness and attitudes. I was really in awe of how a few interactive classes could dramatically change a family dynamic. But this should not be a surprise.  Children's Trust funds evidence-based programs that have been evaluated rigorously in studies and subjected to critical peer review. Field experts also have examined the evaluation's methods and agreed with its conclusions about the positive effects on significant social problems.
This SFP graduation was not my first experience in seeing is believing when it comes to Children's Trust.  A few weeks earlier, I had a chance to participate in the home visiting program and one of its models, Healthy Steps, at the Palmetto Health Children's Hospital Outpatient Center. This program starts much earlier in the life cycle than SFP. Home visiting is a proven early-intervention strategy that pairs volunteer families with specialists who provide services throughout a child's first five years to improve health, development, and early learning. Home visitors, who generally have a background in social work, nursing or child development, work with parents in their home environment as well as pediatric settings.
Many of these program models serve at-risk, low-income mothers, who receive advice, guidance and support in caring for a baby or young child. Specialists assist with anything from crib and car seat safety to general health concerns to developmental milestones like rolling over or walking. Pediatric care workers recruit mothers and children for this program that would be good fits. The parent could be a single teen mom without good family support or a mom who exhibited more mental fatigue and depression through the post-delivery process. Most parents who participate embrace their home visitors, the connection to support services, and the information shared.
I sat with a specialist in Columbia, who talked with a mother about her son's development.  She reviewed the results of her last appointment, the child's diet, and what the pediatrician would cover that day. She also showed the mom some specific tips and techniques that she could use to help her son reach the milestones expected for the next checkup, such as recognizing shapes, coordination and the early techniques to improve reading and communication.
This relationship was far more than a normal care provider. A bond had clearly developed between the two, and the home visitor sounded just like a trusted friend to the mom. They talked about the boy's father, their apartment, the couple's jobs, stresses, changes in lifestyle, and a host of other factors that could impact the child's development.
The pediatrician asked the health questions, while the specialist listened intently for things to follow up on the home visit. I found this unique dynamic of trust and friendship to be as the questions being asked and the information being conveyed. Again, I was in awe.
These small investments pay a dividend that will never be repaid through any other advocacy or effort. They change the trajectory of a family, and they make an imprint on a child that cannot be captured in this short note. Suffice it to say that seeing really is believing. And whether you have seen or not, we are all more blessed to have Children's Trust helping the kids in our state.