Program Investments Continue to Build Success for Parents and Their Children as New Report Highlights Opportunities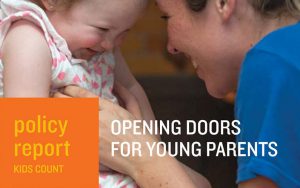 COLUMBIA, South Carolina – Children's Trust of South Carolina has received a two-year project grant from the Office of Adolescent Health to continue the Community Support for Young Parents program in South Carolina. The award is $970,000 for the current fiscal year and will be distributed through a wide variety of established state and local partners.
This funding will support many of the recommendations released today in Opening Doors for Young Parents, the latest KIDS COUNT® policy report from the Annie E. Casey Foundation.
"Young parents face multiple milestones and challenges all at one time — having a child, finishing school, earning and managing money, and living on their own," said Children's Trust CEO Sue Williams. "Often they are ill-prepared for a rapidly changing labor market and less likely to find stable jobs offering wages that can sustain a growing family. With all these stressors compounding, we find children are at greater risk for neglect, and sometimes even abuse."
Of the young adults in South Carolina who are between the ages of 18-24, 11 percent (44,000) are young parents. Some 69 percent of the 51,000 children of young adult parents live in low-income families.
The report outlines specific recommendations on how to support young adult parents, including many program initiatives implemented by Children's Trust.
"Through our work at Children's Trust, we see how effective the report's recommendations can be," said Williams. "We have helped young families find pathways to success through home visiting programs, quality early care and evidence-based, family-strengthening programs."
The Community Support for Young Parents program, implemented in partnership with the South Carolina Campaign to Prevent Teen Pregnancy and the South Carolina Center for Fathers and Families, supports programs to help pregnant and parenting teens and young adults continue their education, improve their parenting skills, and delay subsequent pregnancy. Funding will specifically engage fathers and will be concentrated in six counties: Charleston, Darlington, Florence, Horry, Richland and Spartanburg.
"We are grateful for the continued support from the Office of Adolescent Health," said Williams. "We encourage our policymakers and elected officials to support the recommendations in this report with funding and proactive policies. With greater prevention investments in parents, especially young parents, we can break generational cycles of poverty and abuse."
Read the report
Opening Doors for Young Parents 
---
For more information
Bett Williams
Chief Communications Officer
Children's Trust of South Carolina
803-744-4042
bwilliams@scchildren.org