COLUMBIA, S.C. – Children's Trust of South Carolina is expanding its community-based prevention investments and partner network. The network is now the largest in the organization's 40-year history, bringing the total number of funded partners to 46.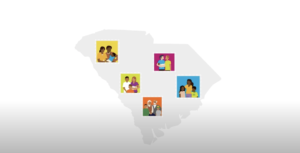 Children's Trust is the only statewide organization focused on preventing child abuse and neglect. The organization leads and supports a network of community-based organizations that shares the belief that all children should thrive, live in secure families and be surrounded by supportive communities.
"We do this work in partnership. It takes all of us working together to ensure families have the knowledge, skills and resources to raise their kids to be healthy productive citizens. South Carolina is fortunate to have so many qualified and caring community-based non-profits helping kids and their families," said Sue Williams, CEO of Children's Trust. "Our network of community partners is critical to the work of preventing abuse and neglect."
The following organizations join Children's Trust partner network and are receiving funding to deliver proven prevention programs in the indicated counties:
Carolina Family Services to deliver Teen Triple P in Anderson, Greenville and Spartanburg Counties
Greer Relief and Resources Agency, Inc. to deliver Teen Triple P in Greenville and Spartanburg Counties
Middle Tyger Community Center* to deliver regular and Teen Triple P in Spartanburg County
Pendleton Place to deliver Teen Triple P and the Strengthening Families Program in Anderson, Greenville, Laurens, Oconee, Pickens and Spartanburg Counties
These organizations are current partners and are receiving funds to expand prevention services:
Brown's Ferry Community Outreach expanding to deliver Teen Triple P in Georgetown County
Children's Place* expanding to deliver the home visiting program Healthy Families America in Aiken, Bamberg, Barnwell, Edgefield and McCormick County
Family Outreach of Horry County* expanding to deliver Teen Triple P in Horry County
Lighthouse Ministries* expanding to deliver Triple P in Florence County
MUSC Children's Health expanding to deliver Teen Triple P in Berkeley and Charleston Counties
Upstate Family Resource Center* expanding to deliver Teen Triple P in Spartanburg County.
The organizations indicated with an asterisk (*) are members of the South Carolina Family Support Network and serve their communities as family resource centers. These place-based organizations connect families in their communities with information, direct services, financial aid, parenting education, and case management in a strengths-based, client-focused manner.
"These organizations have made a significant commitment, adhering to a national set of quality standards. We applaud them for committing to excellence in their work to best serve children and families," added Williams. "We are pleased we could help provide our Family Support Network Members with additional funding for client services and support."
The BlueCross® BlueShield® of South Carolina Foundation is supporting the implementation of Teen Triple P in South Carolina to promote healthy development and improved mental and physical health for adolescents. All other program delivery announced today is supported by Community-Based Child Abuse Prevention grants from the Office on Child Abuse and Neglect at the Children's Bureau, Administration for Children and Families, U.S. Department of Health and Human Services.
To learn more about Children's Trust and its community partner network, please visit scChildren.org.
The BlueCross BlueShield of South Carolina Foundation is an independent licensee of the Blue Cross Blue Shield Association.