Children's Trust of South Carolina is excited to celebrate Prevent Child Abuse America's 50th anniversary. The national organization, for which Children's Trust serves as the South Carolina affiliate, has made half a century of progress in preventing child maltreatment by addressing the root causes of abuse and neglect.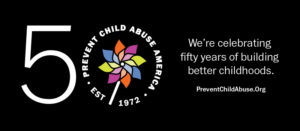 Based in Chicago, PCA America is a pioneer in the field. It works with its statewide chapter network and Healthy Families America sites, collectively leading the movement to help children and families thrive. By focusing on all forms of family supports, our nation and communities can prevent child abuse and neglect and maximize opportunities for every child to reach their full potential – regardless of race, gender, or socioeconomic background.
"It's an exciting year for our entire network, and we're thrilled to join in PCA America's 50th anniversary celebration," said Children's Trust CEO Sue Williams, who serves as a peer reviewer for PCA America. "Looking ahead, we will continue to work toward a future where all children grow up happy and healthy in supportive families and communities."
Throughout 2022, Prevent Child Abuse America, alongside other chapters, affiliates and supporting organizations, will commemorate 50 years of building better childhoods through public awareness, outreach and community events.
"Childhood adversity affects more than individual families, it is costly to society in terms of higher health care costs, lower educational gains and diminished economic potential," said Dr. Melissa Merrick, President and CEO of PCA America. "We champion community-level solutions because we know parents can parent better when the entire community lends a hand. When we work together to help all children reach their full potential, we can build a more equitable, healthy and economically thriving nation."
To learn more about PCA America's 50th anniversary, visit preventchildabuse50.org.