The Strengthening Families Program wrapped up its spring cycles with graduation ceremonies across the state in May and June. Read how parents and children are taking the program's lessons into their homes and building stronger bonds together. Neil White, who tells the stories of Children's Trust, spoke to one family about the program's impact after a recent graduation.
---
LUGOFF – David Gates doesn't usually get emotional, but there was something about a conversation during one of the parent meetings at a Strengthening Families Program (SFP) weekly session that really resonated with him.
"There was a question that was, like, 'Why do men always hold stuff in?' I almost broke down a little," Gates said. "I was tearing up. I was like, 'You hit it right on the head.'"
Gates was going through the 14 sessions of SFP with his longtime partner, Amanda Sweat, and their 10-year-old son, Maurice. The program, which is for families with children ages 6 to 11, helps parents and caregivers develop positive discipline practices, shows families how to stay resilient in tough times, and improves parent-child communications skills.
Their family was one of 10 that graduated in June from the program provided by the Kershaw County School District at Lugoff Elementary School. Gates was appreciative for what he learned about communicating openly with his family.
"I still hold stuff in a little bit. I'm working on it," he said. "I'm trying because I'm a sensitive guy, but sometimes, I don't know, it's hard to talk. It's hard to get my point across."
Sweat was proud of him for seeing it through to the end. Their family was one of two with perfect attendance.
"Our teacher said some stuff that really touched him," Sweat said. "To be honest, when we first started this whole thing, I wasn't sure if he was going to stick with it and be a part of it. I'm really so proud of him. I'm so glad that he made it all the way through the whole thing."
An evidence-based program that improves family relationships and reduces problem behaviors, SFP helps parents strengthen bonds with their children and learn more effective parenting skills. Each two-hour session includes a family meal before splitting into parenting classes and child classes. They come together again as a full group to practice new skills at the end of the evening.
The parent meetings explain through interactive lessons and discussions the best ways to interact positively with children, which includes showing enthusiasm, paying attention to good behavior, and providing consistent discipline that leads to reasonable consequences. The children's training includes communication skills to improve relationships with parents, peers, and teachers, as well as dealing with criticism and anger through coping skills.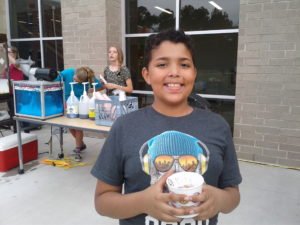 "Communication is key, and that's what one of our biggest problems was," Sweat said. "Of course, nothing's perfect, but it has been a lot better since this program. It has taught us a lot of little tricks and things we can do to work with each other to communicate better."
Maurice, who will enter fifth grade in the coming school year, agreed wholeheartedly with his mom. He called the Wednesday night SFP sessions the highlight of his week throughout the spring.
"It was really terrific," he said. "I liked the classes. We would get together with other kids and talk about how to express your feelings with your family and how to talk with your family."
His mother saw a difference in her son, both in the household and in the classroom.
"He had better behaviors when he came home, his grades shot up," Sweat said. "So it helped a lot."
That's exactly the types of positive outcomes the school district was seeking when it applied for the grant, which is funded by The Duke Endowment and the S.C. Department of Social Services through Children's Trust, which implements the program with 24 partners in 31 counties.
Adele Dixon, the assistant principal at Lugoff Elementary who served as the program's co-site coordinator with veteran SFP site coordinator Gwen Singletary, lobbied to bring the program to the school as an additional resource for its students and their families.
Dixon noted that Maurice was identified as a student who would benefit from SFP's lessons, and she reached out to the family to see if there was interest in making the commitment to attend.
"We really thought the missing component was being able to see the parents involved so this is an opportunity to do that. We asked the family if they would like to participate, and they jumped at the chance," Dixon said. "(Amanda Sweat) was the first parent who reached out to me before anybody else and said, 'Please put me down. I want this for my family.'"
She saluted the family as one that always did its homework and came ready to share what family members put into practice at home. She praised the willingness of fathers like Gates to go through the program with their families.
And she heard the positive feedback from school personnel about the program's impact on participating students like Maurice.
"One of the guidance counselors and the school nurse that had been working with Maurice, they came to me two different times and said that they wanted me to know that they had seen such a change in Maurice," Dixon said. "Some of the things that they had been teaching him had not really solidified until the parents got on board and learned some of these skills and resources. Having this (SFP) cycle really is what made the benefit for Maurice. That's where the change came."
Dixon loves how the program involves both the parents and the children – separately and together – and encourages a deeper commitment from everyone to work together as a true unit in the home. During the graduation ceremony, Dixon and Singletary congratulated the 10 families on completing the program. Singletary, who thanked Dixon for taking a leadership role in bringing SFP to the school district and the school, also told the families of her pride in their accomplishments.
"I've seen you grow, I've seen you open up and share, and I hope this process continues in your lives," Singletary said.
Karen Dukes-Smith, Children's Trust senior SFP coordinator, credited Lugoff Elementary for "hitting it out of the park" in delivering its first cycle of the program. She also announced the good news that the school district would receive funding to provide a new cycle in the fall for another group of families. The announcement delighted Dixon and school principal Dr. Melissa Lloyd, who are excited to see their students continue to reap the program's benefits.
"The fact that we had such a great team that came in, that knew our families, that was invested, absolutely, it worked," Dixon said. "The truth of the matter is, this is an essential component of what every school and every district across the nation needs. We can only do what we do with students, but when you have the parents involved, that's where the difference comes in. When you have that full piece, that's where you change the world."
After his family's graduation from the program, Gates was quite clear about the difference it has made in their lives.
"We learned to have a little more patience with each other, and we learned to listen to each other a little better," he said. "Instead of firing up the hammer and then just shutting down, we learned to talk things out a lot more. Things are getting a little easier day by day. It's helped a lot."