With a new child passenger safety law in South Carolina, Katrin Bost, the Safe Kids associate with Children's Trust, helps parents with what they need to know.
On May 19, a new child passenger safety law became effective in South Carolina, which means parents and caregivers may have questions about how to remain compliant while following the American Academy of Pediatrics (AAP) recommendations.
It is common for many parents and caregivers to select car seats for their children based on what looks to be the appropriate seat or to follow the lead of other parents. For example, if friends are putting their 5-year-olds in booster seats, a parent may be more likely to do so.
It's important, however, to be an educated consumer and make informed choices about car seats that will best fit children for their age and stage.
As a rule of thumb, children should remain in their car seat (i.e., rear-facing, forward-facing with a harness and booster seat) as long as possible before transitioning to the next car seat. Nationally-certified child passenger safety technicians use the phrase, "every promotion in seating is a demotion in safety." Maximize each type of car seat before transitioning to the next stage by keeping a child in each car seat until either the maximum height or weight is reached.
Rear-facing car seats, including infant carriers and convertible car seats, provide the best protection possible for a child. (A convertible car seat is one that converts from a harness car seat to a seat-belt positioning booster seat.) 
Rear-facing seats decrease the force exerted on the head and neck in a collision, and a rear-facing child is five times more safe than a forward-facing child, according to a 2007 study in the journal Injury Prevention. South Carolina law says that children under the age of 2 must be secured in a rear-facing seat until the child exceeds the height and weight limits allowed by the car seat manufacturer.
After a transition to forward-facing, a child should use the harness as long as possible before moving to a booster seat. This will depend on the height and weight limits specified on the label of your car seat.
To transition to a booster, the label on the booster seat will indicate how much your children should weigh and how tall they should be. Some car seats are convertibles, meaning they can be used with the harness and then "convert" to a booster and without the five-point harness as a belt-positioning booster.
When children weigh between 80 and 100 pounds and are at least 57 inches tall, they are likely ready for a seat belt. For a child to be properly secured by a seat belt, adhere to the following:
the lap belt fits across the child's thighs and hips and not across the abdomen;
the shoulder belt crosses the center of the child's chest and not the neck; and
the child is able to sit with his back straight against the vehicle seat back cushion with his knees bent over the vehicle's seat edge without slouching.
Once seat belt use begins, vehicle manufacturers and the AAP state that children should remain in the rear passenger seats of a vehicle until they are least 13 years old because of the risk of an airbag deploying and the impact of a frontal collision. However, South Carolina law permits children to sit in the front passenger seats as soon as they are 8 years old or 57 inches.
Convertible Car Seat Used As Rear-Facing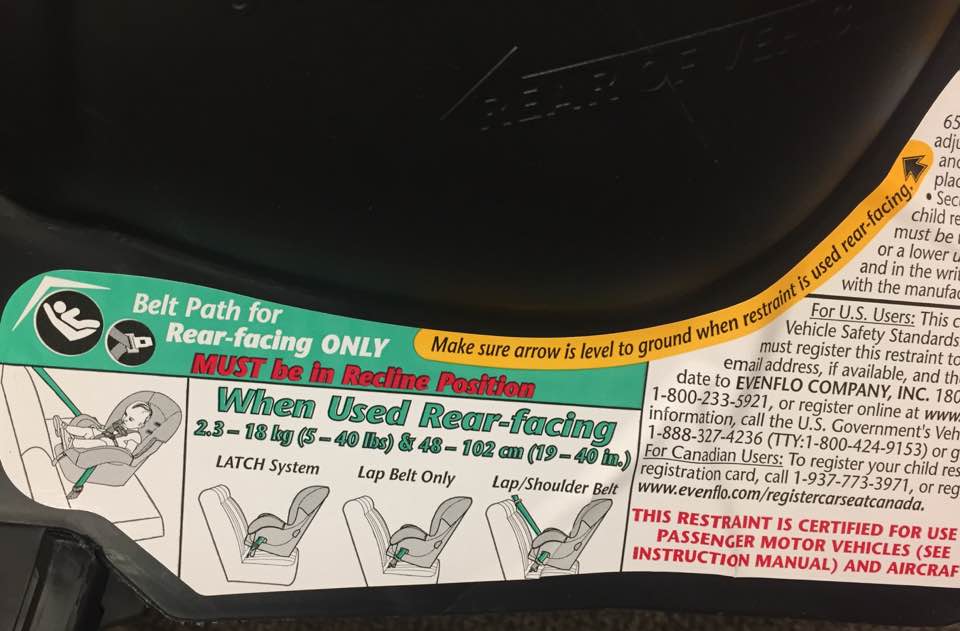 The photos shows the label of a convertible seat, which can be used rear-facing or forward-facing. Car seats have different height and weight limits for each brand and kind of car seat as well as if a car seat is used as forward facing or rear-facing. A child in this car seat should remain rear-facing until he or she reaches 40 pounds or 40 inches.
Convertible Car Seat Used As Forward-Facing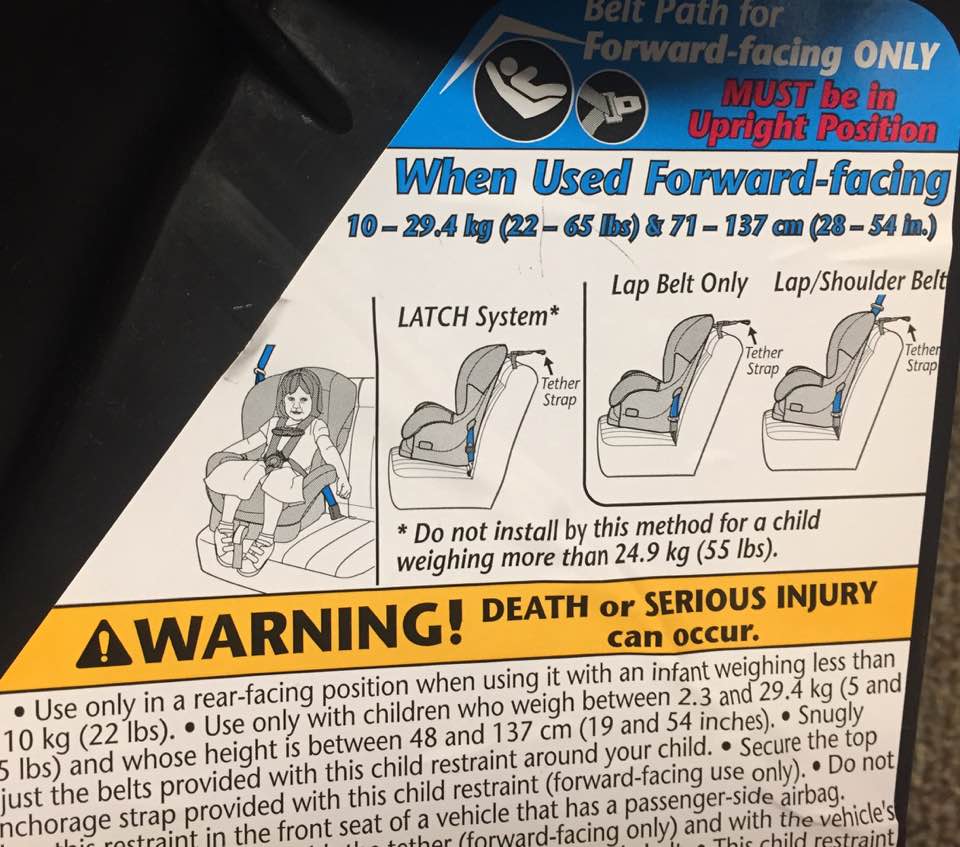 This car seat was designed so that a child could be forward-facing upon reaching 22 pounds and 28 inches. However, a child of this size can and should remain rear-facing much longer.
There are a limited number of car seats that have rear-facing limits that go as high as 65 pounds and 49 inches. It's likely a child will reach this weight or height well beyond the age of 2, and therefore, they should remain rear-facing beyond this age.
Forward-Facing Car Seat Converting to a Booster Seat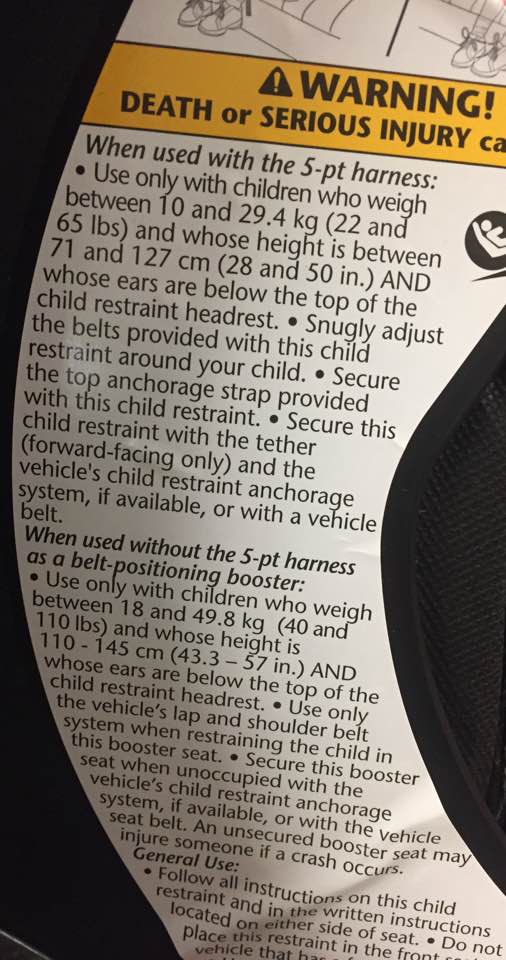 For a forward-facing car seat with a harness that can convert to a booster, the label shows two different height and weight limits depending on the mode (harness and booster). For this car seat, children should remain in the harness as long as possible or until they reach either 65 pounds or 50 inches. After that, this car seat can be used as a booster seat until the child weighs 110 pounds or is 57 inches tall.
---
For More Information
Visit your nearest South Carolina car seat inspection station to receive assistance.