Child Abuse Prevention Month began April 1, and 116 prevention partners in South Carolina, including 10 women's clubs, are working with Children's Trust to raise awareness through events and activities like the planting of pinwheel gardens.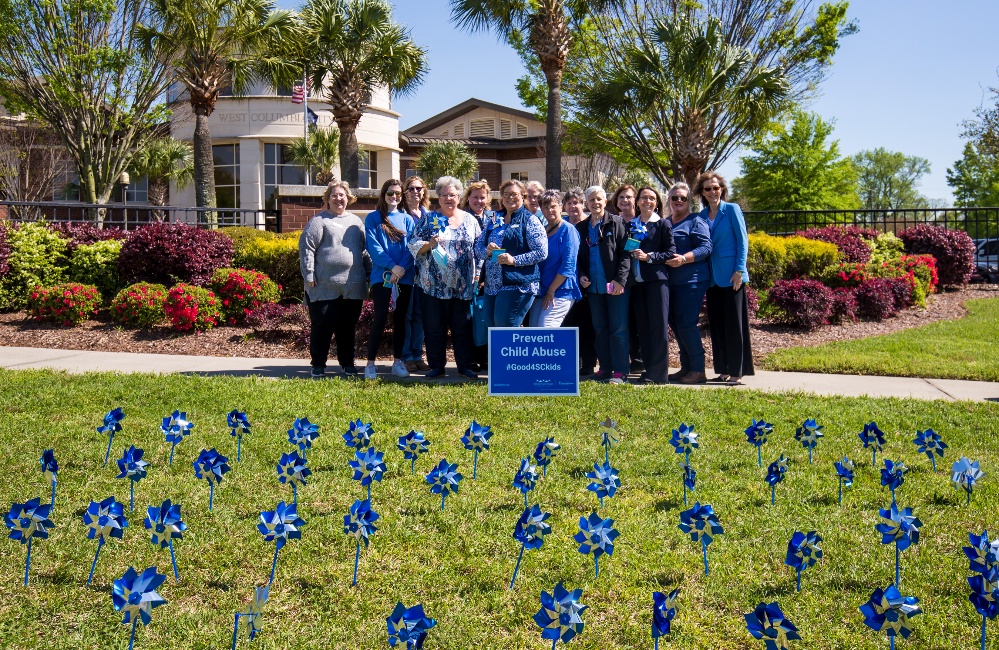 ---
WEST COLUMBIA – When Kristin Fields became the president of the General Federation of Women's Clubs of South Carolina, she had the opportunity to select a special project for the two years of her administration.
For Fields, the call was a simple one, and she smiled as she awaited the planting of a pinwheel garden outside West Columbia City Hall by the Woman's Club of the Midlands on the first day of Child Abuse Prevention Month. Pinwheels serve as the national symbol for happy, healthy childhoods.
"I chose awareness of child abuse prevention. When you look for that, Children's Trust of South Carolina is the leader," Fields said. "I had seen other pinwheels gardens planted across the state as I traveled, and I wanted to be a part of it. It's something that every city and every state has, and I thought it would be a great way to show our awareness about child abuse prevention."
As part of its mission, Children's Trust, the state affiliate for Prevent Child Abuse America, teams up with child-serving organizations across the state to connect families to programs and resources that build positive childhoods, strong families, and thriving communities.
During Child Abuse Prevention Month in April, Children's Trust also encourages community organizations, civic leaders, government agencies, businesses, schools, and faith-based groups to join together in promoting the importance of the physical, emotional, social and educational well-being of every child in the state.
Maggie Lynn, the Children's Trust communications manager who coordinates the statewide CAP Month campaign, saluted the 10 women's clubs that signed up to be prevention partners this year. They are part of 116 overall local organizations serving as partners across the state.
"It takes all of us working together to grow a better tomorrow for children and families in South Carolina," Lynn said. "We're proud to partner with clubs in the General Federation of Women's Clubs of South Carolina. We're grateful for their dedication to community service and applaud their commitment to being a partner in prevention."
DeAna Reed-Sharpe, president of the Woman's Club of the Midlands, was thrilled to have a large gathering of club members to plant pinwheels in the high-visibility area at the corner of 12th Street and Jarvis Klapman Boulevard.
Dressed in blue in honor of Wear Blue Day to kick off CAP Month, they came ready to spread the word about preventing child abuse and neglect.
"We have 100 percent support of this effort," Reed-Sharpe said.
During the planting event, Mike Green, a council member in West Columbia, read the city's official proclamation of April as Child Abuse Prevention Month. He said the city believes in making everyone aware of the prevention work that protects and nurtures children.
"We never know who we might save because of this," Green said. "It's always good to call attention to it."
Fields appreciated seeing this vision become a reality as she surveyed the pinwheel garden. She's ready to see the gardens planted by other women's clubs throughout this month.
"It feels great. I'm so glad we're doing it," she said.
---