The Building Hope for Children Conference took place at the Hyatt Regency in downtown Greenville in the first week of September, when professionals working to prevent child abuse and neglect came together under a theme of "Resilient Families and Thriving Communities." Neil White, who tells the stories of Children's Trust, covered the event.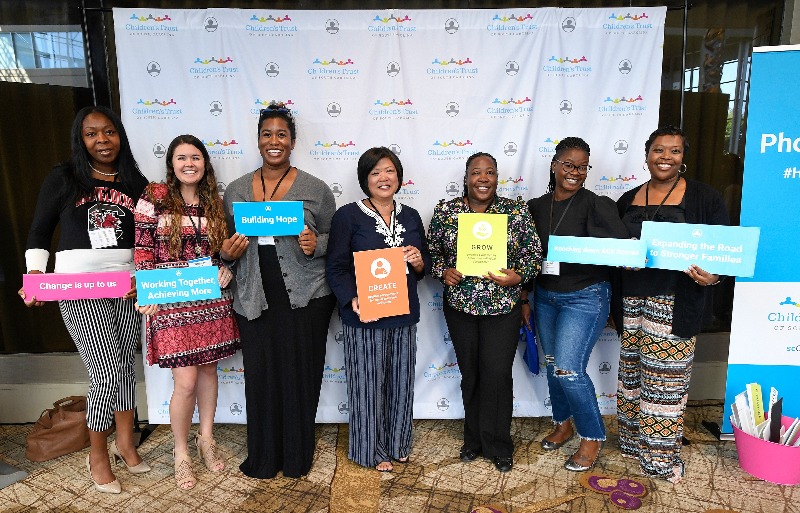 ---
GREENVILLE, S.C. – Building hope for children and families can take many different forms.
There's no single way for a family's aspirations to be fulfilled, and there's no question it requires many people working together to prevent child abuse and neglect while building resilient families, thriving communities, and a better future for South Carolina's children.
Judge Glenda Hatchett, who delivered one of keynote speeches at the Building Hope for Children Conference hosted by Children's Trust Sept. 5-6, passionately made that point as she talked to an audience of 400 attendees that included social workers, counselors, nurses, pediatricians, educators, nonprofit administrators, government officials and other child-serving professionals.
She spoke to the need for all the stakeholders to come together at a community table.
"The call to action today is really that they must put their best ideas on the table and share them. What happens is, and I've seen it too often as I travel around the country, is that 'Well, Judge, I don't want anybody to get my idea.' And frankly, the hell with that. Because there are too many people suffering – the resources are too few – for us to be in these corners saying that this is my program," Hatchett said.
"If you aren't listening, then you can't fix this, you just can't. Because this is how change happens, this is how transformational change happens with these kinds of collaborative efforts. Think about how the energy and the synergy of people coming together really propels us forward."
Hatchett, the founder of the Hatchett Firm in Atlanta and star of "The Verdict" television show,  has seen how hope is routinely extinguished from her former seat on the bench as chief presiding judge of the Fulton County Juvenile Court for 10 years —becoming the first African-American to serve in that role in Georgia – where she headed one of the largest juvenile court systems in the country. 
She understood how she needed to have alliances with educators, social workers, business leaders, faith leaders and community activists to support her work in the legal system, which led to her having a phone installed on her bench in order to instantly connect with advisors. And she also knew the system had "to put money, resources, time and energy in legal advocates for families and children."
Providing Community Resources for Families
Hatchett's refrain was echoed was echoed by the five other keynote speeches in a diverse group of fields represented at the conference. Dr. Robert Sege, a pediatrician and professor of medicine at Tufts University in Boston, believes building hope for families occurs as part of well visits where they can access information and referrals to broader services.
"What pediatricians and family practitioners know is that there are a lot of things that go into making a child healthy and achieve his or her optimal development," Sege said. "Much of our time is really spent on family issues, on child behavior, all of those things that go on in addition to immunizations and strep throats and other more serious illnesses that children have. What pediatricians in particular need are those connections in the community to help families when parents tell us that they have food insecurity, or that they're dealing with depression, (or) intimate partner violence. Having connections in the community make sure they get the support they need during these times is incredibly important."
Sege also noted there's new information on programs to learn, and conferences like this one can keep professionals updated on what's happening in other fields like faith, law enforcement, education and child advocacy.
"I always learn a ton from coming here and listening to people who do things that I don't do, but also care about the same families I care about," he said.
Rev. Darrell Armstrong builds hope for his Shiloh Baptist Church faith community in Trenton, N.J., in many ways. His sanctuary seats about 700 people, but he understands how the church gymnasium and classrooms can serve as sanctuaries as well – not just Sundays but every day of the week.
"We try to open that gym to any and all types of community programming," Armstrong said. "I'm sure there's a classroom that could accommodate a meeting. I'm sure there's some part of that building that could accommodate some type of positive parenting activity that can be open to the community. I believe that space is grossly underused, underutilized, and that's one big way that houses of worship can be great community players in this prevention conversation."
Armstrong believes the message of hope also extends to those who are helping children and families, something the conference interactions reinforced for him.
"There's an unquantifiable, untouchable reality that when I'm sitting in a room of others who are doing this work, I feed off the energy. I feed off the synergy, and that actually revives me to go back to my community and continue fighting the good fight of faith," he said.
Making Connections to People and Activities
Enrique Feldman, a musician and educator with the Global Learning Foundation, spent both days at the conference serving as a connecting thread as a keynote, emcee and workshop presenter, and he emphasized the hope that can be built with children and families through the positive energy and healing spirit of music. He noted the best brain game in the world is the study of a musical instrument.
"The impact of the arts in general is enormous in several different ways," Feldman said. "This sense of humanity, this sense of coming together, it's undeniable. That can transfer into the home with something as simple as, 'Hey, let's sing a folk song together and see if we can clap on one and three or two and four,' or whatever it is. At both the micro level and the macro level, music elicits a human response, an emotional response, and it's different for each person."
Emada and Phil Tingirides spoke of what hope looks like in the Watts community south Los Angeles, where they helped bring about important changes over the last decade through a community safety partnership that has helped reduce violence, address poverty, and build trust between residents and law enforcement.
Emada, who's a captain in the Los Angeles Police Department, and her husband Phil, who's a retired deputy chief, emphasized the importance of making personal connections on the streets and in local gathering places. They implemented new initiatives that included the startup of a Girl Scout troop, a youth football team, and tutoring and college scholarship programs to show residents that they cared.
"I truly believe that when you infuse hope into families and especially children, it transcends into so many sections of the community," she said. "You build leaders within the community. You build relationships within the community. Having hope is really what carries people through and motivates people to be successful and give back."
Breaking down barriers with residents and getting local agencies out of their silos are the keys to success, according to Phil Tingirides.
"When you look at the number of different organizations – government, nonprofit, community – there are so many resources out there," he said. "If you join together and work together, you reduce crime, you bring better education, you bring jobs, and all of those things are what gets rid of the helplessness, which creates hope."
Building Hope with Proven Programs
Jerry Milner, the associate commissioner of the Children's Bureau, an office of the Administration for Children and Families in Washington, D.C., is a firm believer in prevention programs like the ones Children's Trust oversees in South Carolina. Evidence-based programs that aim to prevent abuse and neglect before it occurs – such as home visiting models, the Strengthening Families Program, and the Positive Parenting Program (Triple P) – are targeted to children and families where maltreatment is more likely.
When these programs work, they build hope across the spectrum, from the promise of better lives for families to the energy that child-serving professionals receive from those success stories.
"The hopeful part of that is that when we see those examples of actually putting prevention into work, into place, before the harm occurs, the tremendous effect that that can have on the lives of children and on their parents. We have to be inspired by our ability to help families, to help children avoid the very difficult and traumatic things that affect them over the course of their lifetimes," Milner said.
Milner was introduced at the conference by Children's Trust CEO Sue Williams and S.C. Lt. Gov. Pamela Evette, a strong advocate on children's issues. He pointed to a shared purpose as the true bonding mechanism for conference attendees.
"We have a role in helping families and helping young people to avoid many of the very difficult situations that they face, and (we must) come together with a common vision that we can in fact work together to create those kinds of environments, those kinds of conditions where families and children thrive."