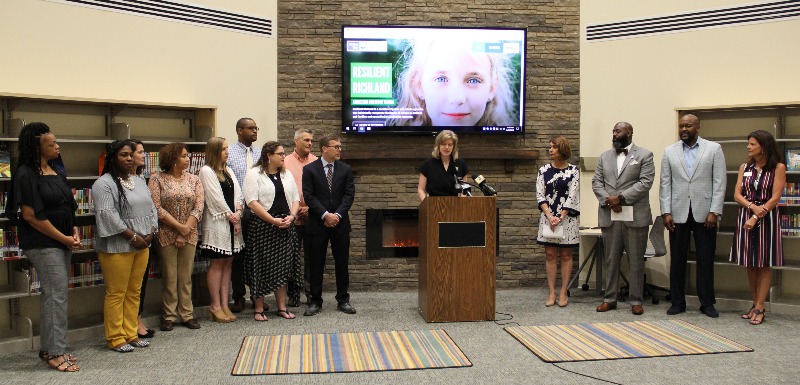 ---
Resilient Richland is ready to start school.
The United Way of the Midlands project will launch a pilot program that places a resiliency team at Richland School District Two's Jackson Creek Elementary School. The program is part of a recently-announced $158,000 grant from Richland County government.
The resiliency team at Jackson Creek Elementary includes a behavior interventionist and a social worker. The interventionist will be available to provide immediate support to children exhibiting disruptive behavior and prevent disciplinary responses that can re-traumatize the child while at school. A social worker will be based in the community to provide case management and connect families to resources in the community based on specific needs.
Resilient Richland is a coalition that brings together community leaders in health care, education, business, government and faith-based fields to provide information on the best methods to build resilience through both the prevention and treatment of toxic stress. The work, an offshoot of the S.C. Adverse Childhood Experiences Initiative led by Children's Trust, has a goal to reduce the long-term effects of adversity through trauma awareness, education and intervention.
Based on research provided by Children's Trust, 67 percent of people living in Richland County – approximately 212,000 adults – have at least one ACE and 14 percent have experienced four or more. People who experience childhood trauma are vulnerable to poor health and social outcomes as adults. Resilient Richland is working to build resilience among children who experience traumatic incidents that can include physical, verbal, and sexual abuse; physical or emotional neglect; and divorce, domestic violence, substance use, and mental illness in the household.
At an Aug. 20 media event at Jackson Creek Elementary announcing the grant, Sara Fawcett, president and CEO of United Way of the Midlands, thanked Children's Trust for its leadership and saluted project partners Nord Family Foundation and Sisters of Charity Foundation for their commitment. She also acknowledged Richland County for its investment in the program.
"We are incredibly grateful for Richland County government's support and belief in the power of building resiliency," Fawcett said.
The announcement also included Baron Davis, Richland District Two superintendent; Sabina Mosso-Taylor, Jackson Creek Elementary principal; Leonardo Brown, Richland County administrator; and the Jackson Creek resiliency team.
Davis is convinced the program can help children with social development and emotional support.
"The approach is to ensure children can be the best version of themselves," Davis said. "This is a collaborative effort to ensure children have all they need to be successful."
Source/Photo: United Way of the Midlands