DHEC placed its in-house communications spotlight in October on the relationship between Children's Trust and DHEC Lowcountry Region, a home visiting grantee that is delivering the Nurse-Family Partnership program model to three counties. Read the story below that summarizes a recent article by Children's Trust.
Children's Trust of South Carolina, a nonprofit organization whose mission is to "strengthen families, organizations and communities to prevent child abuse and neglect," recently highlighted DHEC's Nurse-Family Partnership (NFP) program's response to COVID-19 on their website.
"They remain dedicated to serving and achieving high outcomes for families through innovative means — especially during these unprecedented times in 2020," said Eric Bellamy, chief partner engagement officer for Children's Trust. "Their diligence has been unwavering.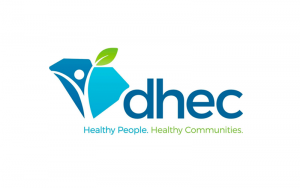 NFP is a national program for qualifying, first-time moms. A registered nurse visits the woman throughout the pregnancy and up until the baby is 2. These nurses provide education and counseling on health and developmental topics as well as help the mother set goals, continue her education, develop job skills and find support services in the community.
DHEC administers the program in 11 counties across the state.
With in-person visits no longer recommended due to the spread of COVID-19 during the last six months, DHEC NFP made crucial adjustments to how it provided program support. For the first time, the agency was able to video chat for home visits.
It created a process for obtaining virtual consent from clients so that new moms and babies could be enrolled remotely. Smart phones also were provided to clients without phone access through an initiative with the national office.
"We had to make sure our technology and tools met our needs, which included changing some policies and platforms," said Lindsay Odell, nurse supervisor for NFP Lowcountry region. "Nurse-Family Partnership has always been a flexible model, but it has become even more flexible with the transition to exclusive telehealth."
She is grateful for the window that telehealth provides to connect those families with resources they may not have needed before, such as food, baby items and rental assistance. Her team has also able to do porch drop-offs for much-needed support materials such as car seats, pack-n-plays and books.
During the first months of the pandemic, nurse home visitors were pulled away to assist with contact tracing and case investigations. More recently, they have been enlisted to assist with COVID-19 testing.
Odell anticipates that in future months, their nurses will be needed to help provide vaccines for the coronavirus once they are available.
"Successful outcomes in home visiting are so dependent on the consistent relationship between the nurse and client," she said. "It's difficult for another nurse to step in and temporarily provide services to a client. Thankfully, our management has understood the need to balance pandemic response with supporting our clients and have worked with us to get the nurses back to their NFP roles as quickly as possible."
By serving in roles beyond their usual duties and ensuring their clients still get what they need during the pandemic, the NFP team show the DHEC core value of Embracing Service and the agency strategy of Service and Accessibility.