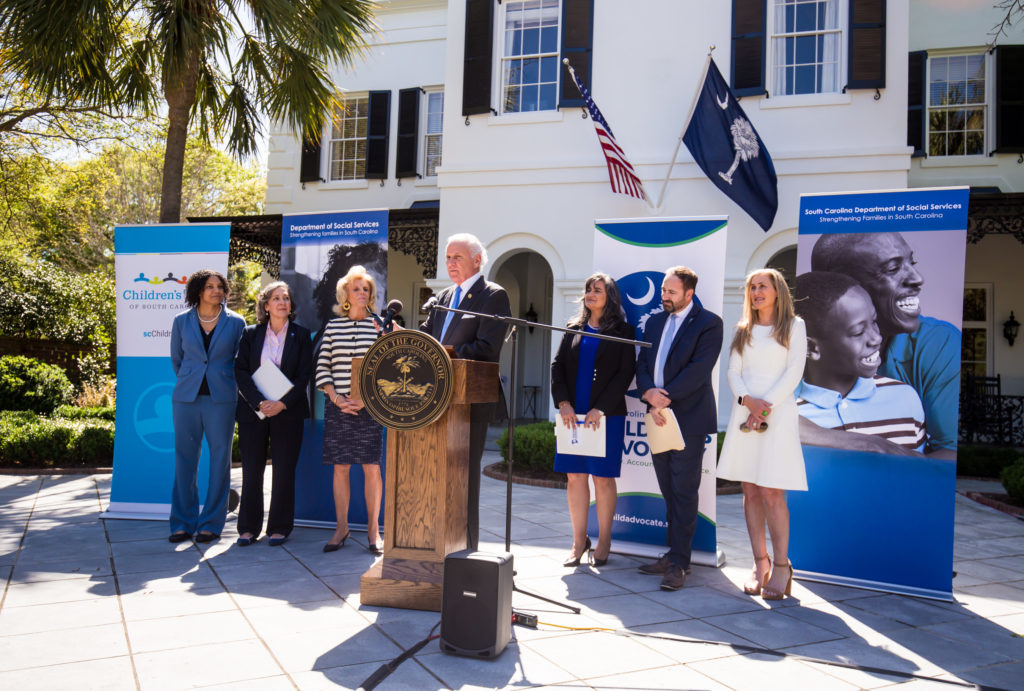 ---
On April 7, Gov. Henry McMaster proclaimed April as Child Abuse Prevention Month in South Carolina. Flanked by state child-serving organizations and agencies, he encouraged listeners to invest in the well-being of children for the future of the state.
After the governor issued the annual proclamation (PDF), Children's Trust of South Carolina CEO Sue Williams spoke, as well as S.C. Department of Social Services State Director Michael Leach and S.C. State Child Advocate Amanda Whittle.
"Today we recognize Child Abuse Prevention Month in April, the time when we focus on many things we as citizens can do to strengthen families, organizations and communities," Williams said. "Because we know when we work together, to build a South Carolina where every child thrives, South Carolina is stronger today and generations into the future."
Children's Trust, the state-legislated child abuse prevention organization, works in coordination with local child-serving organizations across the state to help parents with skills, knowledge and resources to transform patterns of abuse and neglect.
Last year, the Department of Social Services (DSS) received 66,000 calls. A total of 15,980 children were involved in founded cases of abuse and neglect. Overall, South Carolina ranks 41st in the country for child well-being, according to the Kids Count Data Book.
There are many root causes of abuse, including poverty, mental illness, lack of education, unemployment, domestic violence, substance abuse and social isolation. Adverse childhood experiences can lead to poor health and social outcomes into adulthood, which is one reason addressing childhood trauma through prevention is critical.
Williams also encouraged people to visit scParents.org as a resource to help meet basic needs. The free online platform, maintained by Children's Trust, helps connect families to local free and reduced-cost services and programs in their community.
Williams emphasized the effectiveness of Children's Trust's prevention programs, including home visiting and Strengthening Families Program. In addition to delivering evidence-based parenting programs, Children's Trust leads trainings and advocates for policies that promote the well-being of children and families.
"When we can help families before the incidents of abuse or neglect happen, we all win. Most importantly, the children win," Williams said.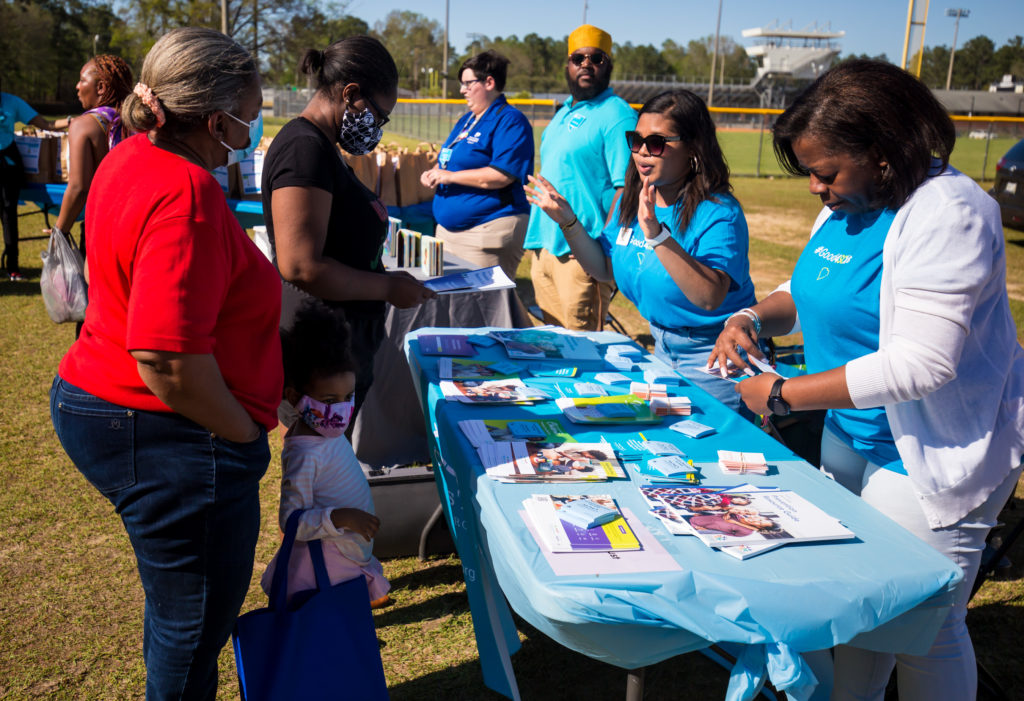 Prevention Partners Raise Awareness Locally
More than 150 organizations and agencies have partnered with Children's Trust during Child Abuse Prevention Month to raise awareness in April by distributing materials and hosting community events.
Here are a few highlights so far.
On April 1, advocates across the state participated in #WearBlueDay2022 and posted themselves sporting their best blue outfits on social media to show their support for prevention.
The Parenting Place, which serves families and children in the Upstate, hosted a prevention walk to educate the public about child abuse and neglect on April 2.
On April 5, Children's Trust chief communications officer Bett Williams spoke about the importance of prevention at the 11th Annual Children's Advocacy Day event at the Statehouse. She joined S.C. Attorney General Alan Wilson, state legislators and advocates from the S.C. Network of Children's Advocacy Centers. Advocacy centers across the state serve children who have experienced abuse.
Many groups have used blue pinwheels—the official symbol of prevention—to raise awareness.
On April 5, the Town of Mount Pleasant teamed up with Dee Norton Advocacy Center, a prevention partner that assists children who are victims of abuse in the Lowcountry. They hosted a press conference and lined the front of the Town Hall with pinwheels.
"The children I see every day at the Dee Norton Advocacy Center are beautifully resilient when adults do what they need to do, which is part of the whole prevention effort this month," said Beverly Hutchison, Executive Director of Dee Norton Child Advocacy Center.
Other community members in the Lowcountry have been hard at work spreading awareness about prevention and sharing resources on how to keep children and families safe and healthy.
Berkeley and Dorchester County libraries have set up fun CAP Month tables with awareness materials to educate their patrons.
Dorchester Children's Advocacy Center not only coordinated with their local libraries but also with numerous local police departments and Berkeley and Dorchester County Councils to spread the word about prevention.
On April 7, Thornwell hosted a Child Abuse Prevention Awareness Breakfast for community leaders to gather and discuss ways to better serve and empower children and families in Laurens County.
They are among other organizations that have also held community events.
Richland County First Steps hosted an event last week, partnering with several local groups, including Richland One School District, Richland County Sheriff's Department, Power in Changing diaper bank and others. More than 90 families in the Lower Richland area attended. Participants learned about programs and services for families with young children and were offered necessities such as fresh fruits and vegetables, cleaning products, children's books and other items.
In Darlington, Macedonia Life Skills Center hosted a Child Abuse Prevention Month brunch for religious and nonprofit leaders. They had over 150 people attend. The Mayor of Darlington read a proclamation.
Many organizations have celebrated Child Abuse Prevention Month in creative ways this year.
The Simpsonville police department hosted a fun family yoga day. Westview Behavioral Health-Newberry hosted an outdoor movie screening following Spring Fest, a family-friendly event in Saluda.
As well as hosting a community event, the Children's Place gave "Appreciation and Prevention Information Baskets" to organizations and businesses serving children and families in the Aiken area.
So far this month, proclamations declaring April as Child Abuse Prevention Month have been issued in Berkeley, Dorchester and Richland County; the City of Aiken, Clinton, Darlington, Walterboro, Clemson, Easley; and the towns of Mt. Pleasant, Norris and Sixth Mile. 
Get Involved
Learn more about Child Abuse Prevention Month at scChildren.org/capmonth.