Joan Hoffman, Children's Trust chief operating officer, has been reelected to a two-year term on the Children's Trust Fund Alliance board of directors beginning in 2022.
Hoffman, a Children's Trust employee of more than 10 years, has served alongside the other 13 board members since 2020. The Alliance is the national membership organization for state children's trust and prevention funds. It provides leadership and support while serving as a catalyst for positive changes in systems, policies and practices in their states to promote well-being for children, families and communities.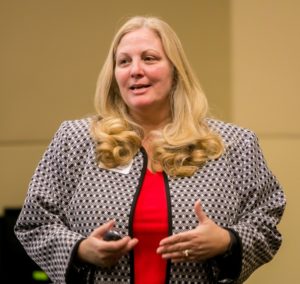 "Serving on the Alliance board with visionaries from across the nation affords me the opportunity to learn from other states while connecting our work for meaningful impact," Hoffman said.
During her first term, Hoffman shared her expertise in both board governance and human resources as a member of the Alliance's governance committee.
The board spent much of the last two years working on race, equity and inclusion, leading a "Courageous Conversations" series and supporting parents, according to Hoffman.
"This was essential as we weaved together a network of peer support and innovative ideas during the pandemic and social unrest," Hoffman said. "None of us had all the answers but we learned together and from each other." 
Hoffman said the board will continue in 2022 to focus on race, equity and inclusion, as well as move forward policy that has a positive impact on families, and uplift the voices of parents and individuals with lived experiences. 
"We have a lot of good work ahead and a lot of good work together," she said.
Before Hoffman joined the board, Children's Trust CEO Sue Williams served eight years, including two as the board chair, over a pair of stints.
In her position at Children's Trust, Hoffman puts the organization's vision and mission into operational form as she oversees human resources, development and event planning.
Her previous work in her 30-year career of systems building and service to the field includes positions at the Central Carolina Community Foundation, Communities In Schools of the Midlands, and the Nurturing Center.
With a master's in business administration management from the University of South Carolina as well as bachelor's degrees in journalism and theater and speech from USC, she has served on multiple boards and committees in the community.