Children's Trust hosted its Statewide Safe Sleep Training in June for 150 child-serving professionals. Maura Hanke and Gary Hanke headlined the event, which featured guest experts from state agencies, county government, and community organizations. They provided education around recommendations from the American Academy of Pediatrics on safe sleep that can be used directly with families and caregivers in order to reduce the number of infant deaths in South Carolina from unsafe sleep environments. Neil White, who tells the stories of Children's Trust, covered the event.
Six years after the death of her 3-week-old son Charlie, Maura Hanke still gets emotional discussing the circumstances. Her husband, Sam, was holding Charlie while sitting on the couch when they fell asleep.
"When he woke up, Charlie didn't," Maura said.
Gary Hanke, Sam's father, said the devastation of losing a grandson to Sudden Infant Death Syndrome (SIDS) and an unsafe sleep environment, never gets any easier for the family.
"Sam was doing what any father loves to do, holding his child close to him, chest-to-chest," Gary said. "The unfortunate part is he fell asleep."
The Hanke family reacted to the agonizing situation by starting the Charlie's Kids Foundation, which is based in their home state of Kentucky, to honor the memory of their son and grandson by drawing greater awareness to the dangers of unsafe sleep environments such as co-sleeping.
"We wanted to find a way to remember Charlie – in a positive way that could make a difference," Maura said. "The grief that we experienced, we wouldn't want any other parent to go through. The motivation is making a difference for one parent, for one baby. It's important to talk about what happened to us."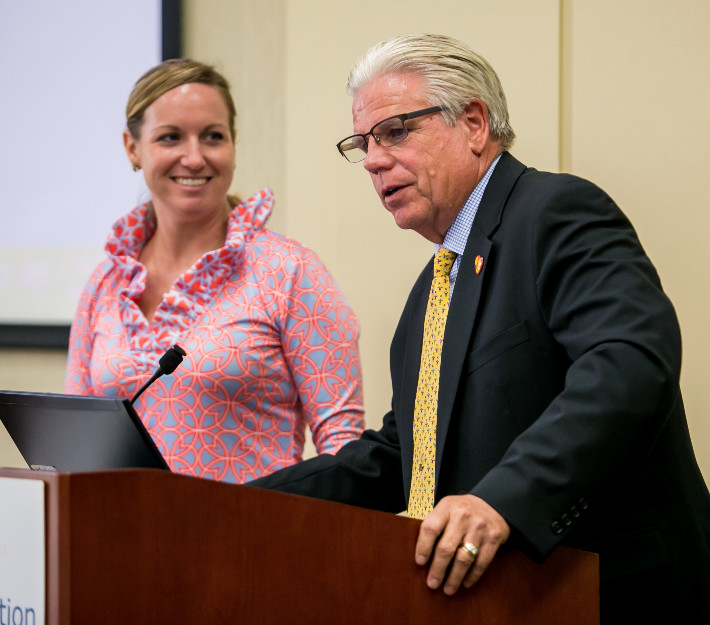 Spreading the word of the lessons learned by their painful experience brought Maura and Gary to Columbia for the Statewide Safe Sleep Training hosted by Children's Trust. The event convened 150 nurses, state agency employees, nonprofit organization workers, educators, child care providers and law enforcement officials to hear specific strategies and recommendations aimed at promoting safe sleep practices for infants in this state.
The most basic message begins with the ABCs of safe sleep – babies should always sleep alone, on their backs, and in a crib free of bedding, pillows and toys. Yet that message runs into resistance due to conflicting information passed down through generations as well as tired parents who will do anything to get their babies to go to sleep.
Children's Trust CEO Sue Williams serves on the State Child Fatality Advisory Committee, which works to decrease child deaths by investigating the causes in order to better understand what can be done to minimize risk factors and create practices that protect children. Since 2006, South Carolina deaths related to unsafe sleep have made up 10 percent of all infant deaths for those younger than 1-year-old.
Williams has heard all the objections from those unconvinced about the American Academy of Pediatrics recommendations: My mom put me on my stomach and I turned out fine. I'm breastfeeding, and it is so much easier just to have the baby right here in bed. The only way my baby will go to sleep is on its stomach. My baby will be cold without a blanket. My baby scoots right up to the edge of the crib so I have to have bumpers.
Maura Hanke knows of one more objection: The likelihood that a tired parent will think everything will be OK just this one time.
"It's hard. Parents are exhausted," she said. "They want to get that baby to sleep so that they can catch a few (winks of sleep). At that point in time, they're not always thinking about best practice. They're just doing what works for them, and they think, 'It won't happen to me.'"
Williams saluted the professionals gathered in the conference room at the S.C. Hospital Association for their work in educating parents and caregivers about the ABCs of safe sleep. But she also knows there's much more work to be done.
"Case after case, we find circumstances around a child's death that were accidental and absolutely preventable," Williams said. "The families and their communities are devastated. Alarmingly, in recent years we see these tragedies happening with greater frequency."
By focusing on specific actions that parents can take for their babies – no sleeping on stomach, no co-sleeping, no bed-sharing, no sofas or recliners, no toys or blankets or pillows ­– the risk of SIDS and other sleep-related causes of infant death can be reduced.
But too many parents either don't understand the risks or ignore them. Michael Smith, the maternal and child health epidemiologist and director of the division of research and planning at DHEC, notes the 62 potentially sleep-related infant deaths in South Carolina in 2014 through SIDS or accidental suffocation, making it the second-leading cause of death behind prematurity and low birth weight.
Just because a tragedy doesn't occur every time a baby isn't sleeping alone, on its back and in a crib without pillows, bedding, toys and bumper pads doesn't mean it can't happen.
"It's an unnecessary risk to take, and it's something that is very preventable. But that doesn't mean it's easy, especially when it's the middle of the night and your baby is crying and you're trying to go to sleep," Smith said. "What I've always tried to keep in mind is the maximum loss is so high. If I put my baby down to sleep on her stomach or in the bed with me, that's a risk just not worth it."
Smith, who spoke on the state's infant death statistics along with DHEC's Portavia Featherstone, was one of several guest experts at the training. Dr. Rick Foster, a senior executive with the S.C. Hospital Association, spoke on the state's Birth Outcomes Initiative; Lamikka Purvis and Tracy Golden, who work with Family Solutions of the Lowcountry, spoke on sharing the proper safe sleep messages in communities; and Pickens County coroner Kandy Kelley gave her perspective on investigating deaths due to unsafe sleep environments.
Speakers representing Children's Trust were Williams; Lee Porter, chief program officer; Heidi Aakjer, Safe Kids South Carolina manager; and Birley Wright, prevention training manager.
The Hanke family wants to reach as many parents as possible with a children's book produced through Charlie's Foundation called, "Sleep Baby, Safe and Snug," which details the right ways for an infant to sleep safely. The idea was to give parents something different from than the many hospital brochures that might be discarded.
"Nobody throws away a book," said Maura, a former kindergarten teacher whose family with Sam, a pediatric cardiologist, now includes Charlie's younger siblings, Owen and Annie.
The book, written by pediatrician John Hutton and illustrated by Leah Busch, strives to provide safe sleep education through an easy-to-read narrative and demonstrate the proper sleep environment through vivid illustrations. Gary Hanke proudly held up a larger version of the book in front of the attendees and presented it to Children's Trust at the end of their moving presentation.
The book also honors Charlie's life in a meaningful way.
"Charlie's a part of our family every day," Gary said. "When we see a rainbow, we think of Charlie. When we see a beautiful sunset, we think of Charlie. We celebrate his birthday. He's with us in spirit, and he's guiding us along in this journey."
---
Here are the safe sleep recommendations on the book's back cover for creating environments that can reduce the risk of all sleep-related infant deaths, including SIDS:
DO put your baby to sleep on his/her back.
DO put your baby in a crib for naptime and bedtime.
DO use a firm crib mattress covered by a fitted sheet designed for specific product.
DO put the baby's crib in the same room as your bed.
DO breastfeed your baby.
DO use a pacifier for sleep.
DO keep your baby's immunizations up to date.
DON'T put your baby to sleep on his/her side or stomach.
DON'T use a car seat, swing, bouncy seat, stroller, infant carrier, or infant sling for routine sleep.
DON'T use blankets, pillows or bumper pads in the crib.
DON'T sleep in the same bed as your baby.
DON'T use sleep positioners.
DON'T hang a pacifier around your baby's neck.
DON'T smoke around your baby.