Children's Trust, which has launched parent advisory councils in three regions across the state, held a recent meeting with its group in the Midlands. The members discussed how to ensure parent participation in prevention and family strengthening work. Neil White, who tells the organization's stories, covered the day's events.
---
An engaged group of parents from Richland and Lexington counties have started working together to support other parents. These parents know that navigating life's ups and downs can be daunting at times, and the difficulty of parenting can leave any caregiver feeling tired, stressed and isolated.
All parents need the support of family and friends as well as that of community resources and activities, to keep them and their children happy, and healthy and their families strong. That is why Children's Trust has recently begun work on a statewide initiative to form parent advisory councils in three areas of the state:  Richland and Lexington counties in the Midlands, Oconee in the Upstate and Marlboro in the Pee Dee.
The Midlands group, who have named themselves Parent Matters of the Midlands, is the first parent advisory council to launch in the state.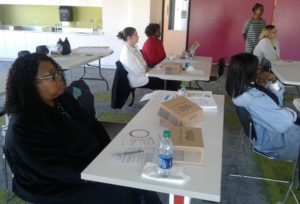 Samantha Ingram, mother of a 12-year-old daughter and 10-year-old son, wanted to join the Midlands council to spread awareness that support systems exist for parents in neighborhoods, schools and communities. She understands parents must be their child's first and best advocate, and to do that, they must have parenting knowledge and skills.
"Parents need to be aware of all the things that are out there for them, and parents never need to feel alone because other parents are going through the same things," Ingram said. "Parents can stick together and be strong. We can bring a collective voice. We may be a small group, but we are going to be mighty in our action. We can let parents know they may have a bad day, but it's OK. Or they may have a good day, and building relationships is why."
At a recent Parent Matters of the Midlands meeting, the gathered parents received an overview of how adverse childhood experiences (ACEs) – which can include divorce, child abuse, domestic violence, and substance use/misuse – can negatively impact children into adulthood by leading to poor health and social outcomes.
They also heard a presentation on the protective factors, those conditions that can help families thrive and reduce the incidence and consequences of child abuse and neglect. Protective factors are parental resilience, social connections, concrete support in times of need, knowledge of parent and child development, and social and emotional competence of children.
Building better communications between parents and the organizations that serve families can only make services more essential. Tecoria Jones, another parent leader on the council, knows what a difference that can make from her own traumatic experiences that led her into the system.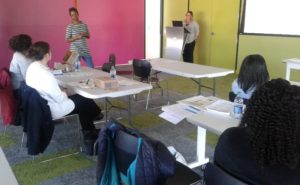 "Being a part of helping to bridge that gap to make a strong relationship, and letting parents know that they're valuable, I think that's the biggest thing of it all," Jones said. "Just being an example, and being able to reach out for people who are like me, I can say, 'Hey, come along.' I want parents to know that it's OK to not know because there's no Google.com that's going to show you how to do this thing. So let's just band together. Everybody needs some help. I want to be that person with an intense drive to share and to pay it forward."
Iris Hope, a parent of adult children who also recently adopted a 12-year-old boy, has already learned a lot from her peers on the council. She looks forward to sharing this knowledge with parents across the Midlands, which in turn can create happier, healthier childhoods.
"I feel as though it's our responsibility to take care of the children. And this has been a rewarding experience," Hope said. "This group can go out into a community, let parents be aware of the resources they can get involved in, and give them information that they need to build their lives and their children's lives."
Dana Powell, Children's Trust parent and community engagement coordinator, is leading the parent advisory council effort. She likes the early momentum of councils and how they are attracting caregivers who can make the concept of empowering parents into a reality.
"Children's Trust wants to help equip all parents to be leaders so they can advocate for parents and families through their involvement in Parent Matters," she said.
---
For more information about joining one of our parent advisory councils, contact Dana Powell at 803-744-4058 or dpowell@scchildren.org.