Child passenger safety is a priority for Children's Trust, which serves as the South Carolina affiliate for Safe Kids Worldwide, and car seat safety checks are an important way to get more seats installed properly as well as raise awareness. Safe Kids South Carolina teamed with Kohl's Buckle Buddies at Palmetto Health and EdVenture Children's Museum for a recent car seat safety check. Neil White, who tells the stories for Children's Trust, covered the event.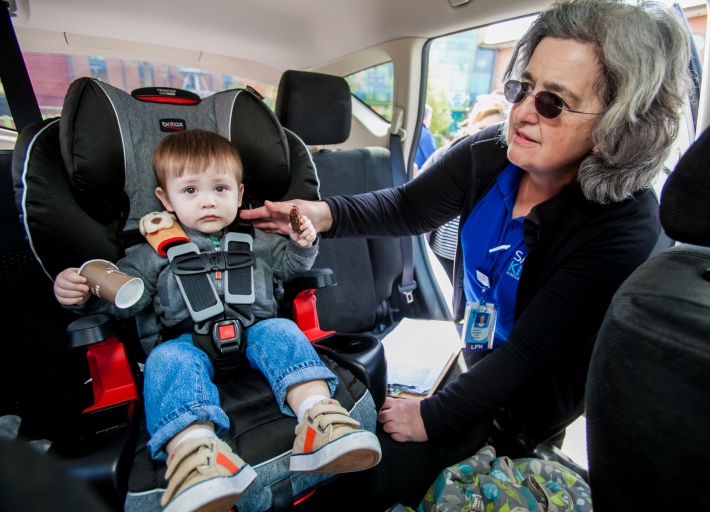 Miranda Fell had no idea a car seat safety check was taking place when she arrived with her three children at EdVenture Children's Museum for a Tuesday visit.
After a fun day at the museum with 5-year-old Jeremiah, 3-year-old Halleli, and 18-month-old Zeke, Fell stopped in the parking lot to get all three car seats checked by certified child passenger safety technicians at an event hosted by Children's Trust, Safe Kids South Carolina, Kohl's Buckle Buddies at Palmetto Health, and EdVenture.
"This actually has been on my mind a lot lately," Fell said. "We're trying to make sure we're current with their seats. It's perfect timing you were out here."
Motor vehicle crashes are the leading cause of death and injury for children over 1 year of age. Properly-installed child safety seats can reduce the risk of death by 71 percent for infants and 54 percent for toddlers.
Around 85 percent of car seats in South Carolina are used incorrectly, which poses a great risk to the safety of children. That's a primary reason why Safe Kids South Carolina's 13 local coalitions around the state and Buckle Buddies regularly hold car seat safety checks. More than 20 technicians were on hand at EdVenture to check seats.
These volunteer technicians – many of them firefighters, law enforcement officers, EMTs, medical personnel, Safe Kids coalition leaders, and DSS workers – must go through three days of certification training in order to learn how to properly install a wide variety of car and booster seats for the different ages and sizes of children. 
Kevin Poore, the Buckle Buddies program coordinator, noted that most parents try to do what seems right while installing seats. But making slight errors can have major repercussions. Every make and model of child seat is different, which means installation procedures can vary, making it more important to read the owner's manual for both the seat and the vehicle.
"The fact is, it's really dangerous (to be in a crash)," Poore said. "These car seats do an unbelievable job of keeping kids safe during this danger, but the catch is we have to use these seats exactly the way they were designed, engineered, and crash-tested. The problem is that sometimes even small changes we (technicians) may make don't seem like a big deal, and it ends up have a huge impact in a crash."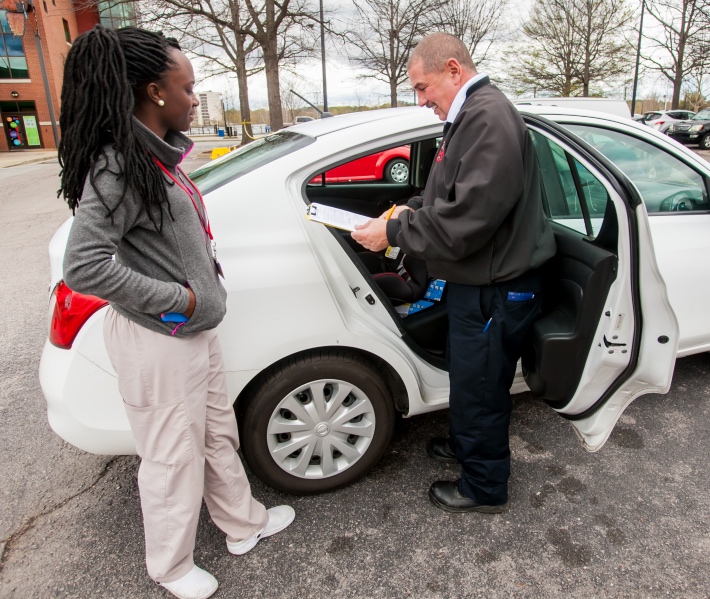 Shadaijah Haltiwanger, a mother to 7-month-old son Gregory, understands the stakes, which is why she brought a car seat to be checked. She appreciated getting instruction from a professional.
"Gregory's safety is the most important. Child safety is the most important," Haltiwanger said. "I learned that I had the seat in right for a toddler but not right for his age. It was very useful."
Shannon Palm, who coordinated the event for Children's Trust and Safe Kids South Carolina, was pleased by the turnout of families, cars and technicians. She appreciated how the partnership with Buckle Buddies and EdVenture helped make the day a success.
"We are all united with the shared purpose to provide children with the best chance to thrive in South Carolina through prevention education efforts," Palm said. "These events demonstrate how many people truly care about the safety of children as passengers. Teaching parents how to install the car seats is only half of the process. The real reward is connecting with the parents and caregivers over the common goal to preserve their precious cargo."
The parents were certainly united in that goal at the event. Mike Giurato and his wife Nancy brought in both family cars to get the car seats checked. Because 18-month-old son Anthony is transitioning to a larger seat, his father wanted both seats to be checked professionally.
Most significantly, the parents appreciate receiving firsthand knowledge on how to properly install their seats. After leaving EdVenture, Joanna Stavrakos and her 2-year-old son Harry stopped by the event to get a little peace of mind.
"We wanted to make sure we had installed the car seat correctly. We've done it a million times since he was born, but we just wanted to make sure a professional checked it, that it was safe and installed OK," Stavrakos said. "God forbid something happens. It's nice to talk to people that know how to install these properly in case we have any questions in the future."
Stephanie Livingston, who was with her husband John and 15-month-old daughter Evelyn, has stopped at events with Buckle Buddies three times now. She likes that organizations are committed to child passenger safety.
"Car seats can be a little complicated so we want to make sure they're in there correctly," she said. "It's fantastic. They do (events) all over, and they're pretty frequent. It's pretty convenient to pull in, and they take care of you. They show you how to do it so you feel confident doing it later yourself."