Children's Trust held a June 17 event to highlight the annual rankings in child well-being. State legislators discussed the data report and addressed policy opportunities for improvements that can benefit children and families across the state. Neil White, who tells the stories of Children's Trust, covered the event.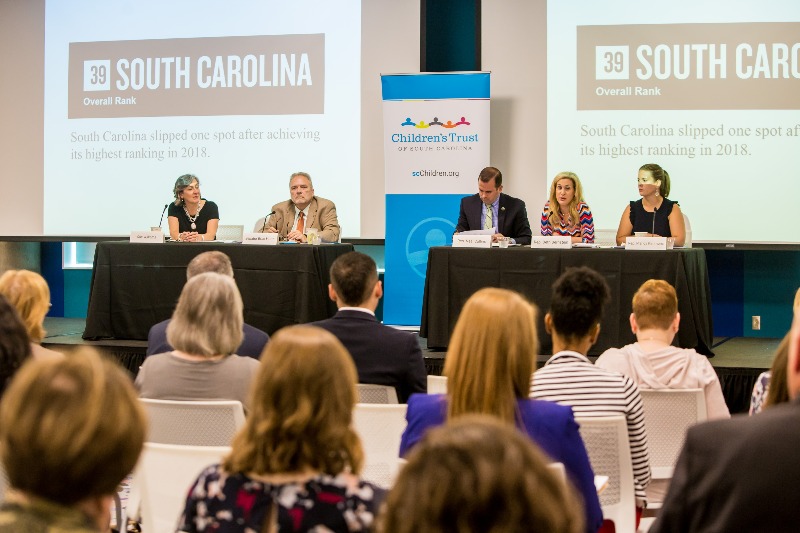 ---
As lawmakers from the Joint Citizens and Legislative Committee on Children gathered to discuss the annual national release of child well-being data from the Annie E. Casey Foundation KIDS COUNT® project, one thing was certain.
South Carolina is making progress improving the lives of children and families, but there's still a long way to go.
For the first 27 years of the state rankings for child well-being, the Palmetto State languished in the 40s, including a two-year stint at No. 48 in 1997-98. But over the last three years of this comprehensive survey that measures economic well-being, education, health, and family and community, South Carolina has pushed its way into the 30s, landing at No. 39 in the 2019 KIDS COUNT Data Book, one spot down from its highest-ever rank a year ago.
In the auditorium of Richland Library Main before a full house of child-serving professionals, community members and parents, Children's Trust CEO Sue Williams moderated a forum that was comprised of legislative members of the Committee on Children:  Sen. Brad Hutto (D-Orangeburg), Rep. Beth Bernstein (D-Richland), Rep. Neal Collins (R-Pickens), and Rep. Mandy Kimmons (R-Dorchester). These are some of the state's most tireless and successful advocates for children in their individual capacities as state lawmakers. 
Williams led a robust discussion on a wide range of children's issues considered during the recent legislative session, including early childhood education, protections for abused children, teen pregnancy and underage marriage, background checks for care providers, child prostitution and trafficking, fatherhood concerns, and the challenges of child welfare legislation.
Collins noted both the committee members and child welfare advocates are working together to pass important legislation on key subjects like education and health. He considers early childhood education the state's top priority.
"It's extremely difficult, coming from where we're coming from on all these issues, to make drastic reform. I think as long as we continue chipping away, then we'll continue to improve," Collins said. "To make dramatic changes, I think it's going to take drastic reform on some of these issues, which is going to take even more work than what we're doing. So, one, I'm happy with the work that we're doing, but two, there's so much more to do. So much more to do."
The Data Book, as well as the state profile sheet (PDF), reflected the successes of recent years as well as the areas where the state must continue to focus. Substantial progress has occurred in access to child health care coverage and lower teen pregnancy rates with nearly 50 percent improvement in both over the last 10 years.
Yet more than 70 percent of eighth-grade students are still not proficient in math, more than 70 percent of fourth-grade students are not proficient in reading, and over half of children ages 3 and 4 are not in school. A driving force behind many problems is the 23 percent of children living in poverty and the 30 percent of children whose parents lack secure employment.
Children's Trust, the South Carolina affiliate for the KIDS COUNT project, works with local partners across the state to implement evidence-based programs that provide guidance to young mothers and infants, strengthen families, and promote positive parenting practices in order to fulfill its core mission of preventing child abuse and neglect. Williams believes they work best when the state legislature does its part to support policies and programs that have a beneficial impact on children and families.
"This year's ranking reinforces that there is still a lot of work to do for children and families. Meaningful, efficient investments in programs and services are critical for family stability and for building opportunities that break generational cycles of poverty," Williams said. "If we want to have a qualified workforce for new industry and a vibrant, healthy economy in the future, the time is now for us to invest in children, especially if we want future families to have the skills and means to lift themselves out of poverty."
Kimmons, a first-term representative and new member of the Committee on Children, understands solving problems through legislation takes time. She is focused on education reform and strengthening DSS.
"A lot of this change is incremental change. You do it one step at a time and you have a goal, an end goal, but it has to be incremental," Kimmons said. "I think that that's something that we're committed to and that we will see in the coming years. But it does have to be a multi-year commitment because it's not going to be fixed overnight."
Bernstein believes making lives better for children and families will occur when larger conversations around children's issues are created among all lawmakers – Republican and Democratic, urban and rural – and they learn that short-term investments can lead to long-term benefits and savings at the state and community levels. She was heartened to see the forum attendees who showed up to hear this conservation around child well-being.
In the room were representatives of agencies and organizations that included the Department of Social Services, Department of Mental Health, Department of Health and Human Services, Department of Children's Advocacy, Children's Law Center, South Carolina Child Care Inclusion Collaborative, South Carolina Hospital Association, S.C. Child Well-Being Coalition, United Way of the Midlands, Greenville County First Steps, Children's Place in Aiken, and Richland Two Family Intervention Services.
"It has to be a collaborative effort," Bernstein said. "This is indicative of how child well-being touches so many different areas of the different state agencies and how broad it is. We need to make sure we continue to all work together to try and reach the goal of safety and well-being for our children."
Seeking solutions, the Child Well-Being Coalition, funded by the Department of Health and Environmental Control and led by Children's Trust, has convened for over a year to discuss specific strategies and initiatives that will mitigate poverty and improve child well-being. Members of the group include local and state agencies, as well as community leaders and organizations.
One strategy Hutto would like to pursue is finding more people willing to serve in three critical areas: DSS caseworkers, foster care parents and teachers.
"They play an important role in the lives of children," Hutto said. "We need thousands more. We do not have enough of them."
One very interested audience member was Michael Leach, the newly-appointed DSS director. He realizes the key role DSS plays in building resilience in families that are struggling, but he also offers full support to the prevention efforts of Children's Trust where families are being strengthened on the front end.
Leach was impressed by the gathering of advocates whose interest in the lives of children and families was evident.
"It shows that there's a shared vision to try to make sure that the health and well-being of our children in South Carolina improves," he said. "Seeing that we rank 39th, there are a lot of areas that we've improved on, and there are a lot of areas that we've gone the other way on. Getting the folks who care and are passionate about our young people and families to the table will help figure out what the next step is. And having the funding avenues, having the legislators make the policy and legislative changes at the table, is going to go a long way to improving the work more quickly than it normally would."
Williams is convinced momentum is building among the various constituencies to find the best ways to prevent child abuse and neglect so that South Carolina can use its resources more effectively and efficiently. The Annie E. Casey Foundation, through their KIDS COUNT project, is helping to provide the roadmap. The KIDS COUNT Data Center provides detailed information on each state.
"We work to make sure that decision-makers have high-quality data and trend analysis, like KIDS COUNT, so that they have actionable data to drive effective prevention efforts," Williams said.